Where are all of my Guardians of the Galaxy fans?! Have you seen Volume 2 yet? If not, I've got a treat for you that will hopefully get you excited to go out and grab your digital or Blu-ray copy.
When I told you that D23 Expo was filled with all types of pixie dust magic, I was definitely not exaggerating! Shortly after our minds were blown away by the surprise real-life super heroes during the live action panel, we were whisked away for an interview with a Josh Snow.
Come to find out, "Josh Snow" was really an interview with Karen Gillan ("Nebula") and Pom Klementieff ("Mantis") from Guardians of the Galaxy Volume 2! Talk about an awesome surprise!
About Guardians of the Galaxy Volume 2
Marvel Studios' "Guardians of the Galaxy Vol. 2" continues the team's adventures as they traverse the outer reaches of the cosmos. The Guardians must fight to keep their newfound family together as they unravel the mystery of Peter Quill's true parentage.
Old foes become new allies and fan-favorite characters from the classic comics will come to our heroes' aid as the Marvel Cinematic Universe continues to expand.
"Guardians of the Galaxy Vol. 2" is written and directed by James Gunn and stars Chris Pratt, Zoe Saldana, Dave Bautista, featuring Vin Diesel as Baby Groot, Bradley Cooper as Rocket, Michael Rooker, Karen Gillan, Pom Klementieff, Elizabeth Debicki, Chris Sullivan, Sean Gunn, Tommy Flanagan, Laura Haddock, with Sylvester Stallone, and Kurt Russell.
Kevin Feige is producing, and Louis D'Esposito, Victoria Alonso, Jonathan Schwartz, Nikolas Korda and Stan Lee are the executive producers.
Check out the official trailer below:
Marvel Studios' "Guardians of the Galaxy Vol. 2" is available on Digital now, on Blu-ray Aug. 22, and new to 4K UHD.
Spoiler alerts below if you haven't watched Gaurdians of the Galaxy Volume 2 (whatcha waiting for?)
Personally, I really enjoyed the movie. I liked the fact that they showed lessons about the true meaning of family, trust and forgiveness…with some superhero action in the mix of course. They managed to bring humor in it and of course, I just couldn't get enough of "I am Groot".
So here is some insight that Karen and Pom shared with us during our exclusive interview. Unfortunately, they had to run off to more interviews afterwards so we didn't get a group photo. But it was such a delight to chat with them.
Karen on Nebula being a "good girl
Karen shared that she felt that children are less scared of her now. She used to get turned down for pictures because of her character, but now kids are willing to take pictures with her, which makes her happy. It's so funny how attached we can get to a character in a movie and think they are even the least bit the same in person LOL.
Sitting there across the table from Karen as she was talking, it was sooo hard to remember that she was "Nebula" because her real-life character has absolutely nothing to do with her on-screen character. But isn't that how you know you're watching an amazing actress/actor?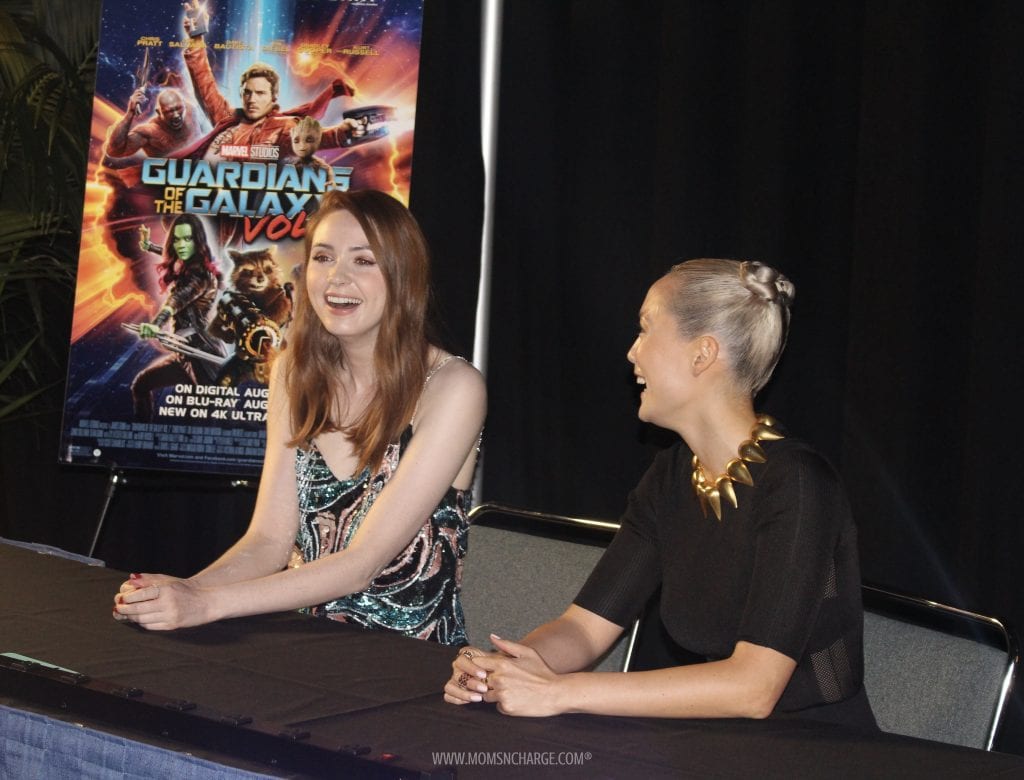 About being forced to face your fears
Pom was asked about one of the lessons her character learned in the process? Karen chimed in that Mantis had to face a lot of her fears in order to do what was right.
Pom shared that she was like her character in real life.  She was upset when she had to go against the only "family" she knew and didn't think she could do it.  But then she got the courage to, and it worked out well. In the process, Mantis gained a new family. She shared that having a real family was something that she didn't know before, so it was a good feeling.
About insecurities and believing in yourself
Karen: I don't have any siblings, but I can definitely identify with insecurity, I think, as everyone can.  My character is the sister that is the least favorite.  She's not as good at fighting.  She's less attractive.  She's got no hair. She feels inferior and I think everybody can probably relate to that in some capacity.
Pom: I think that the moments that move me the most is when she doesn't believe in herself and she just needs someone to believe in her.  And then he gives her the strength, and I think I have the same thing in life too, you know?
You just need someone to believe in you and to push you and it gives you the strength to win it or to destroy or to bring love or anything, you know.
Favorite traits for their characters in the film
Karen shared that she really like the fact that her character can fight so well, and that she is just riddled with rage.  She's got serious daddy issues and she just likes embodying that.
Pom chimed in that she loved Mantis' innocence.  It's kind of refreshing, and it brings a lot of funny moments, too, because she doesn't know.  She tries things and she discovers things and it's kind of funny to play.  It's like an animal a little bit.  I like the fact that she's a little weird.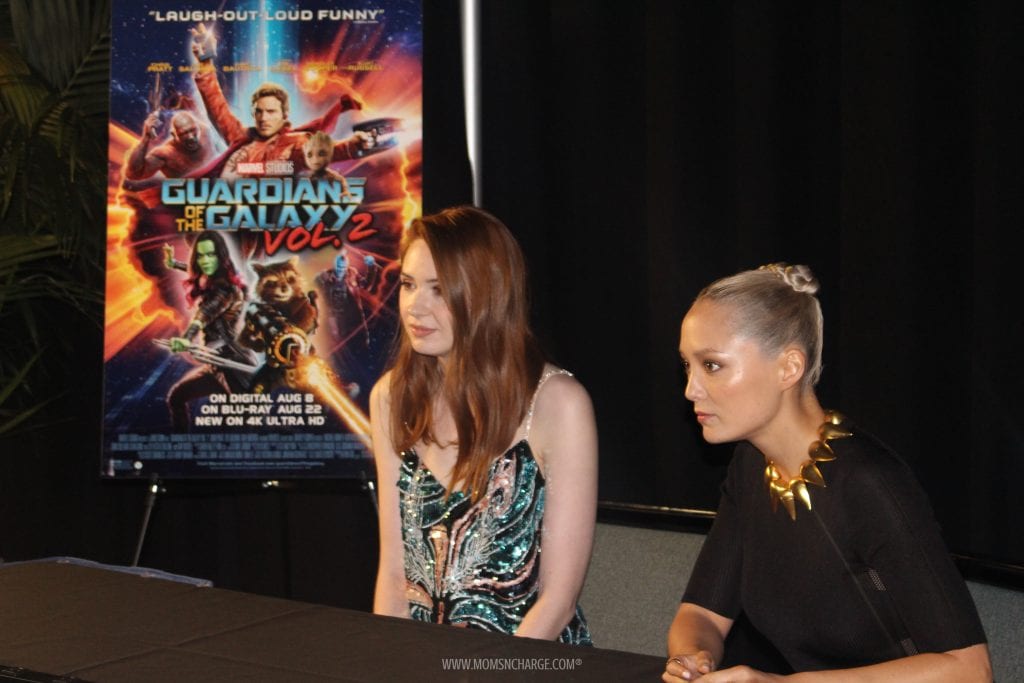 Karen on the biggest challenge for the film
"The biggest challenge for me is probably the makeup process, just because it's really intense.  It takes about 4 hours in the morning to get ready, and I get up at like two or three o'clock in the morning and go there. Once there, they then stick skin on my face."
She shared that the way she turned out was so worth it. But that the challenge was to get up at that time and go through that on a daily basis. Karen also shared that taking the makeup off was the biggest highlight and absolute best sensation ever!
Don't forget: Guardians of the Galaxy is available now on Digital and on 8/22 on DVD and Blu-ray!
We just watched it over the weekend and happy to have another great Marvel movie added to our digital movie library 🙂 Included in your DVD/Blu-ray copy is 80-minutes of exclusive, never-before-seen bonus materials! I absolutely love the bonus materials in the DVD releases.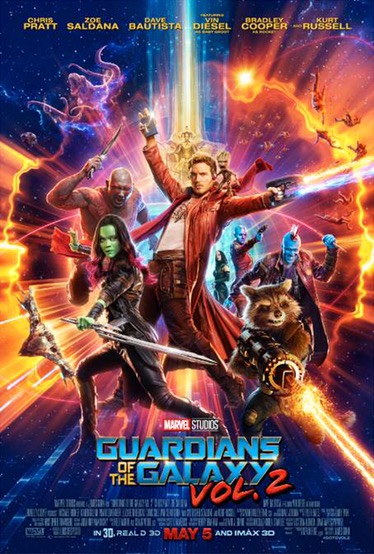 If you missed any of my previous posts, you definitely want to make sure you catch up. There was so much to love about D23Expo, and I'm sharing it all here right on the blog. Here is what you missed:
---
Disclosure: This trip to the Disneyland and D23 Expo was sponsored by Walt Disney World. As always, the thoughts and opinions are my own.  For more information about #D23Expo click here.