Y'all know I shared recently that Duck Tales is back!!! Well, tomorrow is the day. And I have some more inside info to get you even more excited. While at #D23Expo last month, we got to chat it up with Executive Producer, Matt Youngberg (right) and Co-Producer/Story Editor, Francisco Angones (left).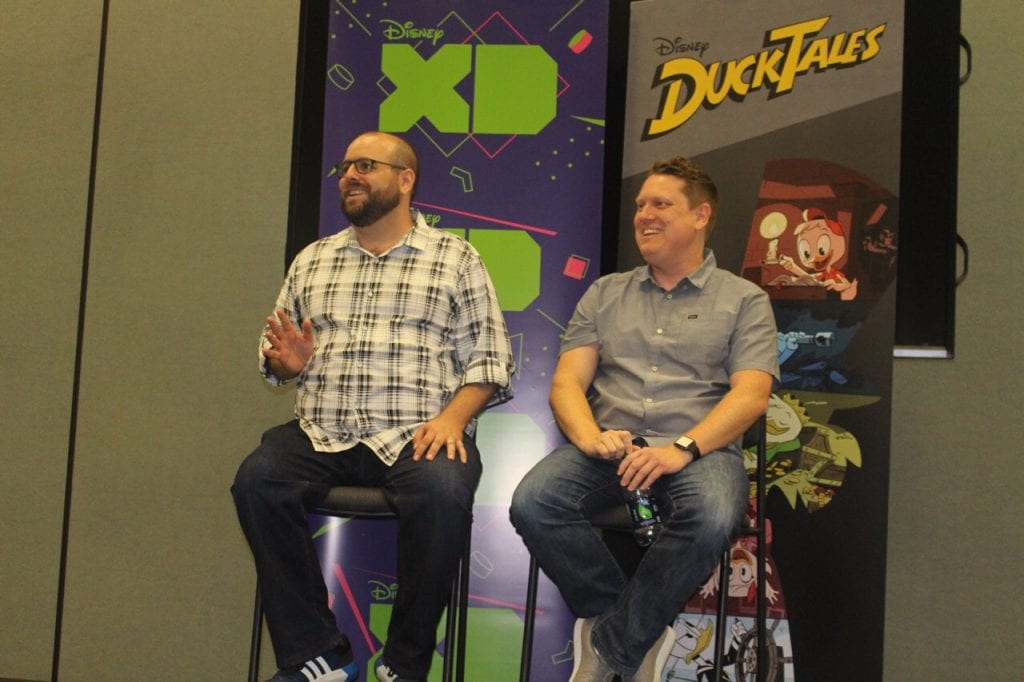 Here is what you'll see during the premiere episode that airs tomorrow, August 12th. Scrooge McDuck has met the kids, brought them into the adventuring hold. The second part of that big premiere event episode is a big long 18-hour road trip in a submarine to the Lost City of Atlantis.
We got to see this first episode and it truly brought back some good childhood memories.
Duck Tales premiere episode airs Saturday August 12th on Disney XD:
"DuckTales: Woo-oo!" where Huey, Dewey, Louie and Webby embark on their very first adventure with the legendary Scrooge McDuck!
Bringing Duck Tales to a new audience
Matt shared how they love Duck Tales so much that the only thing they want is to "present a Duck Tales to a new audience that gives the audience the same feeling that we had. Hopefully, in 30 years, they'll be coming around and creating the next version of Duck Tales, and loving it as much as we love the original."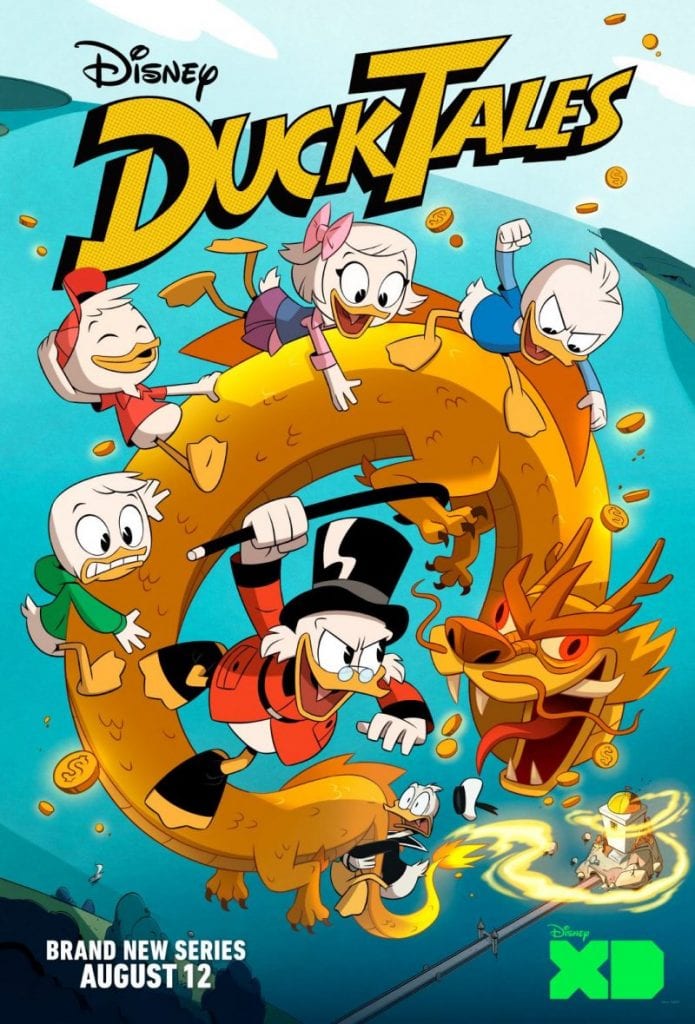 About authenticity & David Tennant as Scrooge McDuck
As I shared in my previous post, I really like the fact that they wanted to keep the same feel as the original series.
Matt shared that David Tennant seemed to be the natural choice for this project. They really wanted to find somebody who was legitimately Scottish because it was really important in this iteration.
He shared that David was able to bring this character icon to life. "He's morphed into this role in, in an incredible way. When you think David Tennant, you think young and vibrant and you think of Scrooge  as old and miserly."
Francisco went on to share about the importance of authenticity in the show even when going to different locations. Consequently, they would genuinely try to find voice actors native to that location.
"If we go to Egypt, we try to find Egyptian voice actors. If we go to China, we're going to try to find Chinese voice actors to bring that extra level of interesting diversity and authenticity, and present a world that kids actually see around them every day."
I love this clip of the new cast singing the original theme song:
Celebrating what we loved about Duck Tales & making it new again
Matt shared during the interview that it was important for them to capture the feeling of the original series. They also hope that it will bring people back. One of the big things was of course the theme song.
"The theme song was something we knew we couldn't fundamentally change. It had to be something that felt close enough to the original that you knew we weren't just getting rid of things that we loved."
"But it would had to have enough of an update that you can tell we were still [LAUGHS] trying to do something. We weren't just recreating the old series. We're doing something different."
Matt also shared in this interview that there's a lot of things throughout the whole series that are weaved in more from the original series.
Funny enough, they both talked about the idea of sharing Duck Tales with their own kids. It was interesting to hear about the fact that it's hard to share this type of project because they really want them to like it.
Francisco shared, "It is a lot. It's your personal taste, and your sense of self, your career, and your role as a father all wrapped into one nerve-racking package."
In addition, they both joked that they don't think they'll be showing their kids anytime soon, and that they will let them find it when they're 30 LOL. I'm sure that is a different king of pressure when your job is to create show content for kids.
Matt shared a short clip with his daughter that she wanted to watch it over and over again.
"She was so excited, and it was so great to see her excited about something I was doing. That, that means a lot. It was a great feeling.."
Here's another sneek peek into the all-new Duck Tales: "Daytrip of Doom!" where Huey, Dewey, Louie and Webby have an epic dart gun fight that ends up a little more intense than some of them are comfortable with.
Get caught up on all D23 Expo news
If you missed my previous posts, you definitely want to make sure you catch up. Here is what you missed:
---
Disclosure: This trip to the Disneyland and D23 Expo was sponsored by Walt Disney World. As always, the thoughts and opinions are my own.  For more information about #D23Expo click here.