This time last week, I was just getting back into the swing of things after attending the ninth annual Disney Dreamers Academy with Steve Harvey and ESSENCE Magazine, a four-day, once-in-a-lifetime educational and mentoring program for a select group of high school students.  The students – identified as "Dreamers"– were selected from thousands of applicants nationwide and are now among only 900 students to hold the honor.
Be sure to check out parts one, two and three of my Disney Dreamers Academy experience.
Students compete for participation in the program by submitting an application and answers to a series of essay questions about their personal stories, the people who are most influential in their lives and their dreams for the future. Only 100 participants are selected each year by a panel of judges. Now, this may seem like a lot of participants…but when you take a close look at the numbers…this is truly an honor and these Dreamers are KILLING it:
10,000 Disney Dreamers Academy applications received this year
900 Dreamers who have been selected for the program since its launch in 2007
27 States represented at this year's event
13 Students from Georgia, the state with the highest representation this year, followed by 10 from Texas and 9 from Florida
21 Dreamers interested in starting a career in the medical field, the most popular career path amongst the students, followed by 17 Dreamers who want to start a career in business or as an entrepreneur, and 10 Dreamers who are interested in becoming an engineer
2 Dreamers started a non-profit organization
5 Dreamers run their own businesses
2 Dreamers, Jalia C. and Raven S., are authors who have each self-published two books for teens
3,100 Miles Samaria H. will travel from Tacoma, Wash., to Lake Buena Vista, Fla., to attend Disney Dreamers Academy, making her the farthest-traveling Dreamer
18 Miles or less Orlando-area Dreamer, Lionell W., will travel to attend Disney Dreamers Academy
1 Dreamer has been accepted to Harvard University
1 Dreamer is in final rounds of auditions to attend Juilliard

***1 Dreamer is a homeschooler, and his name is Alex Gregory
The program featured an exclusive weekend of dreaming big, discovering possibilities and preparing for the future. Along with a parent or guardian, each teen received an all-expense-paid trip to Walt Disney World Resort, where they learned important networking skills, participated in hands-on career workshops and created fun memories to cherish for a lifetime. And to top it off, Dreamers were also motivated and inspired with presentations from noted professionals and celebrities, including: Steve Harvey, Film Producer Will Packer, Actress Tamera Mowry-Housley and Bledsoe Technologies' 17-year-old CEO, Jaylen Bledsoe, and many more.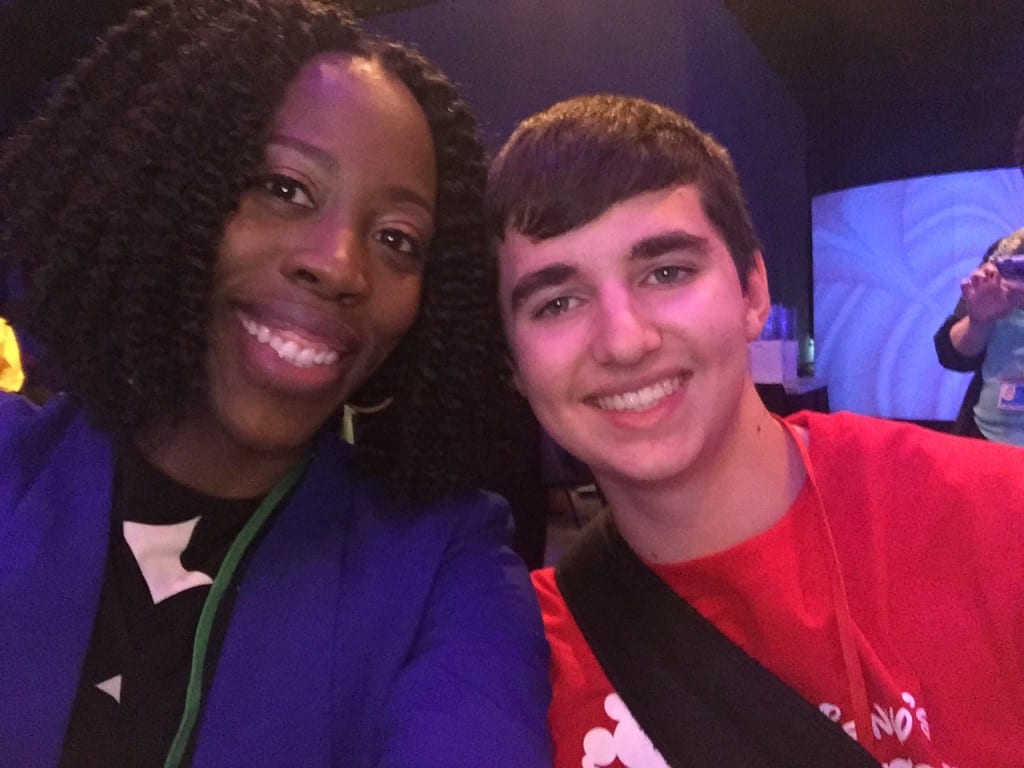 Meet Alex Gregory, a 15-year-old homeschooler born in Syracuse, New York. Being a homeschool mom of three myself, my first question when asked which Dreamers we wanted to interview, was: are any of them homeschoolers? To my surprise, there was only one by the name of Alex (clearly I have some work to do in getting my fellow homeschool parents involved). I really enjoyed speaking with him and know that he has a really bright future ahead as he's just getting ready to finish up his freshman year of high school.
In July of 2015 he moved to Florida with his family. Alex particularly enjoys learning about marine life and is currently working towards his SCUBA certification.
How has homeschooling impacted your life?
It impacted my life because it allowed me to progress in my schooling. It allowed me to do some extracurricular activities that I wouldn't have been able to do in traditional school. I currently do a homeschooling program with Mote Aquarium in Sarasota, and I'm doing a research project. I also did Youth Conservation Summit and they gave me funding to create a conservation ocean project.
I started homeschooling when I got to sixth grade. I liked public school because of the friends I had there. But with homeschooling, I really like the ability to work ahead and not having to go anywhere to have school. I'm learning everywhere I go.
I also participate in photography, 4-H clubs, and I am currently in the process of creating an ocean conservation project based on the shrimping industry. When I graduate college I wish to become either a marine ecologist or an aquaculturist (say what now? Click here for info on aquaculturists and what they do).
Tips for getting the most out of homeschool
Alex says students should work hard on school work so you can participate in homeschool extracurricular activities, and make sure you apply to as many of them as possible.
About being at the Disney Dreamers Academy, Alex says that it truly has been a great experience being able to connect with so many other students from around the country.
Homeschool parents: be sure to get your high school kids involved and applying for the Disney Dreamers Academy. I saw first-hand the impact it had on these Dreamers, and I can't wait until my children are old enough to participate (unless Disney decided to create a Disney Junior Dreamers Academy…wishful thinking!).
---
This visit to the Disney Dreamers Academy was sponsored by Walt Disney World. As always, the thoughts and opinions are my own.  For more information about Disney Dreamers Academy CLICK HERE.