Did you get a chance to see Disney Pixar's Coco while it was out in theaters? If not, don't worry. Pixar's Coco is now available on digital, Blu-ray and DVD starting today!
My family and I got to watch it in theaters and we all loved it. From the story to the music to the rich culture and bright colors, it truly was fantastic. As I mentioned previously, while in LA for the Black Panther Event, we got a chance to interview Anthony Gonzalez, the voice of Miguel.
In the interview, he shared why this film was so important to him. He also shared his own personal experiences and how closely connected he felt to Miguel. You can read the full interview with Anthony Gonzalez here.
About Pixar's Coco
'Coco' celebrates family and the art of being remembered. This film is about a 12-year-old boy who has big dreams. Director, Lee Unkrich says, "It's about a hardworking family with great traditions and a lot of love. But what's so cool about 'Coco' is that the boy could be my son. That family could live next door. The sweet, bossy grandmother who insists on one more bite might be your grandma. There's something familiar to us all in this story. That's what makes it so special."
Día de Muertos (The Day of the Dead) is a Mexican heritage tradition with roots in indigenous culture.
6 Reasons to Grab Your Copy of Pixar's Coco
I was so excited to get an early copy of this DVD. We love to see all of the bonus features that are included. Often times, as with this Coco DVD, you get to see lots of behind-the-scenes featurettes. You also get to see cool things like deleted scenes that you won't see anywhere else.
Below I'm sharing some of my favorite things from Pixar Coco's DVD and Bluray set.
1. The story of Dante – Mexican Xolo dog
Did you know that Dante the dog is based on the national dog of Mexico? The Xolo dog is a Mexican dog that is known to connect to the living and the dead.
With the footage included in the DVD, we get a deep understanding of why Dante is in the film, as well as his true meaning and significance.
For example, nearly hairless, Xolos often have missing teeth. For that reason, their tongue naturally hangs out. Filmmakers included this detail in Dante's design— his tongue behaves like a character itself.
2. Dreams Realized
I love to hear about how actors and actresses get cast for their roles. So when I saw that they included the surprise in here when they cast Anthony as the voice of Miguel, it was a treat!
They share a scene of Anthony doing a script reading. It was around Christmas so afterward, they presented him with an early Christmas gift.
When he opened the gift, it was a special framed graphic letting him know that he got the part! You just have to see it! Pixar truly made it a magical moment for him (be sure to grab your tissue…) and his mom who was there.
3. Papel Picado DIY
I love learning about new cultures, especially with my own children. So when I saw they included a DIY in the bonus features, I was excited! Papel Picado ("perforated paper", literally "pecked paper") is a decorative craft made out of paper cut into beautiful and elaborate designs.
It is considered Mexican traditional art. No matter where you go, you'll see it on the streets of Mexico. You can see them hanging in various, vibrant colors in the scene photo below. With the bonus features, you and your family can create your own papel picado.
4.Paths to Pixar
There is bonus content included that tells the stories of the talent that worked to create this film. They share what they wanted to do as kids and what their interests were. The individuals also share their own personal stories about representation. This film means so much to Mexican/Mexican Americans and Latinos as a whole.
The stories were so touching and I could relate to a lot of what they were sharing. I felt much of the same when I watched Black Panther. Being able to see yourself and your culture represented on screen is indeed a powerful thing.
5. Deleted scenes
I was amazed to find out that they had been working on the movie Coco for 6 years! Co-Director, Adrian Molina and Director, Lee Unkrich, both agreed that they wanted an entirely Latino cast. In the bonus features, they share some of the original storyboard sequencing used before final castings took place.
We get to see some original sketches as well as hear some of the original songs. As you can imagine, there were a ton of scenes that needed to be cut from a film that took 6 years to create. I love that we get to see some of those in the bonus features.
6. Remember Me
The song "Remember Me," heard multiple times in the movie, was written by Kristen Anderson-Lopez and Robert Lopez, the team behind the Oscar®-winning song "Let It Go" from Walt Disney Animation Studios' 2013 feature "Frozen."
There are a ton more features available when you purchase your Bluray/DVD copy of Pixar's Coco, including this DIY rubber band guitar tutorial.
DVD Special Features
Filmmaker Commentary
Dante
Blu-ray Special Features
Deleted Scenes
The Music of Coco
Paths to Pixar: Coco
In-Home Exclusive: Welcome to the Fiesta
A Thousand Pictures A Day
Mi Familia
Land Of Our Ancestors
Fashion Through The Ages
The Real Guitar
How to Make Paper Picado
How to Draw a Skeleton
You Got The Part!
Un Poco Coco
Coco Trailers
DVD Special Features
Digital HD Special Features
Remember Me – Music Video by Miguel feat. Natalia Lafourcade
Blu-ray and DVD Special Features
Check out the official trailer for Disney Pixar's Coco
Disney's Pixar Coco is out on DVD and Bluray TODAY, February 27th!
Follow Pixar Coco on Facebook, Twitter and Instagram (#PixarCoco). Whether you're looking for your digital, DVD or Bluray copy, you can click here to grab it.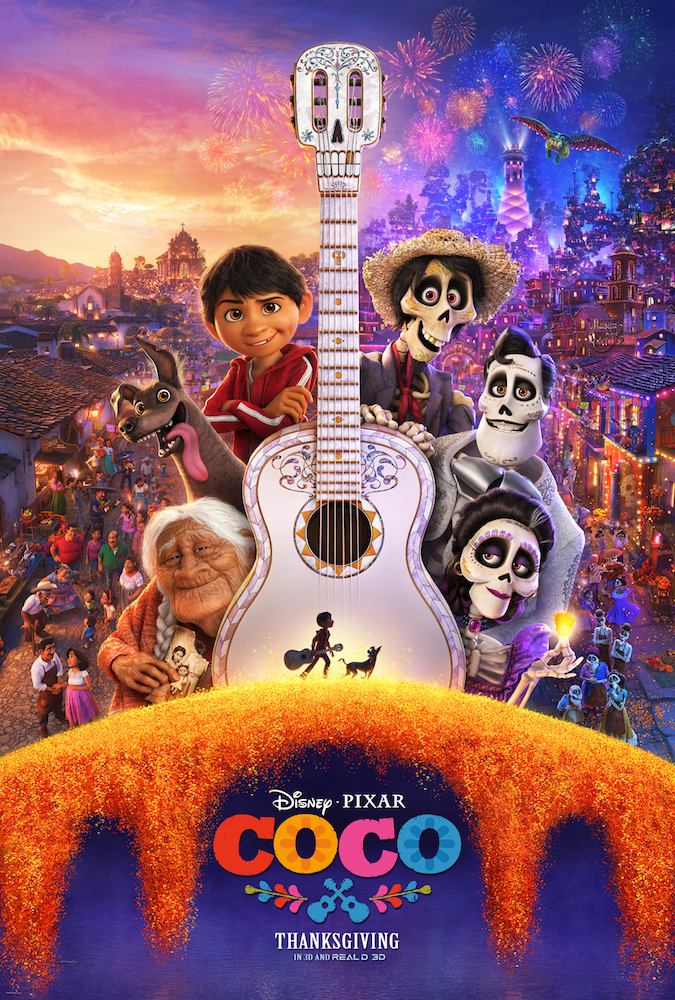 ---
This trip to Disney in LA was sponsored. As always, all opinions are my own.