Hey folks! It's time for another giveaway! I've been doing a lot of that lately and I get so excited when I do (and this giveaway is no exception). If you remember, I shared with you a couple of weeks my review of the Cara B products that I was able to test out. Be sure to check out my post if you missed it. Aside from having exceptional and safe products that we can use freely on our children, Cara B takes it a step further. They are asking us to join in the movement with them by pledging to care naturally: "Join us as we pledge to do our best to eliminate toxic chemicals from our loved ones lives." So will you join us? By accepting and taking the pledge today, you can enter for your chance to win the Cara B Gift Basket. This basket is a perfect gift for moms for any occasion (baby showers, Mother's Day, birthday, etc.).
Here is why I took the pledge: I took the pledge because the health and well being of my children depend on it. I took the pledge because as a mom, I owe my children the best start and chance at a healthy lifestyle; to not only include what goes in their bodies, but what goes on their bodies. I took the pledge because I want nothing but the absolute best for my children, so that they can pass the best on to their future children.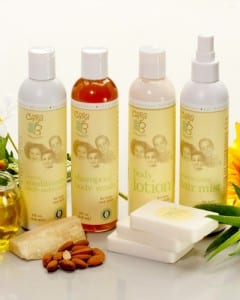 This giveaway is valued at $60 and contains:
Tear-free shampoo/body wash
Leave-in conditioner/daily moisturizer
Moisturizing hair mist
Body lotion
All you have to do is enter below for your chance to win!
    **This giveaway is being sponsored by Cara B Naturally. All entries must be received by midnight on 3/29/13. You must be 18 years or older and reside in the US in order to be eligible. This giveaway is for ONE Cara B Naturally gift basket.**