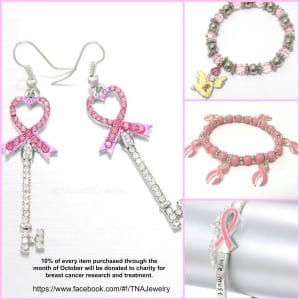 Over the last year, I have had one too many people in my circle be diagnosed and treated for breast cancer. Last year, I featured a story on a veteran mom who battled cancer and survived. I know there are many, many more stories similar to Lenore's that have yet to be heard. It is still true that 1 in 8 women in the US will develop some form of breast cancer. So we have to remain proactive, and continue to look for ways to possibly decrease our chances of being diagnosed with breast cancer. And while doctors have come a long way in terms of treatment and research, we still have a long way to go.
I'm always amazed at the power of social media, and met the sponsor of this giveaway (T & A Jewelry), through my Facebook fan page. I saw all of the beautiful breast cancer awareness jewelry, and immediately asked if there was a way to collaborate, so we could both fundraise and raise awareness at the same time. They had no hesitation in providing a piece of their jewelry for this giveaway. And in addition, 10% of all proceeds purchased through their website during the month of October will be donated to charity to support breast cancer research and treatment. T&A Jewelry understand the importance of breast cancer awareness and support, as their mother, aunt and family friend are all survivors.
The inspiration for this jewelry business came from being a customer in support of a family member's business. As a result, they started their own business, and provide jewelry that they wear themselves, and that their customers request. Their top three items sold in support of breast cancer are below: pink ribbon charm bracelet, breast cancer key necklace and the pink ribbon survivor charm bracelet. Click here to view complete listing and photos of available jewelry.

Entering this giveaway gives you the opportunity to win this pink ribbon heart necklace (featured below), valued at $15.00.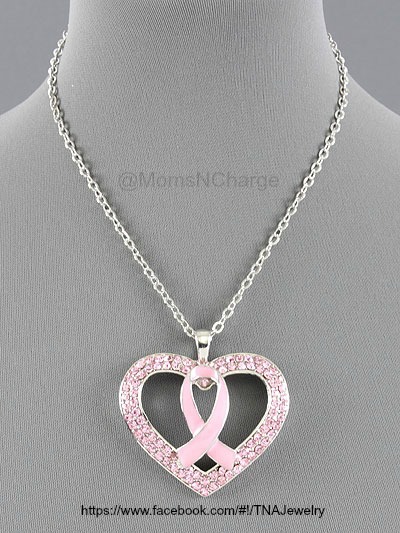 a Rafflecopter giveaway *Disclaimer: This is a sponsored giveaway from T & A Jewelry. 10% of sales made through the month of October directly from the website will go to the Susan G Komen foundation. This raffle is only eligible for US residents 18 and over. You will be notified via e-mail if you are randomly selected, and will have 48 hours to claim your prize.**