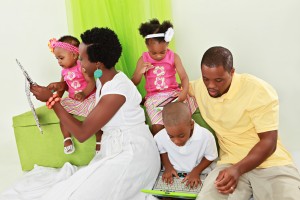 Just like I became the accidental stay-at-home mom, I'm starting to see the title of accidental homeschooling mom might not be that far-fetched. Just like I laughed when my husband told me I should stay home with the kids full-time, I laughed (& maybe even gave him a triple stank face) when he brought up the idea of homeschooling to me almost two years ago. Seriously, that word just terrified me (and still does to a certain extent). It's hard enough being a SAHM, but to throw Homeschooler on top of that? It definitely makes me uneasy. But once I got over the fear of this huge responsibility, I started to really evaluate the advantages that we would have as a family.
Freedom
This school year, we took a stab at preparing our 5-year-old for Kindergarten. Since he has a "late" birthday (September), he had to wait until this year to start. So instead of keeping him in pre-K for half a day, we (mostly me) decided to have him do two half-day programs. I figured this would get him accustomed to a full-day schedule come fall.
It's actually proven to be somewhat of a grueling schedule, especially when my husband has to work until 10am. This means that I have to get all three kids up, dressed, fed and out the door to get our son to school by 8:50am. Throw in frigid temperatures or nasty weather and most times, he would end up missing his morning class.
Homeschooling would give us the freedom to make our own schedules, while staying warm and dry in the comfort of our own home. We would also have the freedom to take vacations at our own pace and on our own schedules (without being harassed about unexcused absences). This would also mean spending more quality time together.
You can check out my other two reasons that I wrote for this guest post by clicking HERE.
Be sure to let me know what you think. Would you ever consider homeschool for your child(ren)?