Beaches Social Media on the Sand was life-changing and amazing for so many reasons. You can check out my pre-travel post here about the conference and how you can apply next year (it is invitation-only). You can also check out these international travel tips I shared last week, while traveling with our three kids.
Our two-bedroom suite in the Italian Village was absolutely amazing, and it was almost hard to leave it every day. At least one of the girls wakes up a couple times a week and wanders into our room in the middle of the night. This never happened during any of the eight nights we spent here. Never. Could you blame them though?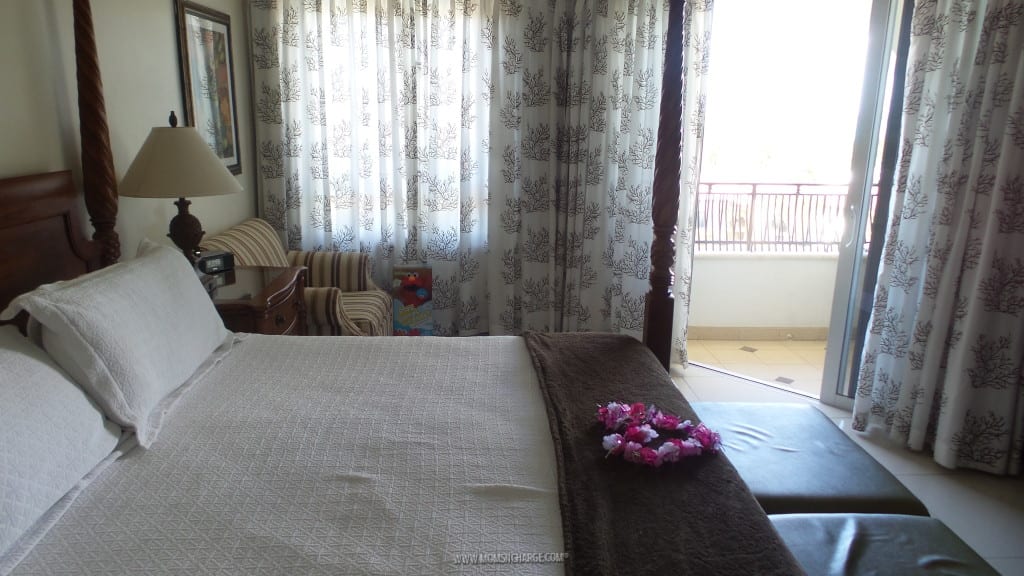 Let me start by sharing that my kids are 4, 6 & 8. Even when I was working full-time outside of the house, our kids never went to a traditional daycare. When we had my son, my husband went back to working the overnight shift so he could be home with him during the day. We continued that with baby number two, and by the time I had baby number three I was home full-time. The closest we got to daycare with my son was occasionally, we would take him part-time to his aunt's house down the street who ran a home daycare.
We don't allow our kids to spend the night over anyone other than family's house (or those we consider family). So you can imagine that when we were invited to drop them off at kids' camp while at Beaches Resorts the first time, we were a little on the uneasy side. It felt like the first time we took our son to pre-school and kept looking in the window of the classroom wondering if he was okay. He didn't think twice about telling us bye and jumped right in.
I knew from the beginning that this would be an option and I was excited about it. But once the time actually came, I was like wait…you want me to leave my babies with all of these strangers? We know we'll have to loosen up the hold eventually, so we figured this would be the best way to start.



Our four-year-old didn't want to be without her big sister. So we asked them to allow her to stay in that age group instead of going with her camp for the six-year-olds. They had no problem with that and baby girl was happy. We then dropped our son off at his camp, again uneasy cause he was by himself. We knew we would be returning in a couple of hours to attend the 80's themed family party for Social Media on the Sand.
Don't you know…we went to pick them up and they.did.not.want.to.leave. Like, they seriously begged us to stay. The great thing is that they are open from about 8am to 10pm most days and close between the hours of 5-6pm. So we let them stay, went to the party, came back at 9:30pm (almost three hours later) to pick them up, and the first question they asked was if they could come back the next day? Of course, that was followed by allllll of the amazing things they did.



Needless to say, the kids were at camp pretty much every day that we were there with the exception of maybe 2-3 days when we had other things going on (and trust me, they didn't stop asking if they could go back).
What we loved about Camp Sesame and my son's camp is the structure, and the different activities they did daily with the kids and all with love.
For example: 
My son learned the basics of snorkeling during his camp

The girls got visits from most of the Sesame Street characters. They loved when Zoe came to talk about the letter "A".

Another night, my son's group got to watch an Island talent show & have a dance party at the resort's Club Liquid

The girls also got to learn more about recycling by going on a Trash to Treasure hunt with Oscar the Grouch.
The activities were seriously endless and fun for the kids! They segmented the days of the week out like Environmental Sunday, Cultural Wednesday, Beachin' Thursday and so on.


So why is Beaches Turks and Caicos every parents' dream come true? They truly took care of our kids like we would. They gave my husband and I some much needed alone time, where we got to go on a few dates and celebrate our anniversary. They literally put us at ease because they have such an amazing staff. Our girls literally cried when we told them it was our last day, and we went to take pictures with some of their camp counselors. I watched them interact with the kids and they treated them as their own.


Oh, and did I mention that this is not an additional cost? Nope, these camps are included in the all-inclusive services that Beaches Resorts offers. Not only did they have planned activities with them, but on a couple of days, we allowed the kids to go earlier so they could go to dinner with their camp mates. Since we're a homeschooling family, it was so great to know they were still getting an education and still learning in such an amazing setting.
And then of course there was the beach. Not only could we see it from our bedroom windows, it was literally steps away. If we weren't hanging out on the beach and in the water, we were eating on the beach. I'll have to do a separate post about all of the food, but it was so great to walk around barefoot in the sand for 90% of the time we were there.


The kids even had fun activities they did at camp on the beach. On one of the days, they got to work with Sesame Street artist, Barry Goldberg and learn art through creating Elmo sculptures in the sand. And what kid wouldn't love to back cookies with Cookie Monster? Well, they got to do that too (for some reason, the only character our four-year-old was scared of was Cookie Monster so she didn't participate). They also got to dress up and go trick-or-treating during the Halloween party right at the resort. Of course, they loved that. I'll be doing a separate post about the food, including the character breakfast where we got to meet, greet and hang out with the entire cast of Sesame Street.



The smiles never left our kids' faces. Mommy got some "me time" as well as some "wifey time", and everyone was happy. The only complaint we had was that we didn't want to leave. Beaches Turks & Caicos Resort Villages & Spa is every parents' dream come true.
Comment below and let me know: what is the most memorable family vacation and what made it so special?