Hey y'all hey!!! February may be almost over, but that doesn't mean the celebration and learning about our black history culture needs to come to an end. I wish I was taught more about black history growing up. There is so much still be learned even today, as proven with the box office hit, Hidden Figures.
Why Teach Kids Black History
More than ever, our kids need to be shown how rich our history is. They need to be shown people that look like them, and that did extraordinary things in order for us to live the way we live today; in order for us to have many of the freedoms we have today.
I want my kids to be armed with as much knowledge as possible because then, their possibilities will be endless.
This is why I was so excited to take my son to work with me yesterday on the set of Good Morning Washington. We got to share some creative ways to make black history learning fun for kids. We loved chatting with Veronica Johnson!
#GMW Recap: @UndergroundWGN @tvonetv @ValerieAgyeman @MomsNCharge #NationalMargaritaDay pic.twitter.com/nwRwK2Hffs

— Good Morning Wash. (@ABC7GMW) February 22, 2017
My son is 9 and loves learning about science and history. So he was excited to get his first TV debut (and says it was fun). Check out our tips below and then I'll have links for all of these projects at the end.
1. Learning is more fun with – BINGO!
Black History Bingo is a fun way to get the kids excited about learning history. It's a great classroom activity for teachers or at home as a family. Switch things up and use pieces of candy or movie popcorn as your Bingo pieces.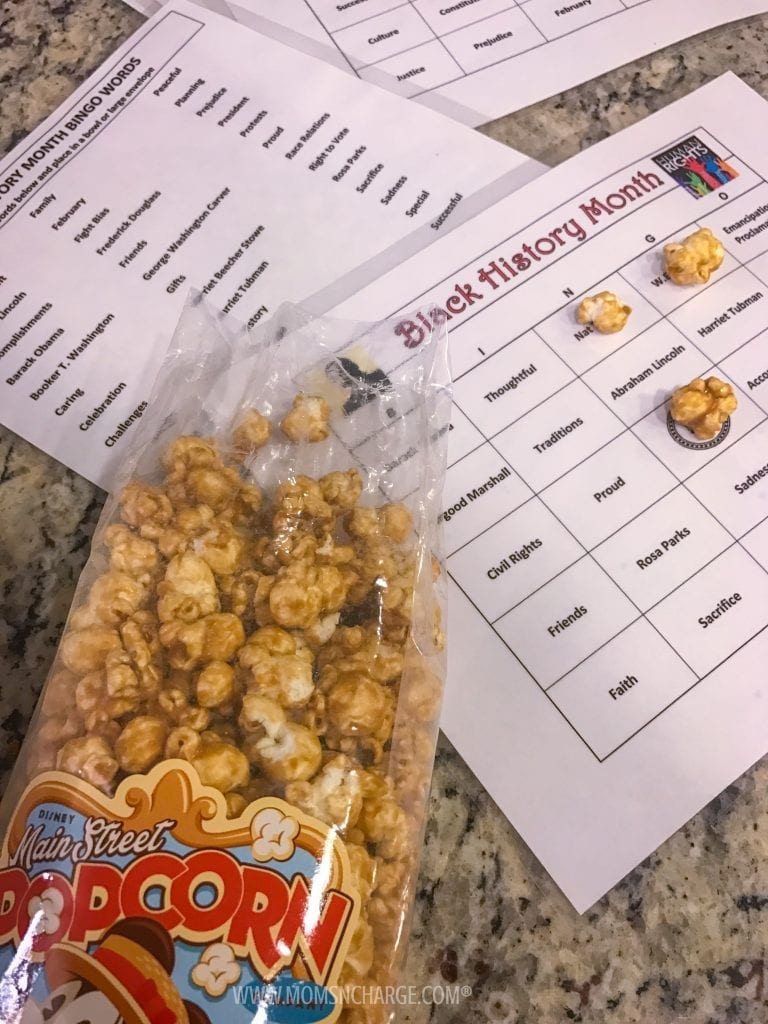 As a homeschooler, I like a lot of the printables and downloads on Teachers Pay Teachers. You can download these black history bingo cards here.
I decided to laminate our copies so it would be easier to reuse them.
Also related: Black History in Animation (Disney's first black animator)
2. Get black history education & African geography delivered to your door with The Heritage Box
This unique monthly subscription will break down various subjects for the kids to learn, that will revolve around BHM: Reading, writing, art, games and more!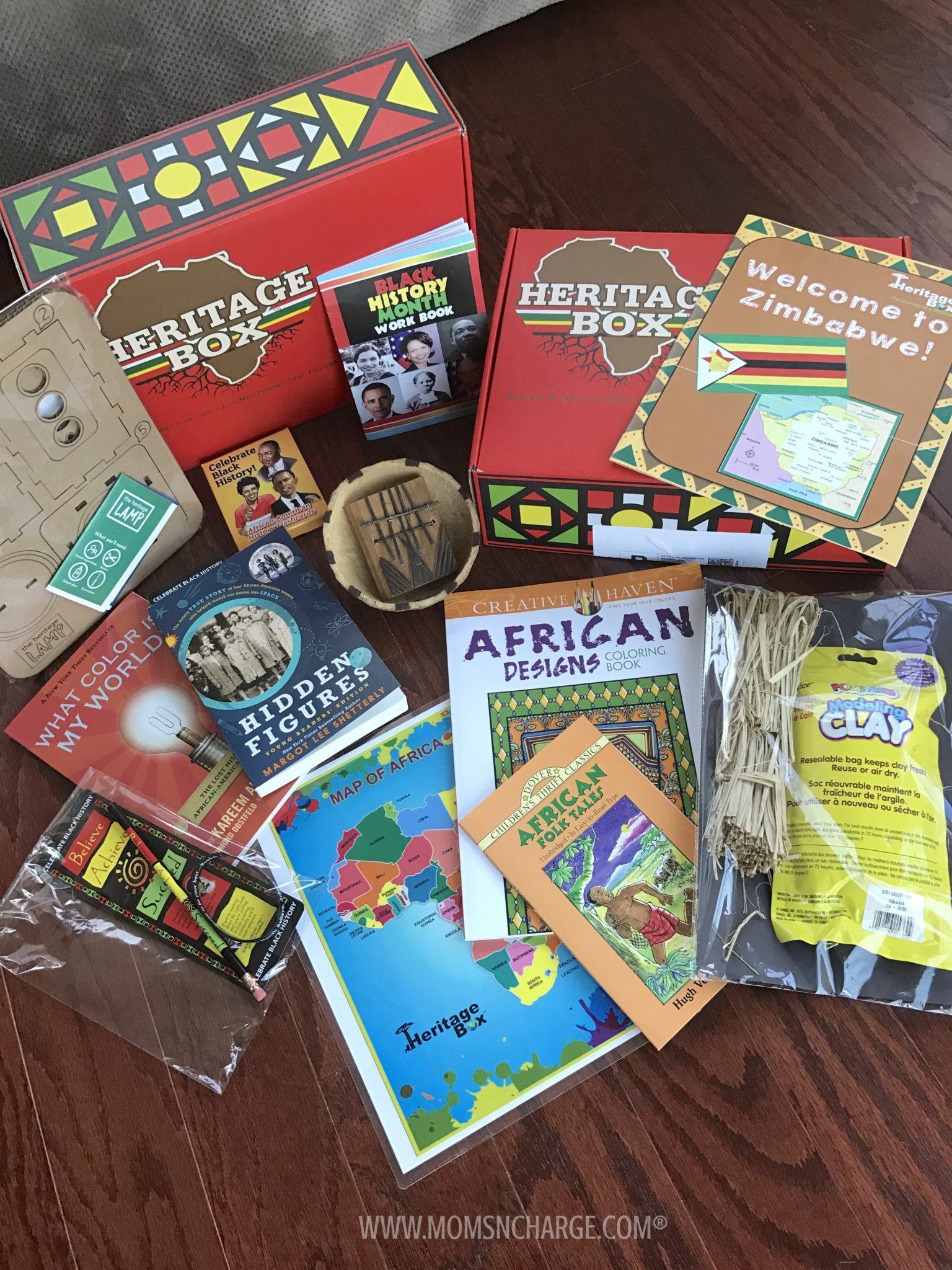 When Heritage Box sent me this package to review, I immediately fell in love. So much so, that I've already subscribed as a customer and will be hosting my own giveaway here on the blog soon (stay tuned).
Talk about a bang for your buck! Honestly, there's so much to do in here even with three kids sharing one box (they had a special box for Black History Month shown here).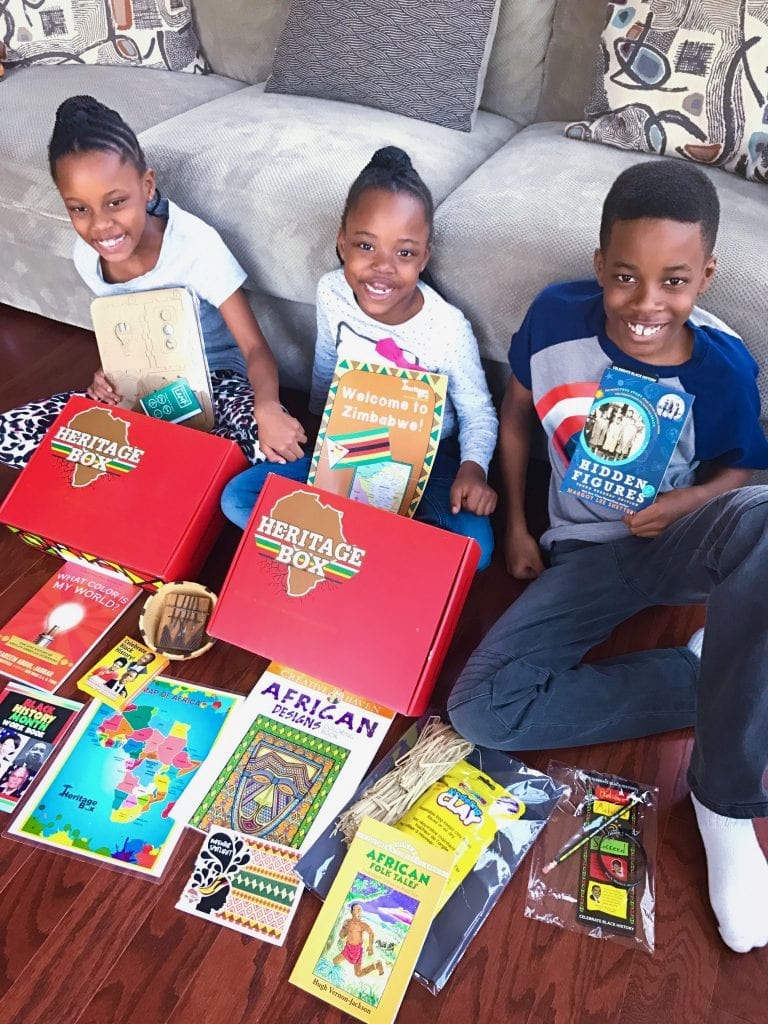 ​
3. Display Black History around the house with these artsy Pop-up books
This is a fun way for kids to use their creativity and writing skills to share what they learn during Black History Month. What I witnessed was reading comprehension. Because we had read some Black History books for kids, when it came time to put these pop-up books together, they remembered those stories and people.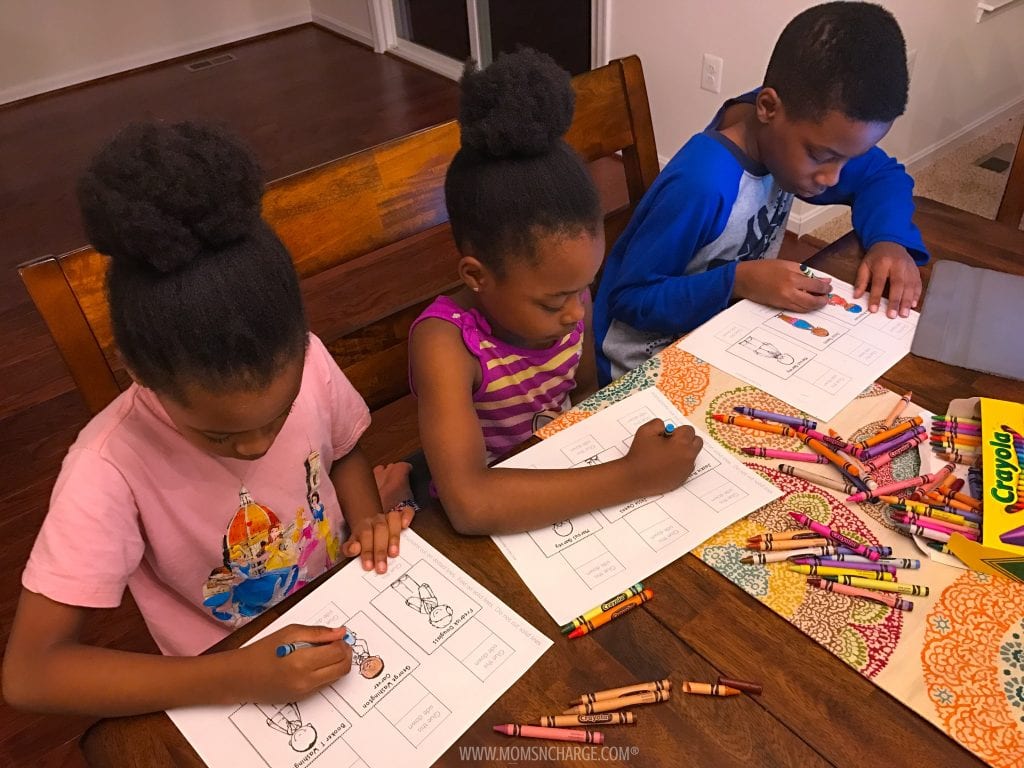 The kids enjoyed it of course, initially because…coloring! And cutting! Now, let me just warn you: there's a lot of coloring, cutting and folding to be done here. So patience is key.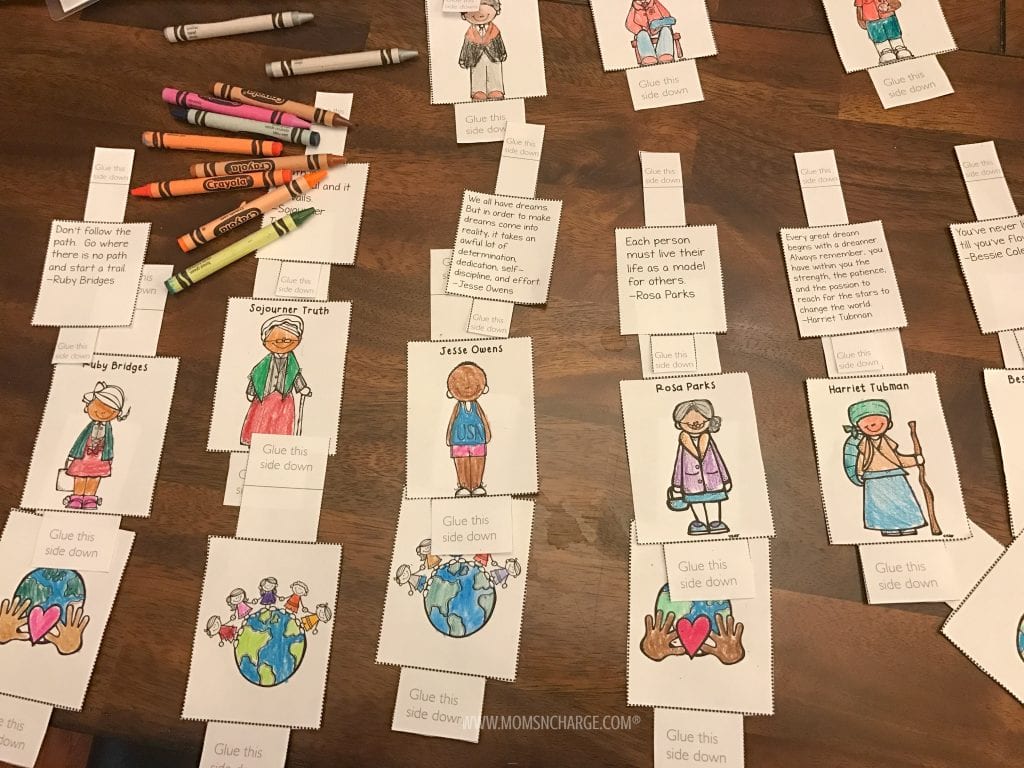 But the end result and sense of pride the kids had, was totally worth it!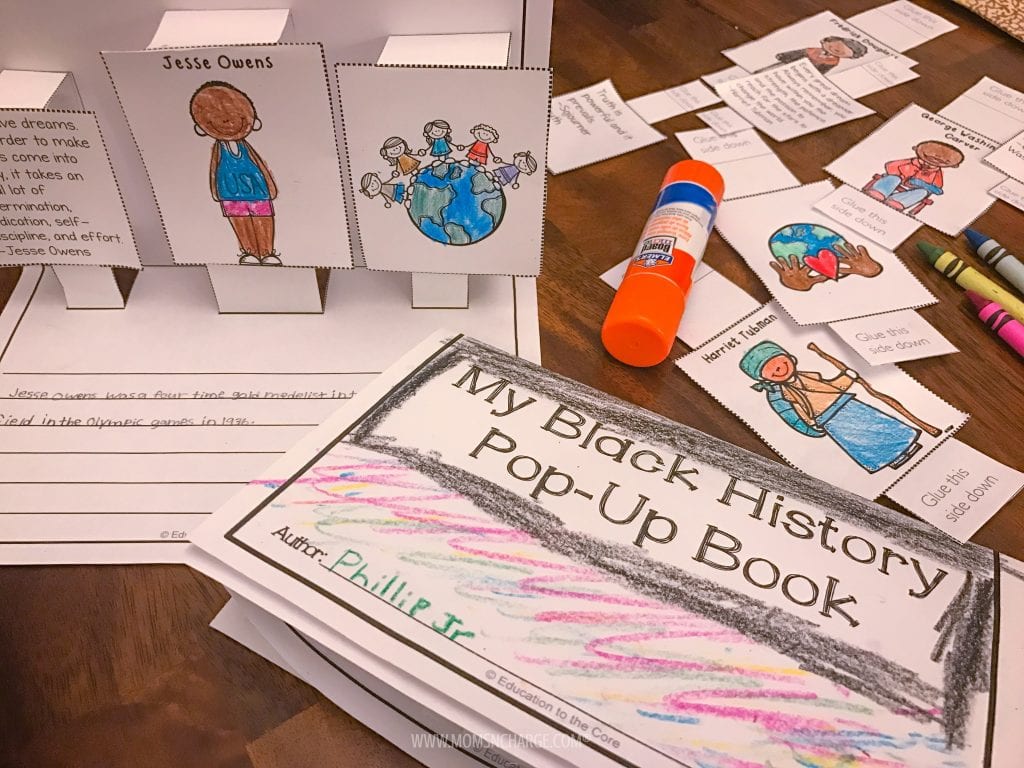 This was another great find on Teachers Pay Teachers. You can download both the Bingo board game (comes with over 60 cards) and this one for less than $5. Click here for the pop-up books.
4. DIY graham cracker stoplight craft: Who is Garrett Morgan?
We didn't have time in the segment to do this craft live (you never know how the time will work out in live TV). But my son really loved this craft and learning about why Mr. Morgan decided to invent the traffic light as we know it today.
While you're putting together graham crackers, peanut butter and M&M's, tell your kids about this important invention. It makes the eating more fun 🙂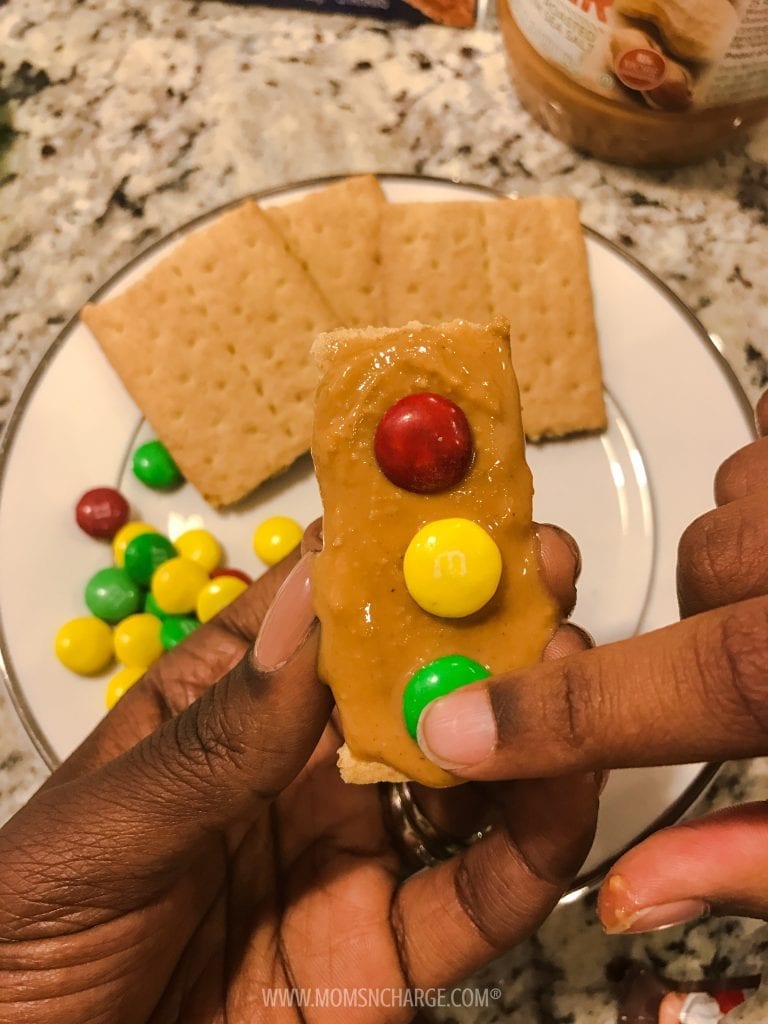 5. DIY Tap dance shoes: Who is Bojangles?
We didn't get to demonstrate these DIY tap shoes on the segment, but this was another fun and quick "craft". I can hardly count "taping coins to the bottom of shoes" a craft. But it's amazing how much sound actually comes out of these, and sounds like real tap shoes. These will get the kids out of your hair for a little while.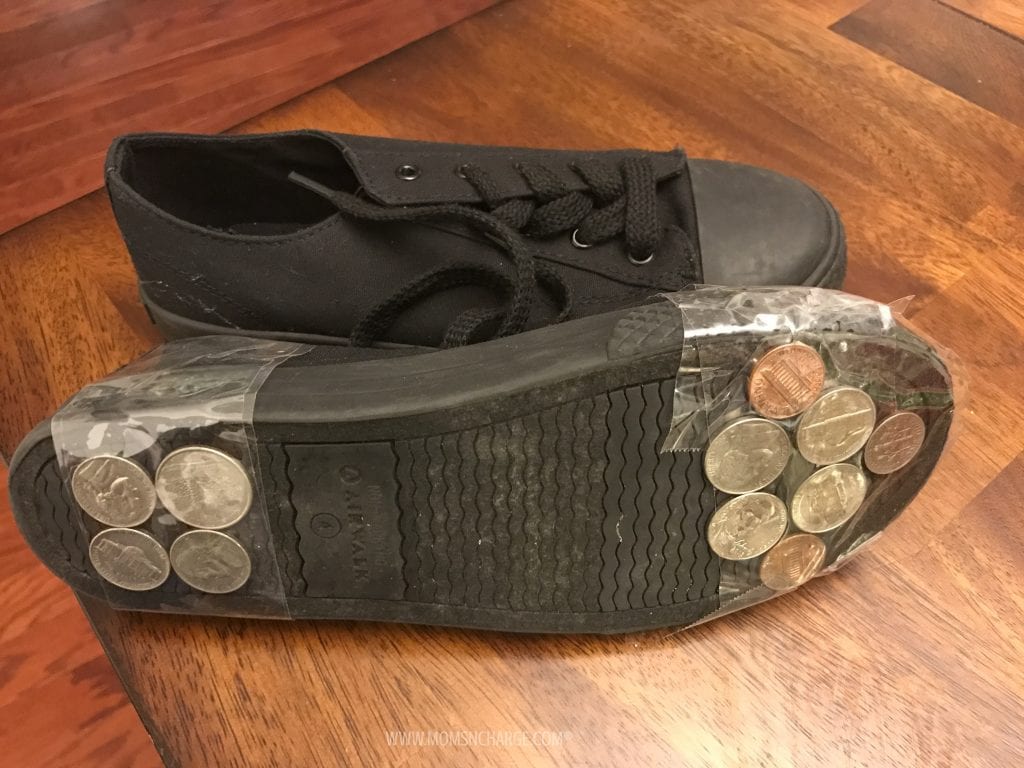 Who knows? Your child may gain an interest in this historical dance. What better way to find out than to just turn a pair of shoes they already own, into tap shoes?
And while you're at it: tell them not only about the history of tap dance, but also about Bill Robinson, affectionately known as Bojangles. He was the best known and most highly paid African-American entertainer in the first half of the twentieth century.
Whatever you decide to do, find ways to incorporate fun in your child's learning, and you will see how much more knowledge they retain.
What are some of your favorite ways to incorporate fun in your child's learning? How do you teach black history to your children?