When I was looking for a company name, I wanted it to reflect not only me and where I was headed, but also the women that I wanted to interact with on a daily basis. I wanted to create a space for moms to come together and have a place to just be real with themselves and each other. I thought a lot about how my life had taken control of me (after I gave birth to my last born), instead of me taking control of my life. So I founded Moms 'N Charge in order to unite other moms who needed to take charge of their own lives. And everyone has a different definition of what "taking charge" looks like to them. For me it was learning that I could not eat whatever I wanted, and not expect that I still looked like I was six months pregnant…nine and ten months after having the baby. For me it was regaining pride in my overall appearance. I had to learn that just because I was a SAHM, didn't mean it was okay for me to let myself go. For me, taking charge of my life meant learning that it was okay for me to treat myself every now and again. It was also okay for me to have my "me time". For me, it was doing the things that I really loved and wanted to do.
Well two of my BFF's (in my head) are definitely women who are 'n charge of their own lives. Seriously, what is not to love about Tia & Tamera? I have been a fan of theirs since the Sister Sister days. So I was super duper excited when my good friend alerted me to the fact that they were going to grace the cover of the April issue of Essence magazine. And as if their presence wasn't enough, the caption "Tia & Tamera: Moms in Charge" just had me even more excited (I'm taking it as a sign y'all). It was a long 2-3 day wait from the time they first gave us a sneak peak of the cover and photo shoot, until the issue actually hit the stands (*note to self: renew my Essence subscription), but it was so worth it!
Here are just a few of my favorite quotes from the article:
"True, their banter is saucier and the barbs more wicked, but it's clear that the good nature that made them stand out in Hollywood wasn't just for the cameras. It's who they are." Erin Aubry Kaplan, Author.
"We didn't want to do a reality show if we couldn't be real — if I couldn't be myself." ~Tia
I couldn't agree more with the statement by the author. Granted, I haven't sat down and had a conversation with them face-to-face (not yet anyway), but I feel like I'm sitting right with them when I watch the Tia & Tamera show. Their reality show is exactly what a reality show is supposed to be — REAL! You can tell they are genuine and definitely not creating any unnecessary drama. They are being themselves…and they are darn right hilarious in the process!
"With Adam I can just be myself. Our favorite thing to do is just talk. But we don't talk about Hollywood. I'm a better actress by just living my real life" ~Tamera~
"Love is important. Love is fine. But there are other things that have to be there to make a marriage work. I'm his biggest fan, and he's mine." ~Tia~
One other thing I truly appreciate about watching these amazing women on TV is their interactions with their husbands. You can really see the love and respect they have for each other. It's a positive image of marriage and love that the world doesn't get to see a whole lot of.
"Being a wife and mom, I find the purpose of your work shifts. It goes from, 'This is for me; I do this because I want to' to 'I do this because I want a better life; I want to be an example for my child'." ~Tia~
I completely related to this comment because this is the mind shift that changed for me, especially when I was pregnant with my third child. I realized that the stress on my job really didn't matter because it was taking extended time away from what truly mattered — my family. It was also turning me into that mean mom that I never wanted to be. I continue to strive to provide a better life and be a better example for my children.
"I thought depression was a weakness. Counseling helped. But Christians say, 'Just pray!' Plus, people said, 'You're successful. What's the problem?' I felt guilty. ~Tamera~
Just a couple of months ago, I did a two part series on postpartum depression. While the triggers for this are different than the depression that Tamera experienced early on, the feelings of guilt were definitely mutual. I didn't feel like I had anything to be depressed about when I was home with my kids…something not a lot of moms are able to do full-time. It took a very long time to even tell my husband that I was sure something was wrong. So I'm truly thankful that I had his support through dealing with that.
Tamera also talked about wanting to produce films: "Family films I can take kids to see. I'm old-fashioned and conservative in that way." ~Tamera~
As a mom with young kids, I truly appreciate that and will be standing in line waiting to see these films! I've definitely grown a lot more conservative than I was even before I had kids. So I am all about family fun films! 🙂
"Integrity and character are more important to me than money or cars or anything else" ~Tia~
I think if more people lived by this, the world would truly be a better place. But it's refreshing to hear because I know Tia is speaking the truth and not putting on a facade for the sake of "looking good".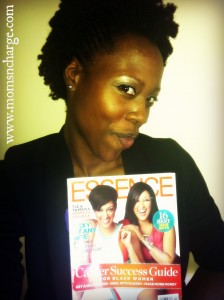 Tia & Tamera are wives, moms, reality TV stars and now, entrepreneurs! They ALMOST make me want to have another baby just so that I can be a product of Milky (I said almost…). Be sure to join their online community for tips on healthy eating, motherhood, sisterly advice, and of course, fashion & beauty.
The April issue of Essence is out on newstands NOW so be sure to hurry up and pick up your copy!
And if you missed the behind-the-scenes video they shot, you gotta check that out too! Thanks Tamera for once again keeping it real with us and letting us know that you have on "four spanks" underneath that gorgeous blue/black dress. I was definitely wearing spanx for the first year of my daughter's life. LOL
Are you a fan of Tia & Tamera? What inspires you most about this dynamic duo?
UPDATE: SO excited to be featured on TiaAndTameraOfficial.com for their member spotlight. You can check it out HERE.