I am all about putting some meaning into the holidays so the kids know the reason behind why we do things. And with Thanksgiving coming up in a few days, I wanted to incorporate some new ideas. If you've been following me for awhile, you know that I love going to Pinterest for craft ideas I can implement and make my own.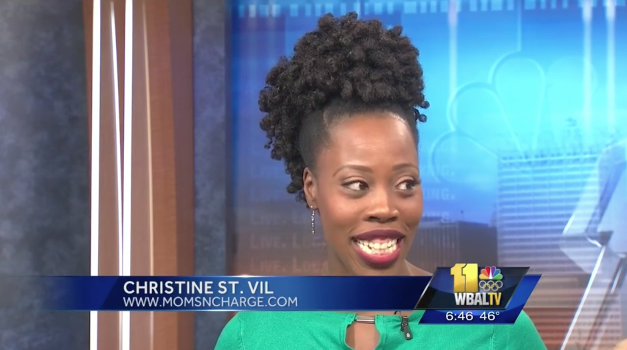 Yesterday morning, I had the pleasure of heading back to WBAL, where I got to share these fun craft ideas on how to make Thanksgiving memorable and meaningful for kids. I always have such a great time with this studio and yesterday was no different. You can check out the full segment below. You can check out the full segment below.
The Thanksgiving Tree Centerpiece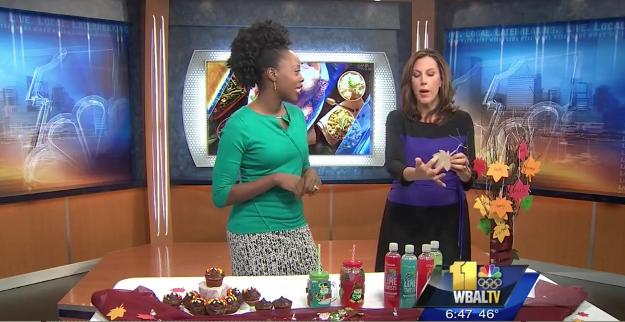 Build your own giving tree centerpiece. This centerpiece is something that we will be able to build onto year after year. I'm going to have each of the kids add their names to the back of their leaves as well as the date. The best part? It's super easy and it really forced the kids to think about what they have to be grateful for.
You can find similar instructions to make your own centerpiece here (shout out to my girl MimiCuteLips for hooking me up with these awesome leaves for our tree – she is the DIY ninja!).
Make drinks fun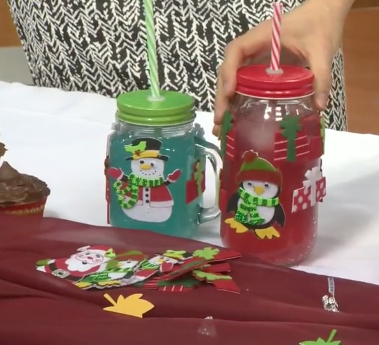 Decorate a few large mason jars in the spirit of the holidays! When it comes to filling up the jar, choose beverages that you won't feel guilty about later. What my kids love about these jars are they are easy to decorate for the holidays. We can get inexpensive puff stickers at our local craft store and call it a day.
Check out Pinterest for a ton of ideas on fun ways to decorate your mason jars while giving thanks.
Turkey Cupcakes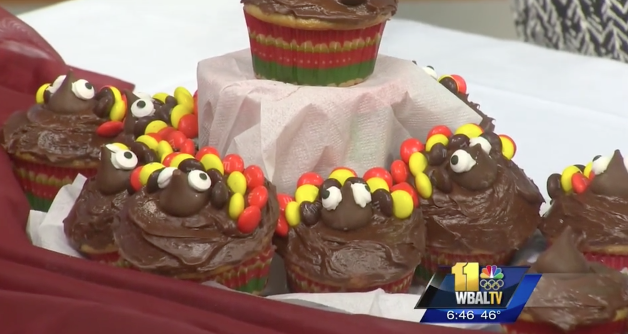 Satiate even the pickiest of palettes with turkey cupcakes. Who doesn't love cupcakes? And what kid doesn't want to help decorate them to look like turkeys? I'm no pastry chef, but these cupcakes are super easy even for the mom who has no DIY skills. LOL. And you know I like to create teachable moments as a homeschool mom. So each of the kids were responsible for pulling out/separating their own colors. And then they had to count how many of each colored M&M would go on each cupcake. To them it was just fun, to me it was learning patterns, colors and math skills.
You can find similar directions for decorating your turkey cupcakes here.
Here is the full segment I did with WBAL News Channel 11 in Baltimore. I also shared it live on Periscope so if you missed it, you can catch the replay here which also shows a little of what goes on behind-the-scenes during a live segment.
What are some ways you're making Thanksgiving memorable and meaningful with your kids?