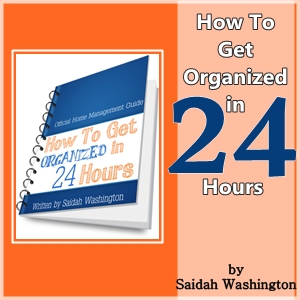 Ok so before I had kids, I used to have a pretty decent grasp on this thing called organization. After kids, the only thing I managed to keep organized were the kids themselves. As long as their things were in place and they were ok, then I felt a sense of accomplishment. But I was able to get back into my organization mentality once I created a schedule for myself and the whole family, and everything was going great…for a while. That is, until I stopped following my schedule, or failed to create a new schedule when things needed to be tweaked. As a SAHM of three little munchkins, blogger & business owner, I really can't afford to be disorganized. It stresses me out when things are chaotic and out of place. And when I'm stressed, it trickles down to the family.
So I was really excited to download and ready Sadiah of A Proverb's Wife's eWorkbook: "How to Get Organized in 24 Hours". She doesn't just give you a to-do list from A-Z and tell you good luck and have a good day. This is a workbook, which means, you have to do the work in order to see the results. There is no magical fairy that will appear and get your life organized with the motion of a wand. I love the fact that she spends time in the beginning to help you identify the root of your disorganization. She discusses the factors involved and reasons why you are having trouble staying organized. A lot of times, we just need to clearly identify the things that are holding us back – whether it's fear, lack of resources, denial – from the things we know we need to do.
I greatly believe in the practice of taking care of yourself, especially as a mom when we have to wear so many different hats all of the time. And part of your self-care is learning how to stay organized, and being able to quickly re-organize when you find yourself getting off track. With this eWorkbook, you will be able to do just that. By the time you complete the workbook, you will have created a clearly defined schedule for completing the necessary tasks to get you back on track. You will have a calendar that you can refer to and revise as you see fit. It's so helpful to have a visual plan that I can look at every day, and it keeps you from feeling overwhelmed.
So if you could use a little nudge in the right direction to organizing or re-organizing your life, then be sure to enter below to win a FREE copy of this juicy eWorkbook courtesty of A Proverbs Wife, herself.
**Disclaimer: This post contains affilate links, and this giveaway is being sponsored by A Proverb's Wife. However, as with all reviews, these opinions are of my own.**