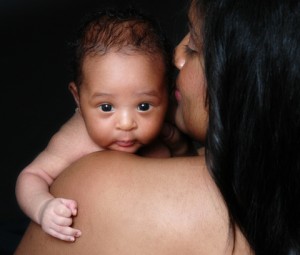 Something happens when you have kids. You stop being so selfish (except when it comes to sharing sweets…unless that's just me), self-centered and most likely even take on the obsession of Googling everything and anything that has to do with your baby. I know for me, my Google obsession has increased with each additional child. But in a way, a lot of it has been a healthy obsession because it's forced me to take a serious look at the products that we allow into our home or into/onto our bodies. A while back I wrote about how we now even need to pay attention to the nail polish that we buy and use.
When I started my natural hair journey almost a year ago, I knew that it was going to be about much more than just my hair. In addition to paying closer attention to the foods we eat, I also wanted to look at the products we were using on our kids with a fine tooth comb, especially the bath and hair products. There are hundreds of baby and kids products out there on the market, and some that even claim to be "all-natural". But I quickly learned that just because something says "all-natural" or "natural" doesn't necessarily mean it is. Or, it doesn't mean that there aren't other harmful chemicals used in making the product.
So believe me when I tell you how incredibly excited I was about Cara B Naturally. A few things excited me about them. One thing that drew me was that their products were awarded the coveted Natural Products Association certification – the only personal care product line specifically formulated for ethnic children to earn such a distinction.  This was important because this distinction went above just telling me what their products were made of. I absolutely LOVE the fact that they create products exclusively for ethnically diverse babies and children. This told me that they are committed and dedicated to the mission of creating all-natural products, so I have one less thing to worry about when it comes to my own kids.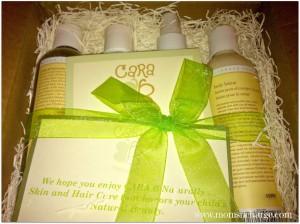 First off, the packaging itself, was just absolutely adorable and well put together. I love receiving packages that look like some love was put into it before it was shipped to me (I'm just sayin'). Overall, I am very pleased with Cara B Naturally products. We have been using them on the kids exclusively for the past few weeks and have had no complaints. First off, every product smells downright delicious! Seriously, I can't stop sniffing my babies after I give them a bath and wash their hair. I don't like anything that is overly scented or that smells like plain oil. These products have a subtle but yummy scent to them. It's hard to find good smelling natural products for kids so this was a plus in the right direction for me. The way I knew for sure we found a winner, was the fact that my husband actually noticed AND took time to comment on the smell on several  different occasions.
All of my kids, unfortunately, inherited their momma's dry skin. So this is always an issue for me when it comes to trying out new products. One of the first things I noticed with the bath & shampoo wash, was that their skin did not immediately dry up after we got them out of the bathtub. Their skin actually felt moisturized. I was happy with the results of the lotion because it is thick and creamy, and a little goes a long way. I didn't find myself having to reapply the lotion on them several times a day.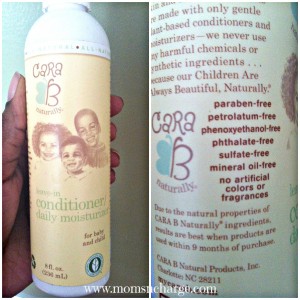 The hair mist and daily conditioner are just fantastic! I could tell a huge difference with my three year old especially. Her hair is generally only manageable when it's wet and freshly washed. If I let it dry then I have to go back over it with spray bottle consisting of a water/olive oil mix. After applying these two products directly on her hair after washing it, it kept her hair soft. And even if it dried before I could get to it, I didn't have to wet it again in order to style it. I really loved the fact that it was still moisturized even after a few days.
All in all, hubby and I are extremely happy that we gave Cara B a shot. It will now be a staple in our household.
Cara B Naturally can be purchased online at www.mycarab.com or select Walgreens, Target and CVS.
Have you ever tried Cara B Natural products? What are some challenges you've come across in finding all-natural products for ethnically diverse babies?
**Disclaimer: Although I was sent this gift set of Cara B Naturally products, the reviews are all of my own.**