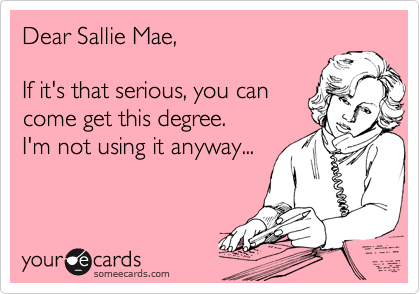 When I think back to the day I graduated college, it was one of the happiest days of my life. I felt a sense of accomplishment—like I had really made it…not only graduated with a four year degree, but graduated into official adulthood. I knew that with my degree I was going to find a great paying job, buy a car, and move into my own apartment. I knew that with my degree I had made my parents proud because they didn't go to college, and they wanted their children to have that experience they never did. I just knew that the sky was the limit. I was ready for whatever the world had to offer me…except the student loan bills that started popping up in my mailbox, and when the only job I could find was through a temp agency, and when the only car I could afford was a '93 Dodge Colt hatchback. Or even when I had to live with my sister and her family for almost two years after I graduated because I couldn't afford a place of my own.
Unlike some of my friends I went to school with, my parents couldn't afford to put me through school…or my other six siblings. So I had to take out student loans…a lot of them! I'm still paying on some of those loans today, which kills me because as the picture states…I'm not even using the degree to which these loans are paying for. In addition, I studied Biology and ended up working as a professional in Human Resources. But I know I'm not alone because I meet people all of the time that are not working in the field for which they spent countless hours in, to get a degree. Was it a waste of time? Not at all. Was it a waste of money? I'd have to say it was considering the interest that I'm paying on it. Don't get me wrong: I don't regret the time I spent in college (ok, maybe some of those all-nighters studying for Organic Chemistry exams). I went to two great schools and have formed some amazing friendships from both experiences. What I do regret is not having the necessary tools and information before, during, and after I embarked on my college journey.
What I do regret, are the things that college didn't teach me; things like how to put together a resume, how to prepare for a job interview, how to budget, how to deal with conflict resolution on the job, how to sell, how to start a business, or even the fact that the ability to get a job doesn't guarantee the ability to keep that job. I had to learn these things by trial and error…
Read more here ~~> Will you teach your children that they need to go to college?