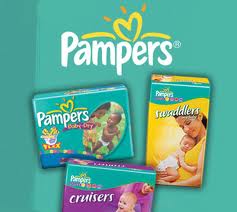 If you are a Pampers parent and have never heard of the Gifts to Grow program with them, then you may want to have a seat and pay close attention to the information I'm getting ready to share with you. Granted, my oldest is five and I didn't know anything about this program until about two years ago (although…come to think of it, I'm not really sure when the program started. But that's neither here nor there). Okay so here's the scoop y'all: this is an awesome program that allows you to collect points (by buying what you already buy: diapers, pull-ups, and wipes), and use those points to redeem them for gifts such as gift cards, diaper coupons, and credit to use on sites like Shutterfly. You can even give donations to different charities using your rewards points! Click here for a complete list of what can get you.
Ever since I found out about the program, I have been collecting and entering points like crazy. And then I heard that the program was ending in December of this year, so I started hounding asking friends if they could send me their codes that they had no intention of using. So you can imagine how excited I was to hear that Pampers was extending their program for another whole year! That means that I can continue to collect points to cash in for rewards later. And as if the Pampers gods heard that I missed out on a bunch of points (due to lack of knowledge of the program), I came across this awesome site called Couponing 101. What they do is post FREE reward codes. All you have to do is look for them, then copy & paste those codes into your account. I literally just entered in about 300 points to my Gifts to Grow account. Can you say awesome?!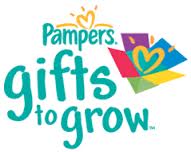 If you want to sign up for the Gifts to Grow program, just slide right on over here to check it out, and get 100 free points to get you started. Be sure to "like" Pampers on Facebook as well so that you can get the free codes they post to their page. Once you sign up on the Pampers website, there are several places to find the coupon codes:
On diapers or pull-ups sold in a bag – these codes will be stuck to the inside of the bags so be sure to track them down before you throw the bag away.
On diapers or pull-ups sold in a box – these codes will be stuck to the outside of each individual bag that is in the box.
On wipes sold in a tub container – these codes will be stuck to either the top of the lid, or just under the lid.
On wipes sold in a refill pack – these codes are the most annoying sometimes to enter because they are typed onto the refill pack. It can be hard to read the pack sometimes. But when I inquired about a code I could not read, I sent Pampers a message on FB and they sent me a new code to enter. So kudos to Pampers for great customer service.
Our family tradition is making family photo Christmas cards to send out. Thanks to Gifts to Grow, I won't have to pay for them this year. And there's still so many other things I plan on using my points for. 🙂
Are you a Pampers mom? Have you signed up for Gifts to Grow or cashed in your points for rewards?
***This is by no means a sponsored post. All opinions are solely my own and I wanted to share because quite frankly: who doesn't love free gifts?! (*wink*)
UPDATE: Check out this awesome site to get even more FREE coupon codes to use for Pampers Gifts to Grow program!