You can't claim to know me and not know that I am a recovering sweet-o-holic. When my girlfriend first told me about her idea of Veggie Cakes (Vegan-friendly NYC based Cupcakery), I have to admit I was a little nervous. I mean, when you're eating sweets, who really thinks about whether or not they are healthy? Well let me just tell you…as a professional dessert taster, this magical sweet treat concoction that Drea Smith has put together keeps my taste buds singing in opera mode. I'm just saying…they.are.that.good!
And while Veggie Cakes is currently based in New York City, they travel often to the DC area and are currently taking orders for this weekend. But I wanted to share with you all a little bit about the amazing woman, mother, sister, friend and business woman behind the Veggie Cakes Masterpiece, my sister-friend, Drea Smith.
MNC: Where did the inspiration behind Veggie Cakes come from?
Drea: The idea was born out of a few get togethers with some sister-friends, my love of sweets and a desire to do something a little different. I didn't want to just be another cupcake maker churning out the trendy cakes shaped like shoes and your favorite cartoon character or alcohol infused cakes. Nothing wrong with those, I love the creativity that is poured into each creation, but that's just not me.
I originally had the idea to just do vegetable based cakes since my first, the sweet potato cake, was such a big hit. Then I got the idea to go vegan since I wanted to be able to share my creations with all my friends, some of whom have restricted diets.
Currently, I have 6 flavors available: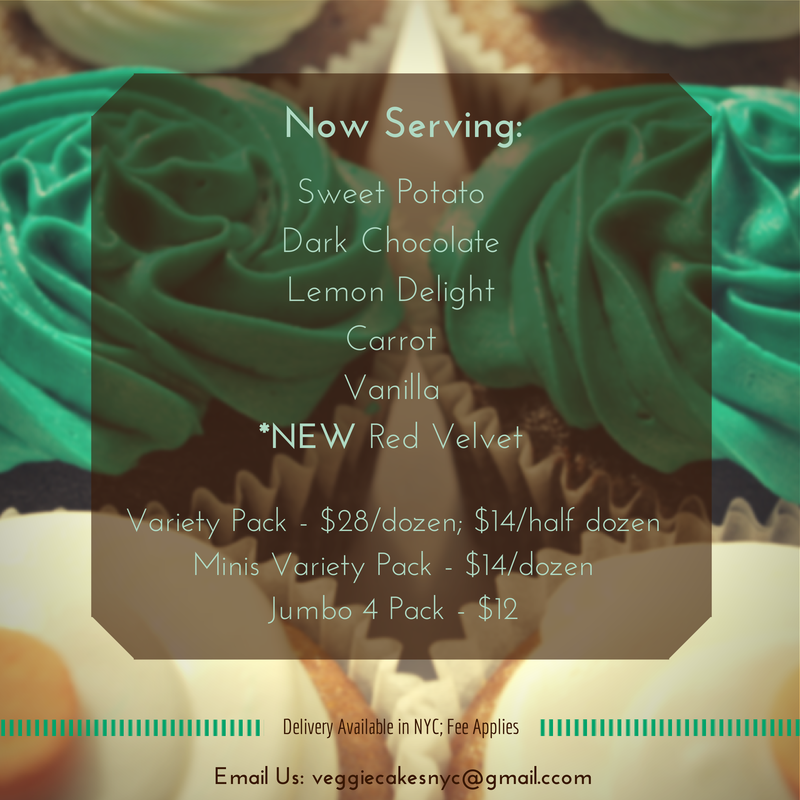 MNC: What's your favorite dessert?
Drea: My absolute favorite dessert is creme bruleé! It's creamy and smooth under the hardened sugar shell and not too sweet. I love it. Anytime I go out to dinner at a nice restaurant, if creme bruleé is on the menu, I order it!
MNC: How did you learn to bake?
Drea: My mom and grandmothers taught me everything from measuring flour properly to testing for doneness. I always marveled at my grandmothers' baking skills. They rarely measured with cups and spoons and when I would help as a child, it was a fascinating experience. I thought they were magcians but it was their experience they relied on.
MNC: Do you taste test your own cakes?
Drea: I will taste test new recipes but my tried and true ones I rarely taste. My son however, is always happy to test them for me!
I do test for doneness and make sure that the product is top-notch, but you won't find me sitting around eating an entire batch of cupcakes.
MNC: Where do you get your inspiration from?
I'm inspired by every bite sized treat I come in contact with. All the macarons, cheesecakes and brownies in store windows. All the other talented bakers I'm friends with online who bake up some delicious looking cupcakes and layer cakes!
MNC: What's on the horizon for Veggie Cakes?
We're moving into fruit flavored cakes this summer, I'm excited about that! I've asked my FB followers to help me choose their favorite fruit flavor and the winning flavor will be the first one added to the menu. The survey is open until June 30th and the winning flavor will be announced the next day.
I've also gotten requests for other vegan treats like donuts and cookies. Those are definitely options I'm exploring.
MNC: How can DMV folks place their orders?
I'm heading to the Washington, DC area this weekend and I will be making deliveries. For Mom's 'N Charge readers, the deadline for orders will be extended to Friday night.
I will be back in the DC area frequently, so anyone who doesn't get a chance to place an order this time should be sure to "Like" the Veggie Cakes Facebook page and stay tuned to travel updates.
MNC: Any other info you want to share?
A lot of people are hesitant to try a vegan dessert because they think it's going to be dry and flavorless. That just isn't the truth. I encourage everyone to try new foids before dismissing them, you might be pleasantly surprised…and in the case of Veggie Cakes, I guarantee you will be!
---
And I definitely have to agree with that sentiment! Thank you Drea & Veggie Cakes! If you're in the NYC or DC area (for this weekend only) be sure to check out Veggie Cakes on Facebook, Twitter & Instagram to keep in touch and place your orders. You can also e-mail veggiecakesnyc@gmail.com to place your orders or if you have specific questions before you do. And the official website will be up soon so keep your eyes peeled to: www.veggie-cakes.com!
What is your favorite type of dessert?