When I used to hear someone say they were "vegetarian" or "vegan", I immediately felt sorry for them. I thought about all of the good, good food they were missing out on – all types of chicken, steak, burgers, seafood, and let me not even get into all of the foods with dairy in them. About a year or two ago, my husband decided he was going to stop eating red meat altogether. That in and of itself was a big deal! But when he announced earlier this year that he was becoming a vegan, I remember stopping dead in my tracks *insert tire screech here*.
I mean, he completely skipped over vegetarian and just dove right into becoming a vegan. Now, this is someone who grew up in a Haitian household. I can't even begin to describe the non-vegan deliciousness that always ensued anytime his mom and grandma were in the kitchen. So when he told me about his decision, I remember telling him that he needed to start out slowly instead of trying to cut out every animal/dairy product from his diet overnight. I remember asking him if he understood what he was getting himself into. I remember thinking: how in the world am I going to feed/cook for a vegan husband?! I understood that there were health reasons driving him to make this drastic (at the time, just plain crazy) decision, so all I could do was feel sorry for him (for reasons mentioned above), emphasize & figure out what foods he actually could eat…that we could prepare at home. Let's just say, there were a lot of peanut butter and jelly sandwiches going on those first couple of months.
But then I attended a book fair while in St. Maarten back in May, and as if it were a sign that we were moving in the right direction, I met the author of the Caribbean Vegan Cookbook. The title of the book immediately caught my attention, but when I flipped through the recipes in there, I just knew I had to get it — for my hubby of course. I still had no intentions of becoming vegan. But if I could prepare the recipes in this cookbook, then I knew that I could at least keep my husband from starving to death.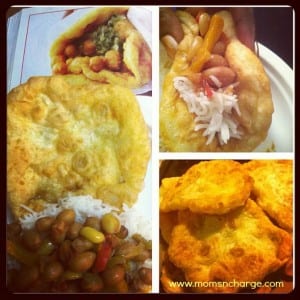 Well I've now tried out a few recipes from this book and have to say…it's some pretty yummy stuff. One of my favorite things to make now are the Trinidadian doubles. In this picture, I had run out of chickpeas so I substituted with raw peanuts instead, and cooked them using the same spices in the recipe – DE-li-cious! You can do so much with the barra bread, so it's definitely been added to our dinner recipe cycle.
When you have a busy schedule, you don't always have time to make an elaborate dinner or try out a new recipe from scratch. So I've learned to try out one or two new recipes at a time, and then once I've mastered it (when I no longer need to look at the directions), I move on to the next.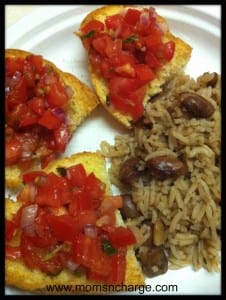 I can honestly say, that my husband becoming a vegan has definitely pushed me to step up my cooking game. We no longer buy any canned beans because 1) the word on the street is that they are unsafe, and 2) I've learned how to prepare and cook them from scratch. So why bother with the cans? Once we started having kids, we started to eat healthier as much as possible – organic fruits and vegetables, almond or rice milk, very few fried foods.
After having my third child, I found it extremely difficult to get rid of my baby weight. It definitely wasn't just coming off as easily as it had with my first two. I remembered reading on Dr. Oz's website a while back, that tomatoes are a natural diuretic. So, I took that concept and just started running with it! Tomatoes have become a staple since the vegan diet started in our household. We use them to make a lot of bruschetta, mango salsa, and just throw them in pasta, rice, & eat them with a boiled egg and English muffin in the morning (see, I'm only a part-time vegan so I can do that). My fifteen-month old has started eating them like they're grapes. She actually turned down a cupcake for tomatoes the other day. So I guess we're doing something right!
Let's fast forward a few months. When I started thinking about where my husband and I would dine for our anniversary this past Monday, I knew I had to find someplace that he would be able to eat. So I started asking "Madame Google" for Vegan restaurants in DC. Low and behold, I came across the Everlasting Life Cafe. Now I wasn't really expecting a whole lot out of this experience for myself. I was just happy because I knew my husband would be happy that I found a place that he didn't have to dissect the menu up and down in order to find one thing he could eat. Well, let's just say that he had PLENTY of options to choose from. But I'll let the pictures speak for themselves.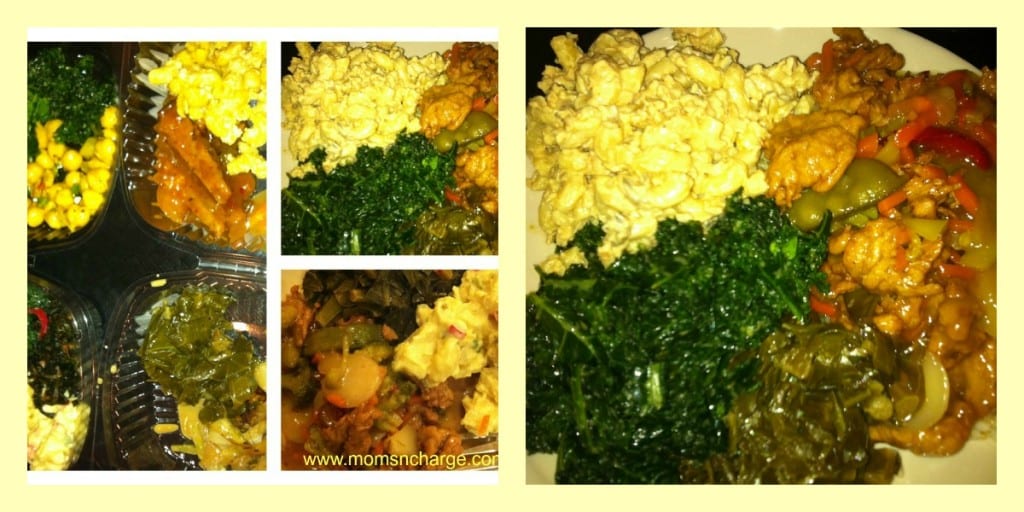 This magical restaurant had everything from a veggie orange "chicken" & veggie pepper "steak", to mac-n-cheese, to macaroni & potato salad (ah-mazing!). We literally had to ask them to make sure that everything was 100% vegan because it looked too good to be true. They had collard greens, and two different, out-of-this-world-delicious types of kale (one savory, one sweet). Since we were new customers, we got to get a sampler platter with our choice of both hot and cold foods (that is the picture furthest to the left). Then once we decided on our final entree, we got to go back and get our actual plate. The portions were massive. I couldn't eat all of mine in one sitting.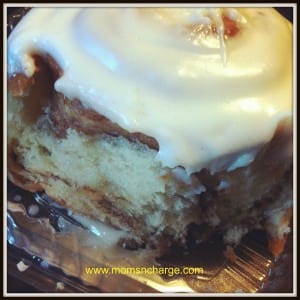 And as if all this goodness weren't enough, they had the nerve to have desserts. We didn't have room for them after dinner, but that didn't stop us from getting some to take home. We went for the cinnamon rolls and chocolate chip cookies. Now when I tried to explain to my girlfriends how good the food was, and how extremely delightful this cinnamon roll was, they really thought I was exaggerating…or, quite possibly that my taste buds were a little off.
Well, seeing…or in this case, eating, is believing. My friend Te Espi came over the other night and I made her taste some of the cinnamon roll. Her exact words were "we need to get this tested in the lab". LOL It's just that good that it doesn't make sense that it's vegan. Well, she liked it so much she went to have lunch there the next day…and then took her co-workers the day after that. I'm telling y'all – this place is the truth. I've never had any intentions on becoming a vegan but with my cookbook & a place like this…well, never say never. So run, hike, bike, swim…whatever it is you have to do; just get to DC and grab a delicious bite to eat at the Everlasting Life Cafe – vegan or not.