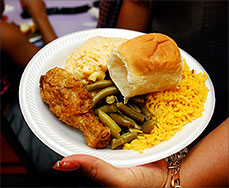 Filmaker Byron Hurt's documentary, Soul Food Junkies, premiered last night on PBS (check your local listing for dates and times). Now, when I first heard the title of the documentary, I was less than enthusiastic about checking it out. I assumed it was going to be another one of those films that talked about all the hot spots where you can get some good ol' soul food. But after watching the trailer, I realized that Hurt was taking a completely different (and slightly radical) approach to this particular film. Hurt was inspired to create this documentary based off of his personal experiences and the intricate relationship he and his own family had with soul food. This film is way more than just discussing the goodness of fried chicken, collard greens, sweet potatoes, mac 'n cheese and chitterlings. No, it digs deeper into the history of African American soul food and the effects it can potentially have on our health.
The film is an eye-opener in so many ways. There were several parts where I was laughing (when he was bullied into eating turkey neck, then admitting how delicious it was, pork juice and all), and still some more that I was getting choked up (when he discusses his father losing his battle with pancreatic cancer). It's real and it forces the issues surrounding health and wellness amongst African Americans. Several questions are explored such as whether or not his father's death was a result of his deep love of soul food? Is soul food really "death food" as proclaimed by Dick Gregory? Do fried foods increase your risk of exposure to carcinogens? Hurt does an exceptional job of exploring all of these questions and more by speaking candidly with health professionals, family members, cooks, scholars and everyday people off the street…or tailgating at the Jackson State football game.
This film also takes a peek inside the issues regarding a lack of health food options available within lower income communities. One woman stated that "the vegetables look like they're having a nervous breakdown because they are so shriveled up" (speaking about the food options in her local grocery store). Her analogy amused and infuriated me all at the same time.
Click here to see my complete review, and how this film shed light on my husband's diagnosis of high blood pressure in his early twenties.
If you haven't had an opportunity to catch Soul Food Junkies, check out the sneak peek below and then let us know if you will be tuning in to watch?