I'm so excited to be able to share this amazing mom with you all. She is the flavor behind the cooking blog, She's Got Flavor and a finalist in the Reynold's Real Moms challenge. Utokia is also a fellow Black & Married with Kids blogger, where she shares some of her own juicy and flavorful recipes. In this interview, she shares her tips on cooking with kids, her excitement as a Reynold's Real Moms finalist, and how she got started in the kitchen.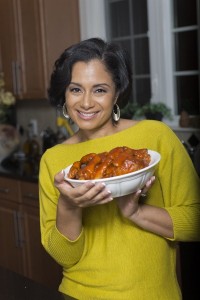 C: How did you find out about the Reynold's Real Moms contest?
UTOKIA: I saw the Reynolds Real Moms contest on-line and I am happy I did.  This is a great opportunity to potentially represent a brand I truly love.
C: What went through your head when you got the news that you were one of the top 10 finalists?
UTOKIA: Oh wow, I was so excited and I truly felt honored.  Reynolds received lots of applications so for me to be among ten finalists made me feel wonderful.  You never think something like this will happen for you and when it does it just makes your whole year!
C: How did you get your start in the kitchen & when was She's Got Flavor "born"?
UTOKIA: I began cooking with my grandmother as early as five years old.  My grandmother was a great cook.  She even owned a soul food restaurant.  The restaurant didn't last long though because my grandmother also had a huge heart and would feed people for free.  I also cooked with my mother who is the Queen of making anything taste good.  I mean really if it was in the refrigerator she knew how to mix this with that, season this on that and it just came out so flavorful every time.  That is why my focus on my cooking blog She's Got Flavor, is flavor.  My goal is to create meals of all genres with the best flavors.  I create melt in your mouth dishes that you crave to eat.
She's Got Flavor was born in April 2010.  It has been and continues to be a wonderful journey for me as I share my recipes and experiment with new flavors.  I love sharing recipes with the world, especially when I get comments from people who love them.  It is part of what makes me happy!
C: What is your favorite go-to meal?
UTOKIA: Goodness, I have so many.  But if I had to choose just one, I would say Salmon.  It is healthy, easy and cooks in a flash.  For many moms these things are top priority.
C: How can moms get their young children involved in the kitchen?
UTOKIA: Well my children love having play dates.  I would incorporate a cooking class for their friends during their play date.  Look on-line for kid friendly recipes and hold your own class.  I am sure once they see how much fun it can be with their friends, they will be more eager to help out in the kitchen.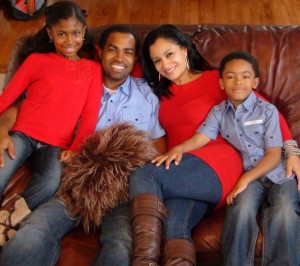 C: What type of meals do your kids like to help you with?
UTOKIA: My children love to be in the kitchen with me.  I have been slow walking them into new things to do in the kitchen.  My son who is seven loves to wash and prep the fruits and my daughter who is ten helps to steam the veggies.
C: What advice do you have for the busy mom with little time to cook, but a desire to put more home cooked food on the table for her family?
UTOKIA: Home cooked foods are important.  Not only are they healthier but cost effective as well.  I recommend making several meals on Sunday to freeze and thaw during the week.  You could even portion the meals out and wrap individual meals in Reynolds Aluminum foil packets to freeze.  Write what is inside and the name of the person it belongs to, by doing this you are literally heating the food in the oven and putting it on plates.
C: How can people support you in your quest to become a Reynold's Real Moms winner?
UTOKIA: The Reynolds Real Moms Contest accepts VOTES every WEDNESDAY – this is how you can VOTE for me UTOKIA LANGLEY:
Scroll down to the Real Moms pics with all ten finalists and click on link above the picture to VOTE
Find my picture and name UTOKIA LANGLEY
Click on my pic and then click "vote for me" under my picture
While voting is only on WEDNESDAYS, you can go to www.reynoldskitchens.com any day and RECOMMEND or TWEET for me by clicking on Real Moms and then clicking RECOMMEND or TWEET under my picture.
I want to thank everyone for their support.  Without you I wouldn't even have a chance!
Well we are definitely going to be rooting for and voting for you Utokia! Thanks for sharing your story with us and we look forward to seeing you in the final 5! 🙂