Disclosure: I have received 4 tickets to attend this event for free with my family as well as 4 tickets to give away. All thoughts and opinions are my own.
Disney on Ice Opening Night
You could feel the Disney magic in the air!  The excitement of both children (and adults) was evident and you could feel it moments upon walking in the Capital One Arena.  My boys and I used the car ride to Washington DC and quizzed each other on the four Worlds o Enchantment we would see within an hour.  Upon receiving our tickets, we ventured into the crowd and were greeted by a hosts of families including children of all ages, familiar music from Disney movies and of course Disney merchandise!  I couldn't help but purchase cotton candy that came with a Mickey mouse Crown.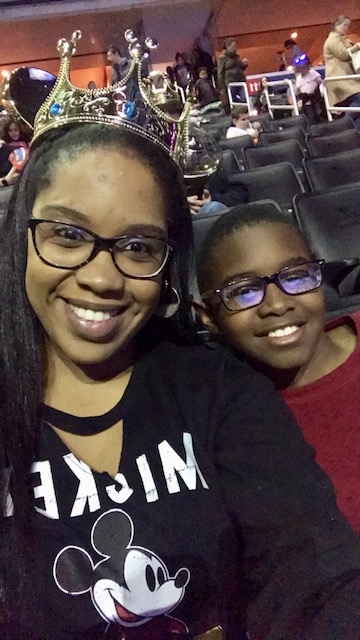 Let the Show Begin
The lights dimmed and it was show time!  Surprise! The hosts of our show was Mickey, Minnie, Donald and Goofy.  While they weren't the main attractions, weaving them throughout the performances was the perfect blend. Mickey and his friends kept the show entertaining, engaging and provided a seamless flow from one World of Enchantment to another.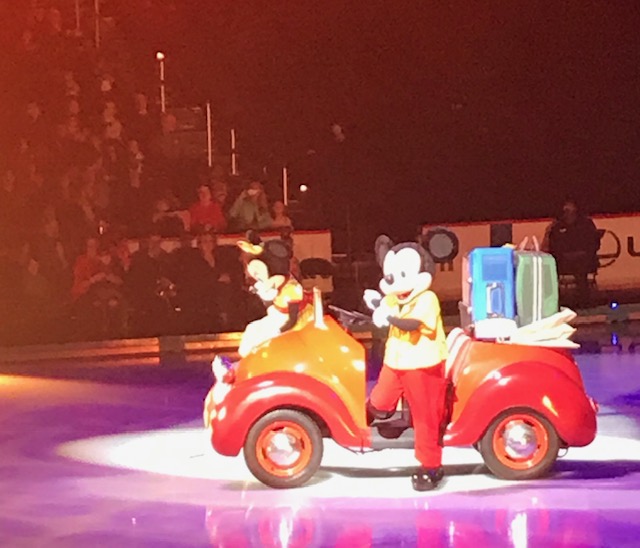 Toy Story 3
I must admit, this was my favorite!  With the upcoming film Disney Pixar Toy Story 4 coming to theaters this summer, the Toy Story 3 act made me remember just why I love this movie.  As each character made their appearance on the ice, Reese, Ramsey and I cheered louder and louder. But of course, when Buzz, Woody, and Jessie greeted us, the entire audience was overjoyed!
Sargent lead the green Army men in an entertaining dance routine with a lot of fun beats to get you on your feet.  This was followed by the characters providing a summary of the movie Toy Story 3. It was then accompanied by memorable songs such as "You've Got a Friend in Me", a romantic skating routine from Ken and Barbie and some comical moments by Mr. and Mrs. Potato Head, Rex and Hamm. This was the longest segment of the entire show. My son Reese commented: "They did the entire movie on ice!"  However, the segment brought back memories of joy and confirmed why this movie goes down as a classic in my book.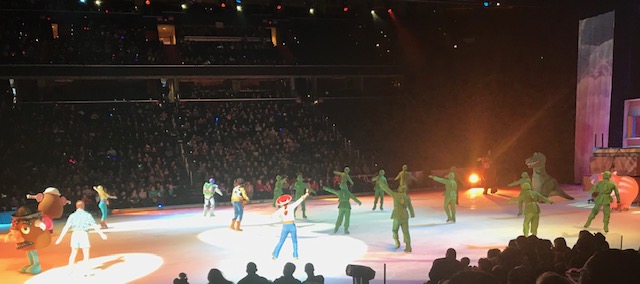 The Little Mermaid
Up next, Ariel, Flounder, Sebastian, and Ursula took us under the sea.  This segment brought lots of energy and fun into the arena.  As the other sea creatures ensured we participated with clapping and dancing, the main characters took us down memory lane to this fantastic film that came into many of our lives thirty (wow 30) years ago.  The best part is that my children were singing right along to Under the Sea, Kiss the girl and Part of Your World. I loved the performance of Ariel and Prince Eric. The entire segment was shorter than I expected.  In a way it felt rushed and as quickly as I was ushered into this magical sea life, I had to leave.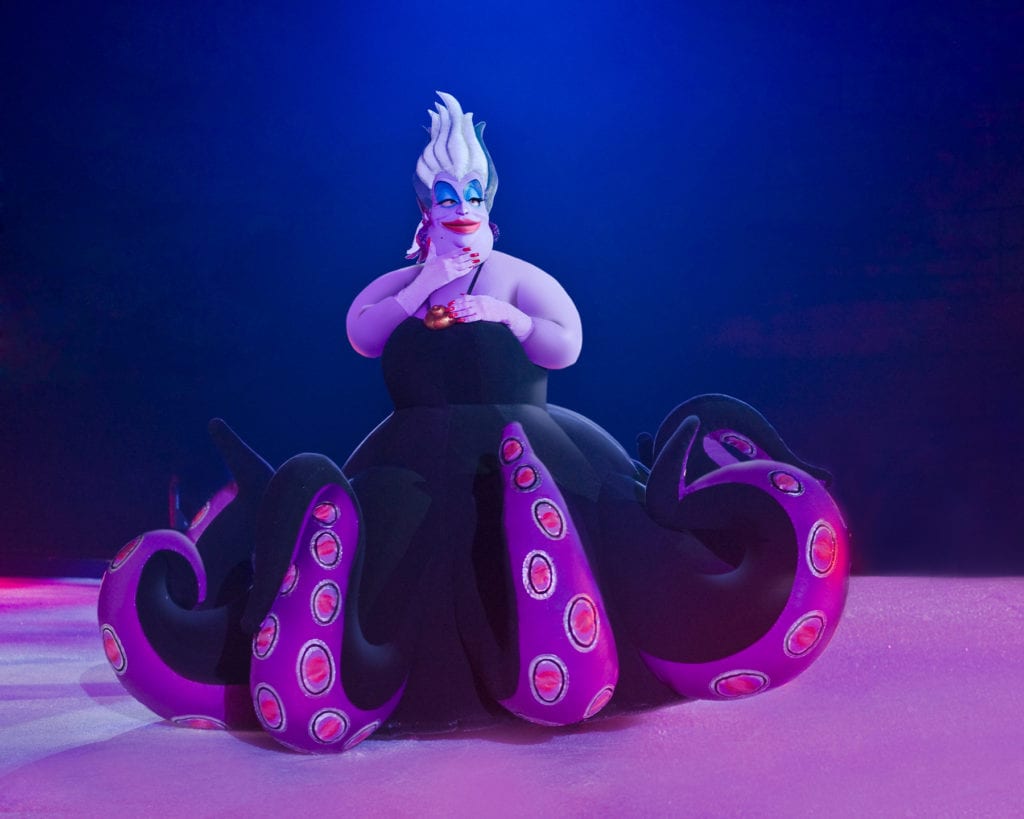 Disney Pixar's Cars
I enjoyed how Mickey and Minnie "drove" us into our time with Lightening McQueen, Mater, Sally, Ramone and Flo.  I must say, we were all quite amazed to see cars "ice skating."  I'm still trying to figure out how they made it happen.  Watching the cars work together to help Mickey fix his car and then show off their cool looks and racing skills all to the song  Life is a Highway was right down my son Ramsey's alley.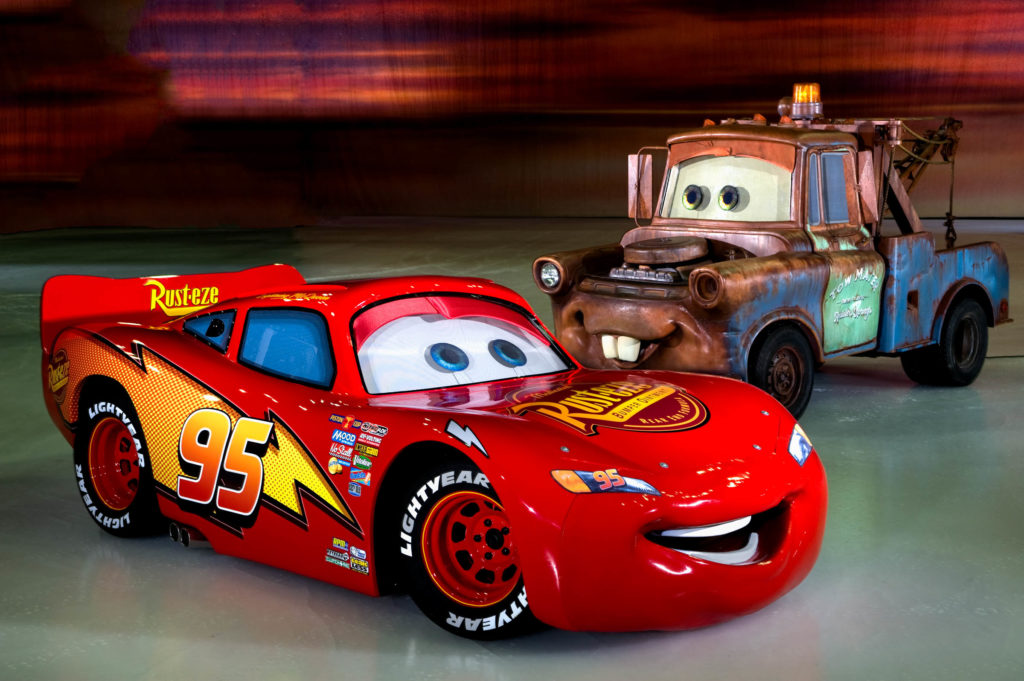 Disney's Frozen
The final world for the night was winter in July as we joined the cast of Frozen in the land of Arendelle.  I must say I have never, I repeat never heard the excitement as I did when Elsa graced the rink.  The effects of the snow in the arena were perfect.  The  songs had theentire arena joining in and participating.  Olaf had us laughing throughout the segment too. I know for a fact, if they weren't already,  the majority of the audience is now eagerly awaiting  Frozen 2  which comes out in November of this year.  In my opinion, this segment was the best in timing.  It wasn't too short or too long.  It was planned out well to keep the audience engaged, excited and expectant!
What did my boys think?
My boys thought that Disney on Ice Worlds of Enchantment was adventurous.  Reese said he felt like he was in the movies as he watched the show.  Ramsey wants you to know that it was so fun!  His favorite part was when Rex, Hamm, Slinky and Barbie were the backup singers for Woody.  We all had a great time!
For more information, go to DisneyOnIce.com!