Did you know that one event has the power to change your life? That's all it takes. One event. I remember going to a conference that literally changed my life. It was early 2012 and I knew there was more. I was just learning how to start loving myself and figure out what I wanted out of life. I knew that going back to what I knew in the corporate HR world was just not going to work for me. But the only problem was, I wasn't sure what was for me. I attended a book event where I learned about a women's conference that was so similar to this Elite 360 Wealth Women's Conference. It was called the Get RADICAL Conference and it ended in 2014. But in 2012, it gave me a life I didn't even know I wanted and paved the way for where I am today. Literally.
But I almost missed it. I almost didn't attend this life-changing conference. As a stay-at-home mom of three under three, $700 for a 3-day event was a lot, especially since I didn't find out about it until two weeks before the event. But even more than the money, I was afraid to attend. I'm a serious introvert at heart. So even with big names as keynotes, I was talking myself out of going because there were going to be an estimated 500 strangers women there. And when I couldn't find anyone to go with me, I continued to talk myself out of it. But something kept pushing me, and I felt I really needed to be there, fear and all. And then my husband encouraged me to go. So eventually, I gave in.
As a result of attending this one event, this girl here (that would be me) who was more afraid of public speaking than of death itself started this blog, then this business, has gone on to speak at several conferences and events, has been featured in multiple media outlets, and the list goes on and on.
My life today is unrecognizable from what it was in 2012. But I often wonder where I would be if I had decided not to go to that conference? What if I had allowed fear, anxiety, lack of finances or anything else stop me from getting the blessing that was waiting for me?
Maybe I might have eventually met some of the women that soon became friends after that weekend. Maybe I might have gotten some of the opportunities that I've received since then. Maybe not. I'm grateful that I'm not on the other side. I'm grateful that I took a chance on myself that weekend.
This is why I'm super excited to partner with Elite 360 Wealth & Michelle Talbert of Her Power Hustle to cover this amazing event happening in Ft. Lauderdale, FL July 22-24, 2016. Michelle is one of the phenomenal women I got to meet and have since kept in touch with from that 2012 conference. I've always loved what she stood for, and I can barely contain my excitement to work closely with her to drive the social media strategy and live event coverage for this conference. And we want you to join us there!
Why? Because one event has the power to change your life. And this one event could very well be it for you.
YOUR TIME IS NOW to create a lifestyle that manifests wholeness, wellness and creates generational wealth for yourself, your family and your business!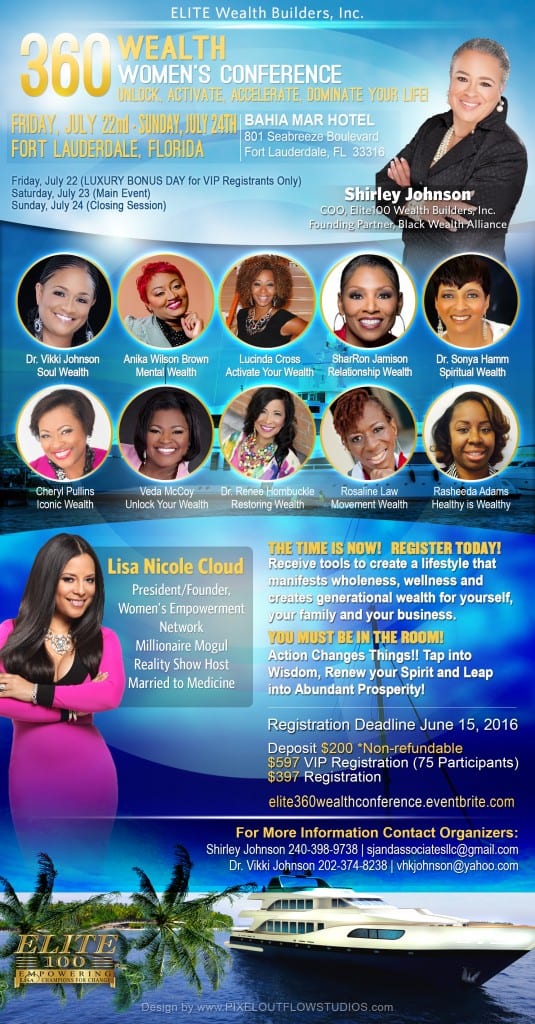 From the networking, to the learning, to the captivating speakers that will be in attendance, this is one event you can't afford to miss. And until June 15th, you have the opportunity to make a partial deposit to secure your seat.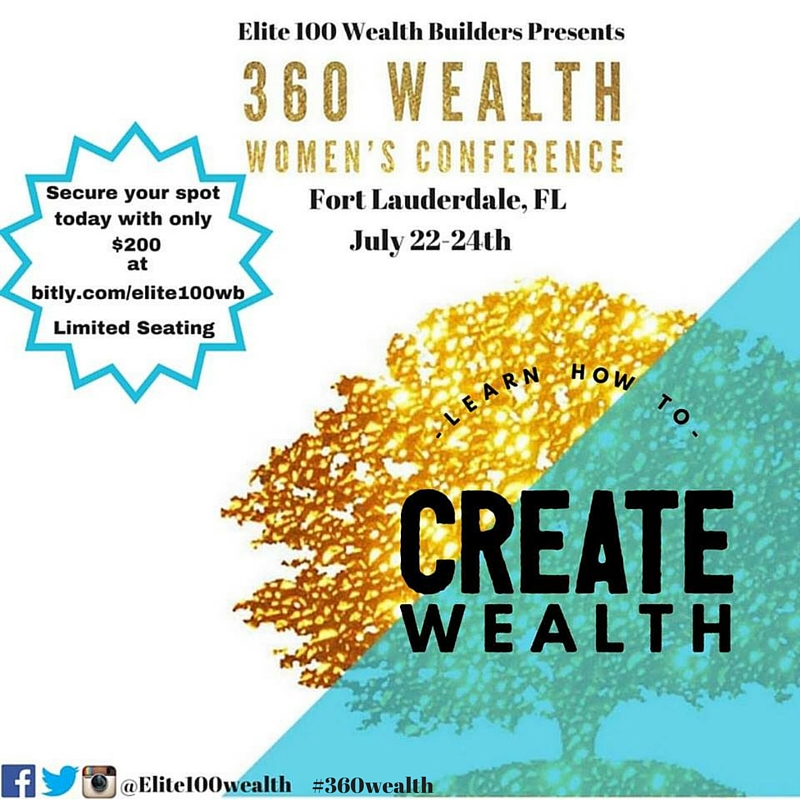 As we count down to July 22nd, we'll be hosting some fun and engaging online events. The first one will be a Twitter party where you can chat live with some of the speakers for this conference. We will also be giving away a free conference ticket to one lucky winner!
Join us for the #360Wealth
Twitter

Party

from

2pm – 3pm EST

on

Wednesday, 6/29

Be sure to Follow the hashtag #360Wealth on social media and follow us on Instagram, Instagram & Facebook @Elite100Wealth.

Have you ever attended one event that changed your life? Tell me all about it in the comments below.
---
Disclosure: I have been hired under my company, Purpose Driven Media™ to provide live event coverage for this conference. As always, all opinions are my own.