Last weekend I had the pleasure of sneaking in some mommy time to spend the night out with some of my very favorite Bloggy Boos. We were invited to check out the new location and VIP soft opening/launch of Not Your Average Joe's (NYAJ) in Downtown Silver Spring, MD. I actually hadn't really heard much about NYAJ before they reached out to me on Twitter. And by the time I checked out the menu online, the only thing I needed to know was when and where?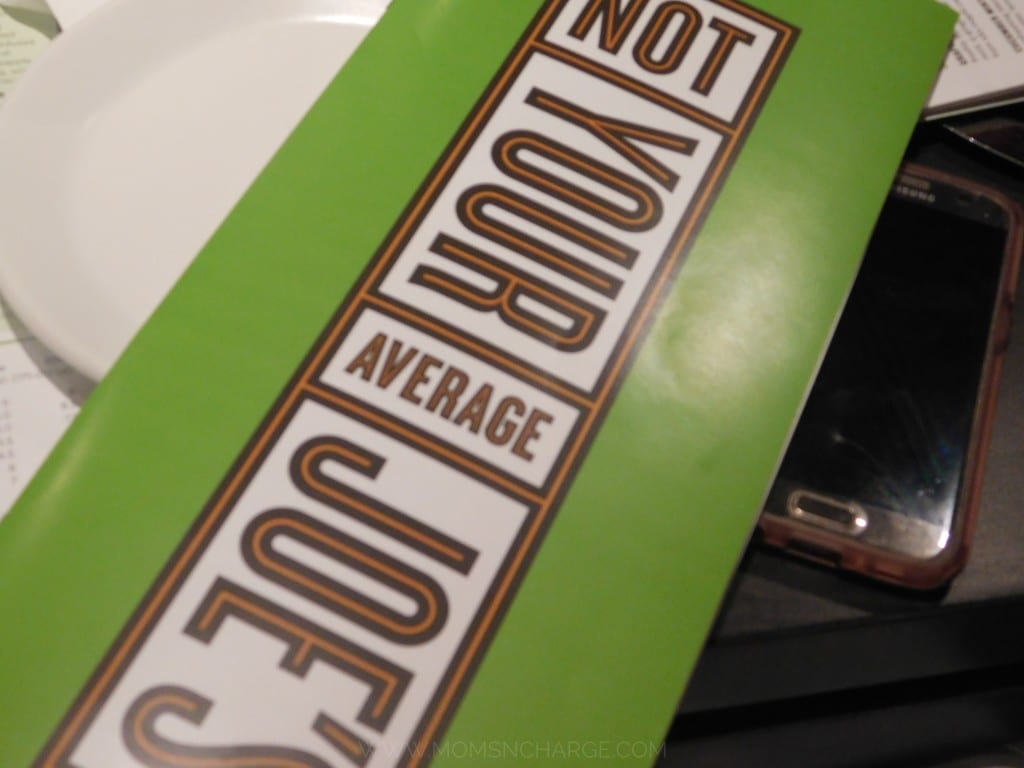 I'm always talking about the need to make time for self, so when an opportunity like this arises, I try to take advantage of it. My favorite type of me-time is spending it with my girlfriends, laughing, talking and toasting. There is absolutely nothing like it!
Since this was a soft opening, we were somewhat limited on what we could order from the menu. When we asked our server what he would recommend as an appetizer, he immediately told us we should order the Caribbean Chicken Tenders. Now, in my head, I was thinking "what could be so fabulous about chicken tenders?" But honey, let me tell you: if you have an NYAJ within driving distance, the only way to really understand the sensation that ripped through our taste buds is to go and order them for yourself. Seriously, Jesus made these Himself and sent them our way. In fact, they were so good, we had to place a second order. Everything on this plate is there for a reason and you must eat it all together. These will give you life.
The only thing we paid for were our cocktails and I think I had 3-4 Pineapple Painkillers (superfantastic!). I can't even describe this drink but just know it was yummylicious. Personally, I only drink cocktails that are sweet and make me feel like I'm on someone's Caribbean beach. And this drink totally fit my bill. I even got my Bloggy Boo, Diana to convert to this Pineapple Painkiller.
What I loved about Not Your Average Joe's
The service: I've worked as a server in restaurants and I've worked in hospitality. It is hard to wow me with service and I'm super picky when it comes to customer service. Like, I can deal with subpar food, but I can't deal with subpar service. Thankfully, I didn't have to. Absolutely everyone we came in contact with treated us like VIP. I think people started to think we were celebrities for real because all eyes kept pointing to us whenever we posed for photos. I mean, we did fit the bill, so we ran with it. While this was an event for media, we were definitely the main ones snapping, pointing and clicking away throughout the night.
The Food: Everything we ordered was delicious (I don't typically eat burgers so that was the only dish I did not try, but was told it was gooooood). I hate ordering chicken and it comes out dry. This was not the case with my dish. In fact, even when I heated up my leftovers the next day, it was still juicy.
The atmosphere: NYAJ is the type of place you can get dolled up or come in a little more casual, but either way, you won't feel out of place. I loved the fact that it has the open kitchen vibe going on and it was overall very inviting.
I can't remember what they called this bread dip they gave us while we waited for our appetizer but I'll tell you this: life was given and had. This bread/dip combo was scrumptious, we got to take some of this home as well.
What we ordered:
I'm not generally a fan of anything peanut butter in a dessert. So I had my hesitations on this peanut butter one, but it was really good. The chocolate chunks and ice cream definitely set it off for me. I'll be ordering it again the next time I go.
I may not have posted a whole lot that night to Instagram and Facebook but I surely was on Snapchat, snapping away. Here is the recap.
NYAJ opened up to the public this week. So the next time you're in or near downtown Silver Spring, be sure to check them out. Your taste buds will thank you for it.
Oh and to top off an already amazeballs night, we got to meet Joe (Joe Gartland, Regional Director of Operations)  on our way out. He introduced himself after asking us how our experience was? Pretty cool guy and even happily took us up on our Bloggy Boo selfie request.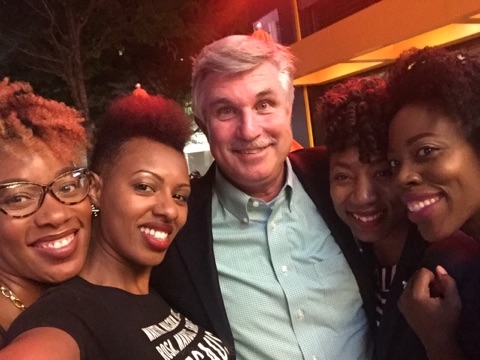 A very special thanks to Stacey Furtado (Digital Marketing Director for NYAJ) for not only making sure we got the VIP treatment, but also stopping by to make us feel at home.
Be sure to stop by and check out the recaps my girls shared or our ladies' night out:
Diana of Sisters With Beauty: Date Night With the Bloggy Boos
Mimi of MimiCuteLips: Not Your Average Joe's 
T. Espi of TheStyleMedic: Girl's Night Out at Not Your Average Joe's
---
Disclosure: I was invited to attend the soft opening of NYAJ, in which I received a free meal. As always, all thoughts and opinions are my own.