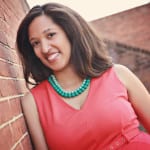 The following post was written by 
Rani Craft Robinson-Kiganda. Rani is Managing Producer of Travelchannel.com and CEO/Founder of Craft Web Solutions. Rani works with small business owners and entreprenuers who are frustrated about website creation, maintenance and making sure that the website they do have, is working for them. Rani resides in Maryland with her husband and two children.
Move Your Body Mama aka Mom, yes, YOU!
Hey Mom (meaning, you), when is the last time you went to the gym, went for a run, took a yoga class or a Zumba class? If you're like me, then it's been awhile. Maybe even a year or 2 … but who's counting.
Mom, or (insert your name here), remember that name? When is the last time you "slowed down" as a mother and focused on YOU? When is the last time you took 30 minutes, or 90 minutes, heck, an entire weekend to be YOU? For 1 weekend in November, I did just this. I took one weekend, the first in a very, very long-time. I took off the "mom" hat and put back on the Rani hat. And let me tell you, it felt GREAT!
Why a weekend and why now? Well, at the Time for Me-Mom Retreat with The Mom Strategist™, Mia Redrick, I took time out and dedicated myself to Mia's teaching from her own real-life experience. A wife, mother of three and an accomplished business owner, writer and TV host of America Now, I figured she would know a thing or two.
You might be thinking, "An entire weekend? How could she possibly?" Well, think about this as a mother: How many days are there in 1 year? There are 365. How many days out of the year are you a mother? I'm guessing … 365. But how many days out of the year are you, YOU? I'd guess about 10 days – maybe.
As a mother we're busy, extremely busy – taking the kids to their extra curricular activities, cooking, cleaning, working, etc. But I'm a firm believer in that just because you're a mother doesn't mean that the YOU disappears and that's at the core of what Mia Redrick is all the about. If this sounds silly to some of you, please know that this is reality for many. So for 1 weekend, I chose not just ME but my family as well. A happy mother makes for a happy family, right? After all, moms make the family work. If mom isn't happy, refreshed, rested, than how could she possibly give her family all that they need, such as happiness and a calm/stress-free environment? Think about that…
Mia taught us how to find ourselves again, to create systems that work – writing down days for dating ourselves, at least 90 minutes each week; times for dating our husbands, partners and even our children. Along with these mom strategies, Mia taught us how to slow down as mothers and to move as women.
A part of finding ourselves again as not just moms but women, is to reflect, rejuvenate and to get our bodies moving. But how, you might ask? With these three simple steps:
Refresh – Drink at least 32-oz of water each day. Why? Our bodies are made up of about 60% of water. Refreshing our systems helps our mind to breath and our body to keep on moving.
Move – Whether it's walking, running, biking, or committing to a Zumba or Yoga class 1-2-times per week, the key is to move. Our bodies need movement to thrive and again, for our brain to breath and to be alert. During the Time For Me-Mom Retreat, Mia had us moving each and every day whether it was with Zumba in the morning or Yoga and Belly dancing in the afternoon. It was AWESOME. I laughed, I danced, I MOVED, and all the while, finding myself again. I heard a voice laughing and talking out loud with happiness that I hadn't heard in a very long time. It was MY voice. I worked leg and ab muscles that I hadn't worked in like 2 years since before my daughter was born. It was amazing.
Breathe – Whatever your belief, religion or views, nothing wrong can be said about taking a deep breath and becoming one with your thoughts, whether that's to reflect or just have quiet time with yourself. Mia brought in an instructor from Charm City Yoga, Baltimore, and we were taught on the fundamentals of yoga. Bringing us back to center, center with ourselves, and our thoughts with no interruptions. It was a beautiful thing and something that many of us just don't do anymore. We don't know how to program our brain to shut off and yoga/meditation allows for that.
So mom-YOU, when was the last time you MOVED? When was the last time you took time out for yourself? Let us know your thoughts and views on taking time out for yourself. It's not just a "nice thing" to think about it. It's a necessary "To Do" item to mark on your calendar!