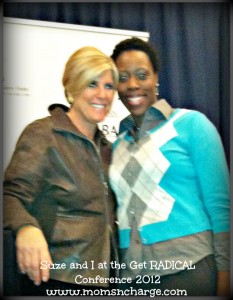 A year ago, I attended an event that I had no idea would transform my life. It was the first time I went to an event like this by myself, so I was a little apprehensive as to what my overall experience would be like. But I knew that it was time for me to make a RADICAL move in my life, and was hoping this event would be what I needed to kick my butt into gear. Not only did the Get RADICAL Conference put me on the right path, but I have made some incredible friendships and partnerships along the way. Sometimes we have things we want to do, and we know what we want to do, but we don't always know how to get it done. One of the things that Suze Orman shared last year at the conference was that the only thing keeping you from the path and the place that you want to stand in is YOU!
Over the past year, I've spoken to friends, colleagues and clients who are ready to take that leap of faith in their lives — whether it's a career change, a personal change, or starting that business they've been dreaming about. Because I know how frustrated and overwhelmed some of you are right now (trust me, I was there!), I want to help one person take that first step…to get to Doreen Rainey's Get RADICAL Conference…on me! I know for a fact that you won't leave the same way you arrived. This giveaway is for ONE FREE General Registration. 
General Registration Includes:
Admission to ALL General Session Keynotes and Breakout sessions (including Doreen Rainey, Jillian Michaels, Guilianna Ranic, Farnoosh Torabi, Lisa Nichols, Angela Jia Kim & Judy Smith – the orignal Olivia Pope)
30 Day Accountability Teleclass
So you might be asking: what is the big deal? What is the hype about? Why do you need to be there? Well, I could tell you all of that, but I'll let the video do that for me! 😉
 So How Can you Win this FREE Ticket valued at $325? Very simple:
1. Comment below telling me WHY you want to attend the conference AND what it would mean to you if you got this opportunity to go.
2. Send me a tweet @MomsNCharge or write on my Facebook wall letting me know that you've entered for your chance to win a ticket to #GetRADICAL2013.
3. You MUST agree to my terms & conditions in the comments section: This ticket is NOT transferrable. Therefore, please only submit your entry if you are serious about attending the conference, so as not to take away an opportunity from someone else. As such, if you are not able to attend the conference for any reason, you will be required to submit payment to me via PayPal for $200 within two weeks of the conference end date.
All entries must be received no later than March 6, 2013 at 8pm EST in order to be considered. I will choose and announce the winner on March 7th so be sure to enter a valid e-mail address when commenting. 
The 5th Annual Get RADICAL Women's Conference will be taking place March 22 – 24, 2013 at the Hyatt Regency Hotel in Reston, VA (Just outside of Washington, DC).
**This is not a sponsored post. Although there are affiliate links included, all opinions are of my own. As a VIP conference attendee, I was given one free ticket to bring a friend. Instead of selling that ticket, I've decided to gift it. because I know there are people that NEED to be there, but may not be able to afford it.**