Ok so I don't get to watch TV very often (actually, I rarely watch TV unless it's the Bubble Guppies or Team Umizoomi), and when I do, it's usually to catch up on shows that I DVR. But every now and again, I get to catch the premiers of shows that I've been looking forward to watching. And tomorrow night (Wednesday), I'll be tuning in to TVLand to watch the premier of the second season of The Soul Man. This sitcom stars the original King of Comedy, Cedric the Entertainer, and my girl (in my head) Niecy Nash (seriously, I love her!) so it is bound to give you a good dose of laughter!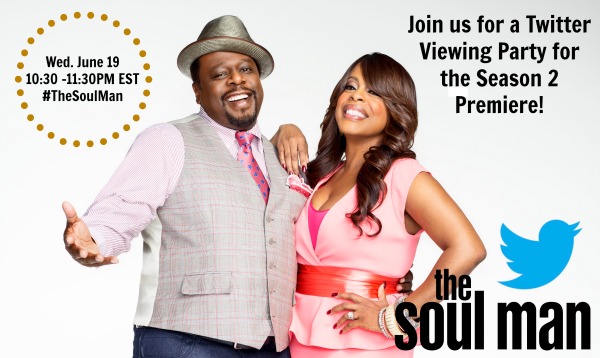 Tomorrow night, there will be a Twitter Viewing Party to celebrate the season premier and I want YOU to join me and some of my online buddies, (@BlackAndMarried, @smartnsassymom, @StillDating, @JBledsoeJR, @DearMomDiary, and more) as we tweet live throughout the show!! The party will kick off at 10:30 pm EST. So do what you got to do to get the kids in bed, get your PJs on, get the popcorn out, and your iPad or laptop, and meet me on the Twitterweb!
Here's How You Can Join in on the FUN:
1) You'll need to have a Twitter account. If you don't have one, you can sign up for FREE at www.twitter.com
2) Be sure to follow me on Twitter (@MomsNCharge) so we can compare notes, using the hastag #TheSoulMan
3) If you're a little nervous about using Twitter, you can also follow along during the viewing party here (Tweet Chat): https://tweetchat.com/room/thesoulman
Here's the Scoop on the Party:
Date:

 

Wednesday, June 19, 2013
Time:

 

10:30PM – 11:30PM EST
Join @MomsNCharge and @BlackAndMarried for the Twitter Viewing Party of #TheSoulMan 6/19 @ 10:30PM EST [Click Here to Tweet]
About the Soul Man:
From the creators of Hot in Cleveland, The Soul Man revolves around Cedrics character, Reverend Boyce The Voice Ballentine, an R&B superstar-turned-minister who takes over as preacher of his fathers church. Niecy Nash ("Reno 911") stars as the reverends wife, Lolli. The pilot also features John Beasley (Everwood) as his father, Wesley Jonathan (What I Like About You) as his younger brother, and Jazz Raycole (My Wife and Kids) as his daughter. The character of Reverend Boyce originated on a second season episode of Hot in Cleveland in which Cedric guest-starred. Season 2 Premieres June 19 11/10C!
Take a quick peek at this teaser and then be sure to join me on Wednesday 6/19 @ 10:30PM EST!!!