In a previous post, I talked about my decision to join the fight against arthritis. As I continue to learn more about the chronic illness, I am amazed and truly inspired by the stories that I come across. Such stories include some from our very own Event Bloggers for the Purses with Power event happening THIS Thursday!
If you missed those stories, you can check them out here, here and here.
I met my friend Chrystal Lewis back at band camp in '98 at Hampton University. And even though we lost touch for a little while after I left, we've been able to keep in touch and remain friends even from a distance. So I was so grateful that she and her mom, Pontheola Wilson, agreed to share their story about how arthritis has impacted their lives.
Being diagnosed with arthritis at 16, how did that impact your life?
Pontheola: It was summer time and I had just graduated from high school and was getting ready to go audition to sing for the choir at South Carolina State College. I was very afraid that I would not be able to go to school.  It was scary because I thought that it was going to physically limit me from being successful at school. I did not know how it was going to affect my life or what limitations it would impose.
What are some major challenges you have had to overcome in living with arthritis?
Pontheola: The biggest challenge was/is the pain, especially in the winter time when I was younger.  The cold weather affects your joints by making them stiff.  As I have gotten older the arthritis affects me much more during all seasons. I've had to overcome the pain to just go about everyday life. No one really understands the excruciating pain that arthritis causes but other arthritis sufferers.
What are some of the most common misconceptions that people have of arthritis?
Pontheola: I think the most common misconception is that it only affects older people.  I was 16 when I was diagnosed.  I had been having pain in my wrist and hand that I kind of just rubbed away and then one day I was washing dishes and my hand completely locked up.  I could not move it at all and I was in such excruciating pain.  My mother immediately took me to the doctor and I was diagnosed.
What do events like Purses with Power mean for those who are suffering from arthritis?
Pontheola: I think events like this help to educate and bring more awareness to people about the disease and I also think it will provide good information to people who have been diagnosed with the disease.
What advice do you have for people who have been newly diagnosed?
Pontheola: The advice that I would give to a newly diagnosed person is that you don't have to give up. You can learn to live with arthritis and still live an active life.  Educate yourself on it and learn to adapt.
What were some of the challenges you had growing up and seeing your mom suffer from arthritis?
Chrystal: I don't recall her struggle with rheumatoid arthritis as a young child.  I don't know if this was because she hid it from us or if just being so young I just wasn't as observant but as I got older, watching my mother struggle with the pain was the hardest part. I can remember one of her hands locking and how she would have to knead the contraction away to loosen her joints back up just so that she could have function back in that hand.  I've watched her struggle at times to do ordinary things that others may take for granted.  This was hard for me to see growing up because when you have such a strong mother as I have, you kind of view them as being invincible. So to see something like arthritis take someone who is normally so strong, and put them in excruciating pain, that's hard.
What impact did this have on you (i.e. did this play a major role in you choosing nursing as a profession)?
Chrystal: I believe this has impacted me in to being the person I am today. I'm not 100% sure that this is why I chose nursing as a career but I absolutely from a young age have felt compelled to help, to nurture and to be a care giver and maybe watching my mom over the years and wanting to help her did fuel this.  From as long as I can remember I've known the triggers to arthritis. I've known the signs of when my mother was in pain.  I often times now tell her when I think she should be proactive and take an anti-inflammatory when she has been doing something that I think will trigger her into pain.
What advice do you have for children of arthritis sufferers?
Chrystal:  My advice to other children of arthritis sufferers is to learn all that you can about the disease.  Be proactive, learn the triggers, learn the signs of your parent being in pain, learn the treatments and help them the best you can by being helpful when they are having a flare up or even if it's just by being understanding of the limitations arthritis can place on them. Most of all just love them as unconditionally as they love you.
Thank you so much Chrystal and Mrs. Wilson for taking time out to share your story. I look forward to sharing with others who will be blessed by hearing it.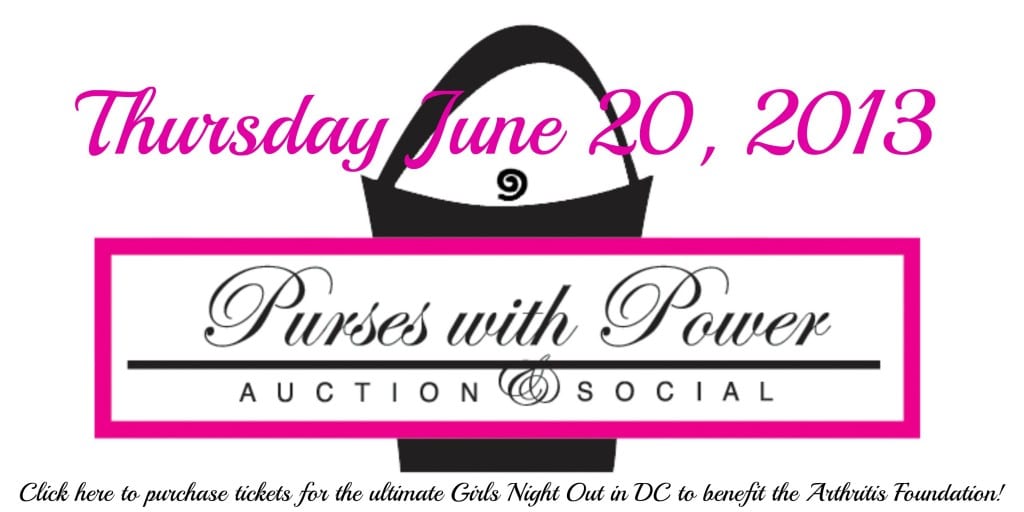 Are you interested in joining the fight against arthritis? If you are in the DC area, it's not too late to purchase a ticket to join us on June 20th for Purses with Power, or you can make a donation online. Either way, I hope you'll join me in the fight to help all those battling this dibilitating disease.
For a sneak peek at some of the auction items as well as up to date information on the event, be sure to follow @PowerPursesDC on Twitter and Instagram.