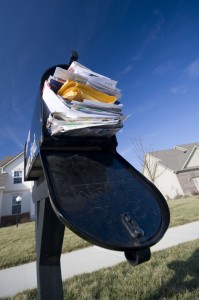 Does your mailbox tend to look like this when you go to check it every day (or, every week like…ahem…some people do)? Are you tired of sifting through endless amounts of junk mail to find the mail that is actually important to you? Chances are, if you're like most people, 90% of what makes it into your mailbox is junk. And I've realized that random companies that I've never even ordered from before, will mysteriously find a way to end up nicely nestled in between the rest of my junk mail. It always gets worse around the holidays. Every and any company starts sending out their catalogs by the masses — whether you've ordered from them before or not. And some will send a catalog for every day of the week. It's ridiculous and it's annoying.
So what did I do? I went on a search to find an "app for that". I mean, with hundreds of thousands of apps in the Apple app store, I figured, there had to be something out there to contend with my junky mailbox! When I first discovered Paper Karma, I wondered how this could really work? I thought it was way too good to be true. It just seemed too simple. Too easy.  Well I'm here to tell you: it is simple and easy, and it definitely works! I am quick to install and delete apps that force me to have to think or seem too cumbersome. This app leaves no room for guesswork.  I can literally use Paper Karma with my eyes closed if I needed to (not exactly sure why I would ever need to, but hey, you never know).

Let me just show you how easy it is to use. But first you have to download the Paper Karma app from your smartphone. Once you do that, you are ready to snap a picture and toss the junk mail. I've used Paper Karma now quite a few times, and more often than not, they are able to locate the company I want to cancel a subscription to. There will be a few instances where they will be unable to reach out to those companies. For example, if the mail is addressed to "Our Neighbor" or  "Current Resident", it would not be able to cancel the subscription on our behalf.
Below are a few pics I took from my own Paper Karma app: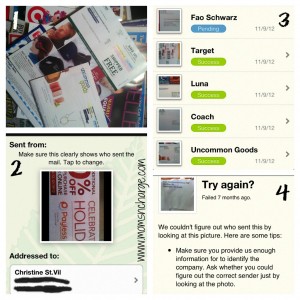 In Picture #1, you will see my stack of mail ready to get Paper Karma'd (yup, I just made that a word).
Picture #2 is a screenshot of what happens once you take the picture.
Picture #3 is the cool little report that you get to tell you where Paper Karma is with getting each particular piece of mail eliminated.
Picture #4 is the message you will see if Paper Karma has trouble identifying the company for the piece of mail that you submitted.
All in all, I give this app two thumbs up in helping me de-clutter my mailbox. So far, I have submitted thirty-two requests, and only four of them failed. Two of which were sent to a generic mail address. The other thing I love about this app is that it's so quick and easy to use that the kids could help with it…and not even realize that you are putting them to work. Oh, and did I mention that this app is F-R-E-E? So now you have no excuse not to try it out. 😉
How bad is your junk mail problem? Have you heard of Paper Karma before now? If you try it out after reading this post, please come back and let us know how you like it.

*Disclaimer: This is not a paid advertisement. I was not compensated in any way for this review (although…I probably should be LOL). All opinions are of my own.*