On Saturday I watched a video on YouTube posted by Gary Vaynerchuk. It was a video clip of his interview on Power 105.1's The Breakfast Club, and it reminded me of why I freaking love Gary Vee (as he also goes by). I'm not one for cussing, but his message is so practical, among many things, that I'm willing to overlook that.
Entrepreneurial Journey
I've been on what you might call an entrepreneurial journey for the past 3 or so years, and one minute I'm super pumped and feel that I can conquer the world, and the next I'm convinced that this whole entrepreneur life isn't for me. It's been said that entrepreneurship isn't for everyone, which is true. But because we're currently in a season where it's the "in" thing to do, it has some people in denial that they have what it takes. And that's not throwing any type of shade. That's simply the truth.
"Failed" as an Entrepreneur
I figured because I've seemingly "failed" as an entrepreneur (not made 6, 5, or even 4 figures, lol), I must be one of those who simply don't have what it takes. I actually went back to work late last year, because that broke entrepreneur life DEFINITELY wasn't speaking to me, lol. But for some reason, I keep coming back to this word (that's a pain in the but to spell by the way, lol) and no matter how much I try to fight it, there's an entrepreneur in me.
I know a 3-year journey to someone who's been hustling for 10 is laughable. However, when you're in it, it feels like a lifetime. But then I look back and really take a look at what I've managed to do and what doors it's opened for me. The most obvious one is being the editor for this site. Hello! Lol. Had I never blogged a day in my life, I would not have been able to get this gig. I held a very small, but successful in that I actually did it, blogger event here in Canada. This is also what I believe to be behind my nomination and being awarded a "Role Model" award for Black Canadian Women.
Measuring Success
As I just wrote this out, I'm thinking "How dare you complain Violette?!" I was solely measuring my success based on monetary gain. And any entrepreneur I'm sure will tell you, it never starts with money. Money is obviously a goal because even a charity needs funds to run. However, unless you're passionate about what you're doing, you'll give up long before you ever see any real monetary return.
Long Lasting Success
So to all my mompreneurs, entrepreneurs, and aspiring-preneurs, I say this: FIND YOUR PASSION. It sounds easy I know, however it's the key to your long-lasting success. Most can suck it up and do something they really don't like for a short period of time knowing there's some money attached. However, if you're about leaving a legacy, you've got to love it.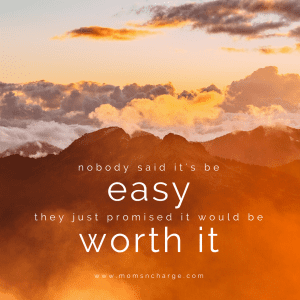 I follow Myleik Teele, founder of CurlBOX on Snapchat, and I couldn't do half the things she does. She's SO dedicated to her brand and her cause. The same goes for Pamela J Booker, founder of Koils by Nature. I follow her day-to-day over on Snapchat and I take my hat off to these women and many like them because they're DOING it. Their journey has been long and is certainly still going, but I respect that they live out the quote that says
Nobody said it'd be easy. They just promised it would be worth it.
Don't give up!