A couple of weeks ago I highlighted some of my key
takeaways from Blogalicious 5
in Atlanta. There were too many to put into one or even two posts. But I had to try and share these additional takeaways that I had the opportunity to experience.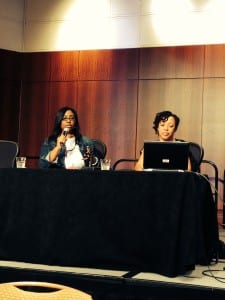 One of the breakout sessions I really enjoyed was taught by Alisha Walker of
The Marriage Coaches
, and Ronnie Tyler of
Black And Married With Kids
. They talked about how to
"Lean in" to your Business without sacrificing your relationships or family
. They taught us:
Define what success looks like for YOU: We created a success circle and identified key areas in business and family to reach our own personal successes (i.e. reaching a certain number of monthly visitors to your blog, creating more time with your family, etc.)
Create a support network for success in both: Your support network could be mentors, accountability partners, a counselor, coach or support group.
Discuss expectations and how to manage them on a regular basis: Ask yourself what do you need? Where can you ask for help?  Are your expectations realistic?
Make a plan: Having a plan makes things a lot less stressful! They shared a few great tools/resources to help set quarterly/yearly goals & create projects:
This was seriously an awesome session and right up my alley! There were some great reminders as well as new info/tools that we were able to take home with us.
One other highlight for me was being a highlight in the Wells Fargo Perfect Pitch contest! When I initially read the announcement, I quickly clicked on the link to find out more details. And once I did, I just as quickly closed the e-mail out and decided that it wasn't for me.
I had decided that there was no way I would have enough time to get together all of the materials they were requesting in such a short amount of time (7 days). I had decided it was going to be too hard. Too much work. I didn't have anything good enough to pitch. I wasn't going to be able to put together an emmy winning video. I was making so many excuses for myself, that even I had to give myself the side eye coupled with a stank face.
What I was reminded of in this experience was the importance of continuing to get out of my comfort zone. My pitch couldn't have been further from perfect. But I was reminded that "done is better than perfect".
I had a great experience and connected with so many amazing people. CONGRATS to Arsha for winning the pitch for her Capital City Mumbo Sauce. A HUGE thank you to Alfred Edmond, Jr. of Black Enterprise and Jim Beach of School for Startups! While I lost the fan favorite to Lamar Tyler, I was still offered free business consulting from Alfred and an interview with Jim (you can check out the interview here which aired this week, starting at about 17:15). These opportunities alone were more than worth me getting uncomfortable for! So thank you Blogalicious and thank you Wells Fargo!
There were so many takeaways and so many great experiences that came out of attending Blogalicious.  From the people and networking opportunities, to the learning and breakout sessions, it was better than a great first experience. I'm looking forward to many more great years ahead.
For more great round ups and recaps of Blogalicious 5, be sure to check out: