So here we are…still (at least some of us) in quarantine mode for the most part. We are still trying to find ways to keep the kids busy, and find things that we can do togther at home. Watching new Netflix Family shows is one of those things. When I got wind last year that Netflix was creating a series for The Baby-Sitters Club, I immediately got excited! I am pretty sure there wasn't one book in the series that I didn't read as a kid.
I tweeted this  on March 1, 2019 in response to Netflix Family's announcement:
Just showed this to my @livybellesews who just got introduced to the series and is just as geeked about this as I am @seewhatsnext ☺️😄🎉 #readallthebooks pic.twitter.com/4avn68B9Fh

— Moms 'N Charge® (@MomsNCharge) March 1, 2019
Reliving The Baby-Sitters Club
Growing up as the youngest of 5 girls and the 6th child of 7, these books allowed me to escape to fun and exciting adventures! I felt like all of the girls in the club were my friends IRL. I mean, who didn't, right?!
Livy really loves to read, and most of the books she reads are empowering little girls. She is a mini-boss and books/characters like the Baby-Sitters Club are giving her that extra boost of confidence.
Ahhh today is the DAY I get to relive my childhood memories 😁@livybellesews & I are cuddling up tonight to watch #babysittersclub on @netflix! Have you seen it yet? Thanks so much @netflixfamily for this awesome surprise box of goodies 😱🥰 pic.twitter.com/WrvUJ8O9XI

— Moms 'N Charge® (@MomsNCharge) July 3, 2020
Old classic, new adventures
Livy is 10 and Bri is 9. They are literally the ages I was when I started reading and loving this series. The Baby-Sitters Club is another way that has allowed us to bond. Especially in this crazy time of quarantining and mask-wearing, it has come right on time.
The girls have hosted their own Netflix watch parties over Google chat and Facetime with their girlfriends. It is the cutest thing! I've seriously lost track of how many times they've watched. 😂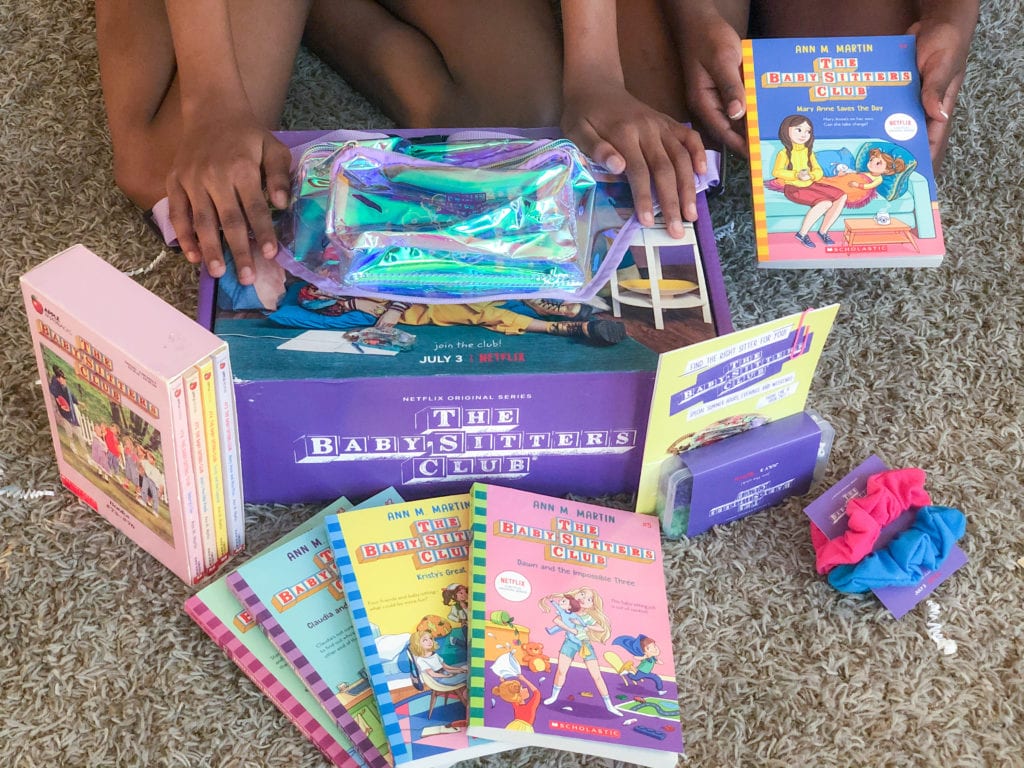 Unboxing and Review on YouTube
Netflix Family + Big Honcho Media were kind enough to surprise us with this gift box! 😲 I was just as excited as the girls, can't even lie 😁 This video on their YouTube channel shares their unboxing of the goodies received as well as their thoughts on the new Netflix series. Their special guest and sister-cousin, Joelle, joined in too.
Insights from a parent who grew up on the Baby-Sitters Club
There were quite a few things I loved about the series that I wanted to share:
The cast – it was clear that they were intentional on the show being diverse from the beginning
Head nods to the past: I loved the scenes that showed those iconic things from the past like the glow-up landline phone, and MaryAnn's flip phone 😅
They took a classic book series and made it relatable to today
Difficult conversations: they normalized difficult conversations like getting your first period, being the new girl, blended families, gender equality and so much more
They successfully bridged the gap between the '80s and today, in 2020. 30+ years after I read the series and I felt like I got to relive some of my best childhood memories with my girls
Those 10 episodes went by super quick! We had to space them out so we could enjoy them as long as possible. But we are surely fans and looking forward to Season 2!