I'm excited about this guest post from Rani Robinson because I've often thought about surprising the hubby with a man cave. I think he would love it and here are some great steps to get started for any of you looking to do the same. Do let us know how it turns out if you do! 🙂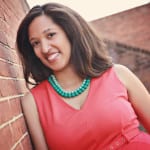 The following post was written by 
Rani Craft Robinson-Kiganda. Rani is Managing Producer of Travelchannel.com and CEO/Founder of Craft Web Solutions. Rani works with small business owners and entreprenuers who are frustrated about website creation, maintenance and making sure that the website they do have, is working for them. Rani resides in Maryland with her husband and two children.
Ladies! How many of you wish your man, Significant other, husband, had a place in the home he could call his own? A Man Cave he could "escape" to for game-day or let's be honest, when you two just need space!? Have you thought that creating such a space is too far within reach? Oh my ladies, you couldn't be further from the truth. But first, a little background.
In March 2013, my husband, 2-year-old daughter and a very pregnant me, left our one-bedroom condo and rented a 3-bedroom, one bath (but with a basement) house.  It was in the opposite direction that my husband wanted to go: away from the city (he longs for the hustle and bustle of the city). But he agreed to rent the house on the basis that he'd have his "oasis"/Man Cave in the basement.
We moved in the house late April 2013. May, June, July (our son is born), August, September, October and November roll around – no work or even attempts at organizing the basement (still packed with moving boxes) had been attempted – by me or him. It wasn't until I realized – after watching lots of HGTV and seeing that my husband (who stays home with the kids while I go to work) needed his space. And fast! We didn't have a lot of money to spend on a high-end Man Cave, but I knew I could tackle the things that he really needed in order to make his Man Cave, home.
Here are 5 steps to making the thought, a reality and a Man Cave he'll love.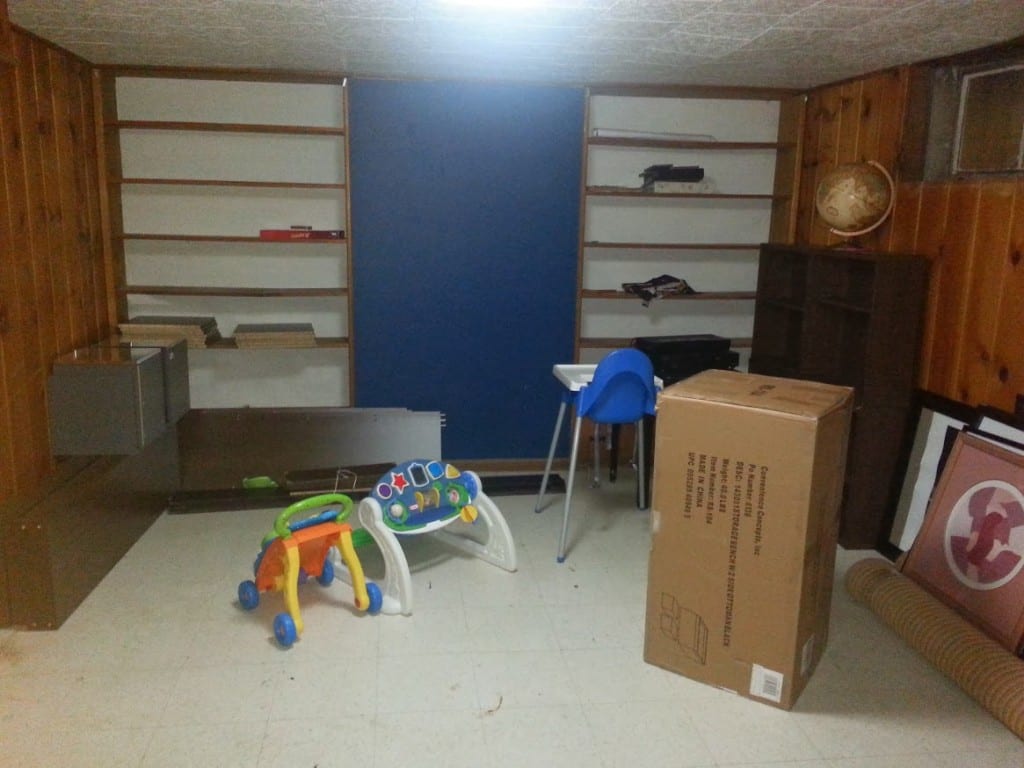 Make a list.
What are the must-haves? What can he not live without (i.e. TV, couch, beer, a place to rest his feet, etc). If you're going to do this as a surprise, and you need a little help from him to fill in the gaps, then drop subliminal messages here and there to get the answers you need. My husband likes to watch TV on a BIG screen, so we had a projector already and we just used a large white wall on the opposite side of the floor (not seen in the picture).
Make a budget.
Now that you have an idea of what you need to get, now it's a matter of finding the best deals. I was surprised by the amount of items I already had in the house (picture frames, unused rugs). But there were a few things I needed to purchase. I made a lot of trips to IKEA for a futon (mattress and cover), lighting (our basement had old ceiling lights that needed to be replaced), etc. There were also great deals to be found  on Wayfair.com, Overstock.com, Sears.com and then of course, there is always the beloved: HomeGoods, Marshalls and TJ Maxx.
Keep it simple.
Remember that most men are messy, so don't "pretty-up" the place with cute rugs and throw pillows. Once you lay the foundation for THEIR Man Cave, sign-off on it and let it go. It's their domain now. You'll see in the pictures how I organized things. Within a day, the room was rearranged to his liking. He did a nice job. 🙂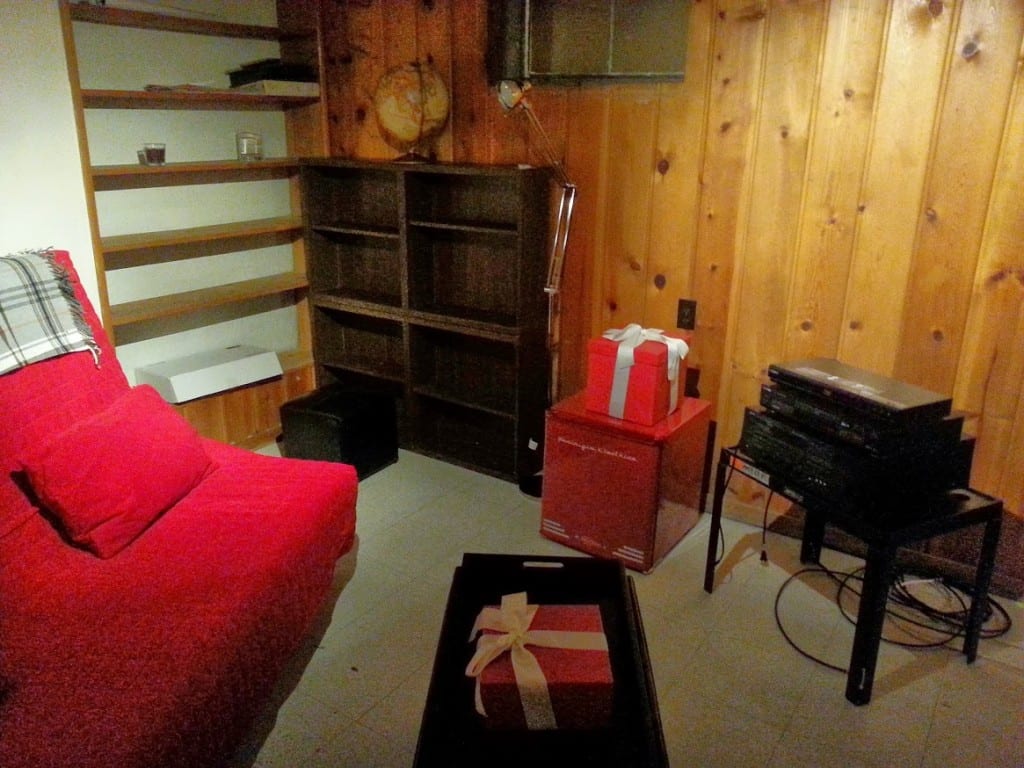 Don't Go Overboard…
But Allow Yourself to Indulge on 1-2 Items. There came a point where I became so excited! Everything I saw in magazines and online, I told myself I HAD to get. Instead of driving yourself nuts, make a list of the items that are a little more expensive and make a note of them. I did this with an adorable retro red mini refrigerator I spotted on sears.com. One of the options even included a tap! At the end of the day, if you've determined that the Man Cave won't be complete without "X" then it's OK to splurge. The key is not to splurge on 3-5 items because once you do that, it's very hard to stop.
Make an Impression.
Think about what items would make it HIS, so each time – including the most important: his FIRST impression – he sees it, he'll say, "Wow. She really knows ME. She really thought about ME." For instance, my husband's favorite car is a 1966 Corvette Sting Ray, so I found a picture of it and had it blown up (16×20), printed and mounted to foam board.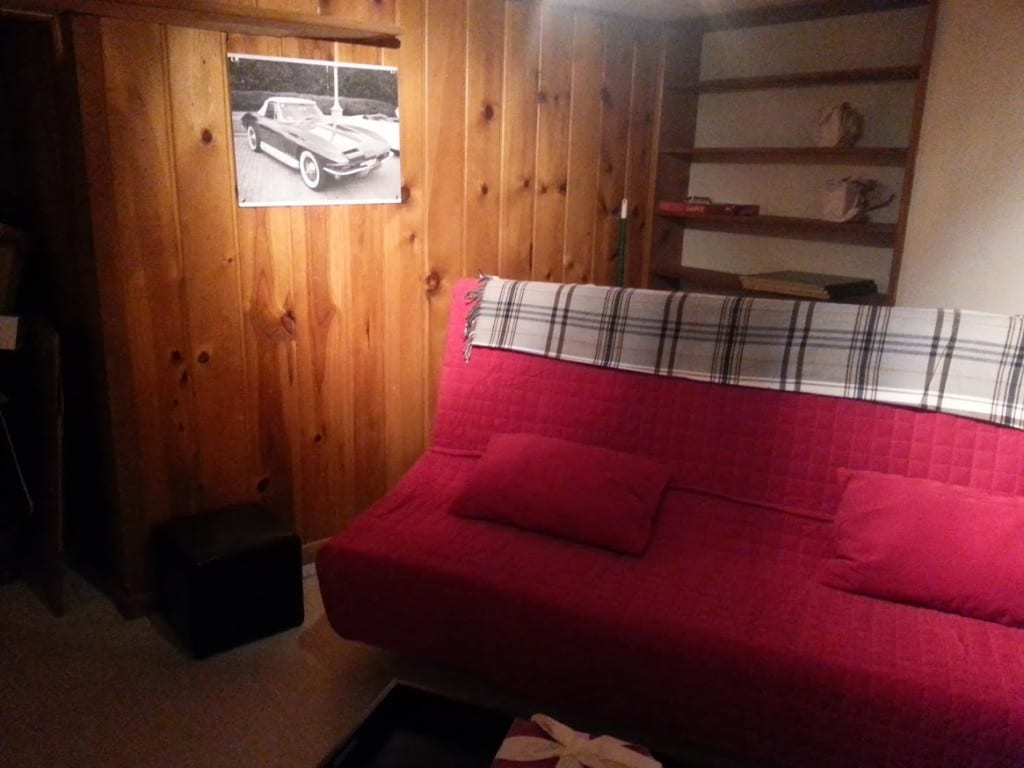 Have you created a Man Cave in your home? What tips can you offer others on how to get started, or even finish making it that ideal space?