2014 has truly been an amazing year! It's the year my sister and I launched our book (Whose Shoes Are You Wearing? 12 Steps to Uncovering the Woman You Really Want to Be), which is actually a movement to empower more women (and men) to walk in their God-given shoes. We are thankful for all the ways God has blessed us and surrounded us with grace and favor. We are thankful for being able to walk in our purpose. We are thankful for our ability to live, love and laugh out loud. And we are thankful for YOU. For your joining us on what has been an amazing journey. But we've only just begun. We are committed to continuing to help you discover and walk in the shoes God made just for you. So…

Until midnight TOMORROW night (12/2), you will have an opportunity to be one of the first to receive our 2015 Transformational Gift Pack which includes:
1 Copy of "Whose Shoes Are You Wearing?"
Your very own "Do It Afraid" T-Shirt
BONUS #2: 1 Ticket to LIVE Virtual Whose Shoes Workshop valued at $97: "3 Life-Changing Steps to Kicking Fear to the Curb & Doing it Afraid"
This gift pack is for the Purpose-Driven Woman who is ready to do it BIGGER and BETTER in 2015, and wants a phenomenal tool to help her realize her vision.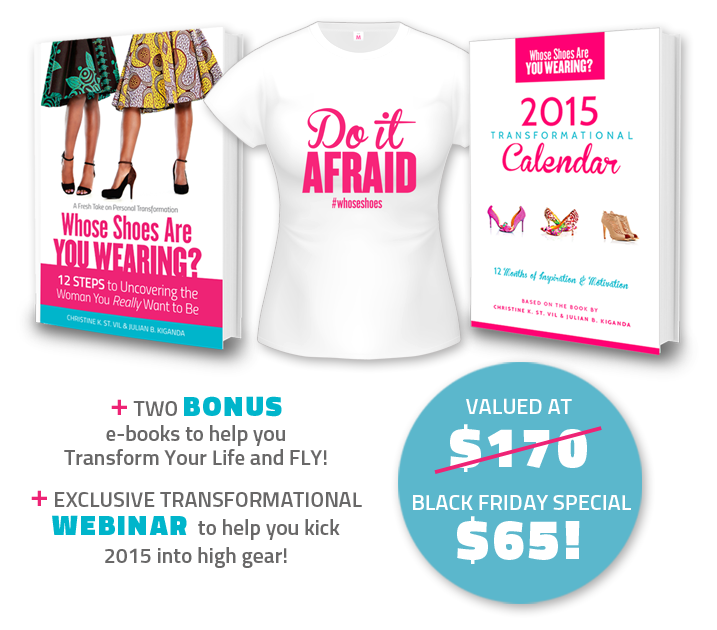 The beautifully designed hardcover planner measures 6×9 inches and features:
88 pages of monthly goal-setting
Inspirational quotes
A theme for every month to keep you focused
Fabulous shoes & more!
The full color planner retails for $29.99, but is currently on sale for only $24.99! It's the perfect companion to the book and will help you stay focused on your goals and your personal transformation throughout the year. It's transformation at your fingertips. Click here to find out how to get your copy! Both of these deals go away at 11:59pm on Monday 12/2 (24 hours from now) so grab it while you can!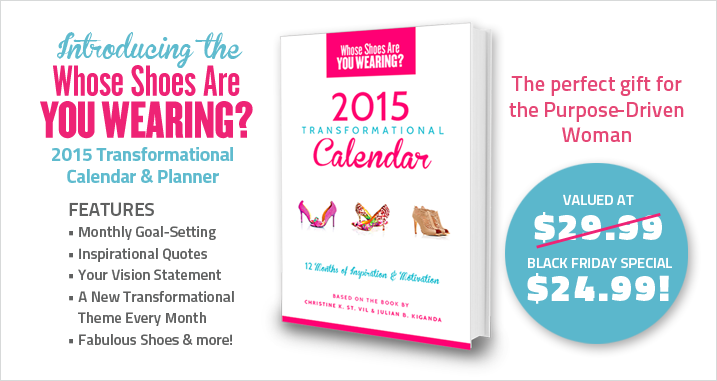 This holiday season, we encourage you to give the gift of transformation.