Disclosure: I was gifted this 100 Good Deeds bracelet to review and share with my readers. However, all thoughts and opinions expressed are my own.
---
I don't know about you, but I find great joy in giving, especially during the holiday season. But in general, I'm a giver. I love surprising people with much needed gifts or unsolicited nice gestures. I literally almost woke my children up yesterday morning (they slept in until 10am) because I wanted to see the joy on their faces as they raced downstairs to look under the Christmas tree, and hear the high pitched squeals in their voices as they opened up their gifts. There is nothing more rewarding than being able to give. Giving is a great thing, especially when it's not expected.
One thing we teach our children is the importance of caring for, and doing nice things for others. We always pray that we are blessed so we can be a blessing to others who are in need. So I have a simple 2015 Resolution: Take Less. Give More. #DeedADay. 
This year, I'm setting a new kind of resolution and it's all about doing good deeds – anonymously. I've joined the #DeedADay movement and my goal is to wear my bracelet and do a deed a day (and hopefully, inspire and encourage others to do the same). I'd like to encourage YOU (yes, you) to join me. Can you just imagine what a better place the world would be if we all sought to do a good deed a day, every day?!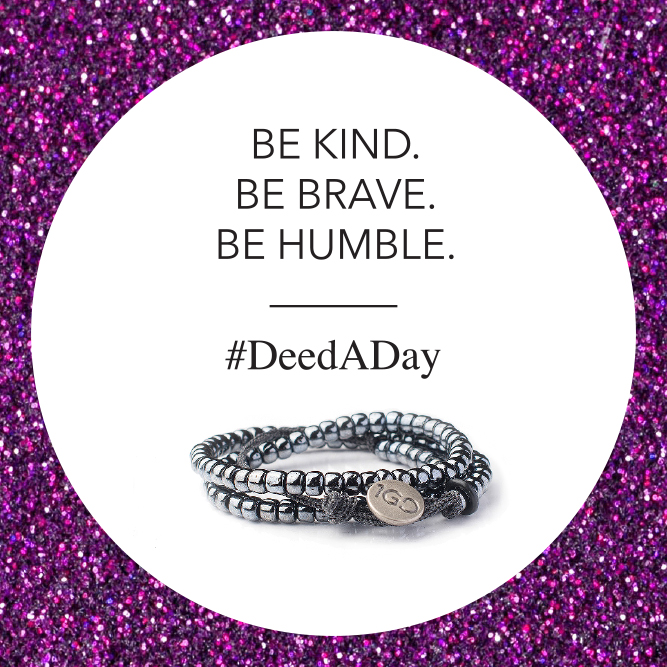 Together we're changing the world, one deed, one bead, one act of kindness at a time. The 1 Good Deed (1GD) bracelet gives us 100 chances to be grateful. It's 100 chances to do something nice for someone else. It's 100 chances to be a giver and not a taker. A good deed means we've gone out of our way to help someone and
only counts if the deed remains anonymous. Each time you do a good deed, move the ring on the bracelet closer to the button. It's that simple. It's a fashion statement for goodwill.
These Bracelets are made by vulnerable women (meet them here) who've been trained for this work in Uganda, India, Indonesia, Zambia, South Africa, Rwanda, and Haiti. Like the Heart of Haiti and Path to Peace intiatives, this project gives women a way to support their families through earnings. In addition, it also empowers them to contribute to good deeds around the world.
These gorgeous bracelets are designed by Mary Fisher, author, artists and AIDS advocate. The 100 GD bracelet is both a fashion statement and a cause. This non-profit provides economic and educational opportunities to women and girls across Africa and elsewhere. Proceeds from 1GD bracelets are reinvested in the program to provide more women and girls with more training in more countries.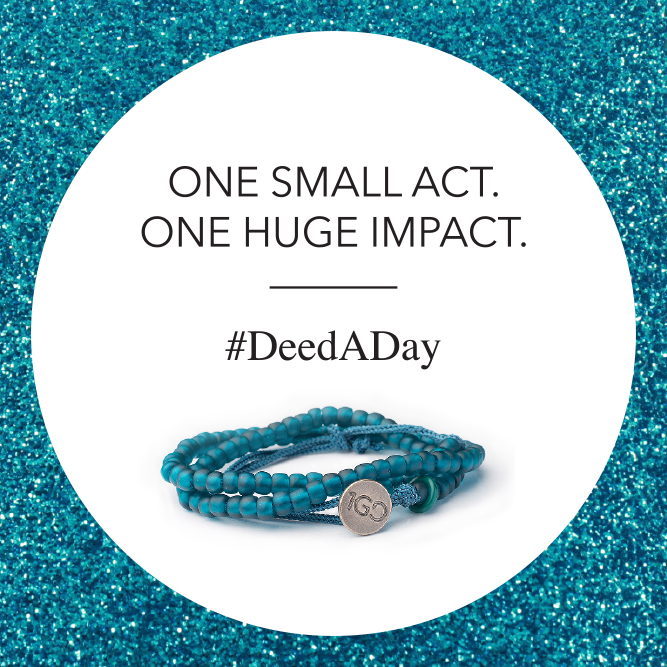 To join the #DeedADay movement, share one of these images on Facebook, Instagram, Twitter or Pinterest using hashtag #DeedADay and tagging the 100 Good Deeds Bracelet (links below).
Follow the campaign hashtag: #DeedADay and click here to find out more about 100 Good Deeds campaign.
Follow, support and Tag 100 Good Deeds on:
Will you be joining the #DeedADay movement? What will be your first good deed?