Recently, I was asked by a friend how we get our kids to eat so healthy? As simple as it may sound, we honestly just didn't give them much of a choice. When my husband and I decided to create a healthier lifestyle for ourselves, it ultimately meant that our children would be doing the same. Although I'm not vegan, I've learned a lot about healthy food choices once my husband decided to take on that lifestyle. By simply changing the foods we eat, we've lost over fifty pounds collectively over the last year and a half.
Our kids rarely eat fast food. But they love eating things like oatmeal, kale, salad, broccoli, rice and beans, chickpeas, tomatoes and various types of fruit. In short, they eat what we eat. So if you're trying to make some healthy changes with your kids, here are a few simple tips to get you started: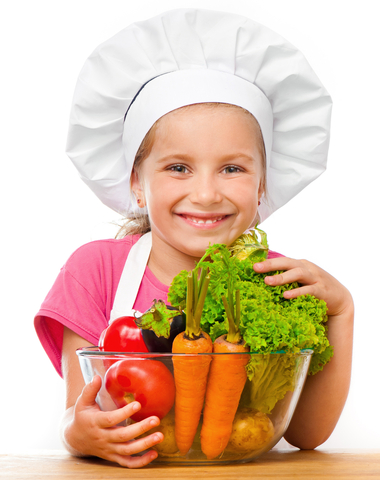 Don't give them a choice. This may sound a little harsh for some, but this became critical especially after my husband changed his diet. Initially I would cook a separate meal for him, and something else for the kids and I. But that just took up time that I didn't have. So we all had to learn to adjust to new eating habits. Unless I decide to add chicken or fish to our plates, then we are all eating the same exact thing. No more being a short order cook.
Be creative. If your kids never liked vegetables before, then you may need to be creative in your preparation and approach. There's a great cookbook called Deceptively Delicious that we started out with. All of the recipes include "hidden" vegetables in them so that most times, the kids don't even realize they're eating the good stuff. With our last born, we started pureeing all of her veggies and mixing them into her daily meals as soon as she could eat solids. To this day, there's not a veggie we've made her that she won't eat.
Get them involved. Kids love to feel like mommy's big helper. So take them grocery shopping with you. Take them down the fresh veggie aisle so they can help you pick out the ones they want to try. Allow them to help you prepare the meal or snack with the items they picked out.
Set rules. In our house, there's never a such thing as "I don't like it" if they've never even tried it before. Sometimes they just don't like the way it looks, or if one person says they don't like it, then the other one automatically doesn't either. Nine times out of ten, they will generally like whatever it is after they've tried it. If not, we stick to the ones they do like and try something else later.
Set a schedule. This actually sounds rather simple and it can be if you stick to it. Kids tend to want to snack a lot when they get bored. So as much as possible, stick to a schedule around meals and snack time. We have had to break the kids out of the habit of wanting to eat every hour. But when it's time to eat, we make sure to have easy snacks ready to go like grapes, apples, cheese and crackers, or granola bars.
Check out the rest of these tips by clicking here, then be sure to share your tips. How do you get your kids to eat healthy?