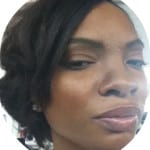 The following post was written by 
MJ Levine. MJ is the voice behind FAB Haute Mama, a lifestyle blog for moms focused on getting Fit & Beautiful, staying in style and knowing your way around the kitchen – all while running a household. Haute wife to Mr.Levine, mama to Zoe, step-mama to Zaya, human mom to Scout the boxer and Rio the parakeet, MJ is on the journey to finding balance in motherhood.
You can connect with MJ at Fab Haute Mama, or on Twitter and Facebook.
Say goodbye to winter with this light and flaky Apple Pear Tart. Made with an almost guilt-free alternative to high fat pastry dough: phyllo dough, which is versatile and can be used to make both savory and sweet bites. You don't have to give up your love of desserts to get beach body ready.
Ingredients:
15 sheets phyllo dough (thawed as per package instructions)
2 granny smith apples
1 pink lady apple
2 D'Anjou Pears
2 tablespoons sugar in the raw
1/2 teaspoon cinnamon
1/4 teaspoon nutmeg
Butter flavored cooking spray
1 lemon
1/4 teaspoon vanilla extract
1 tablespoon melted butter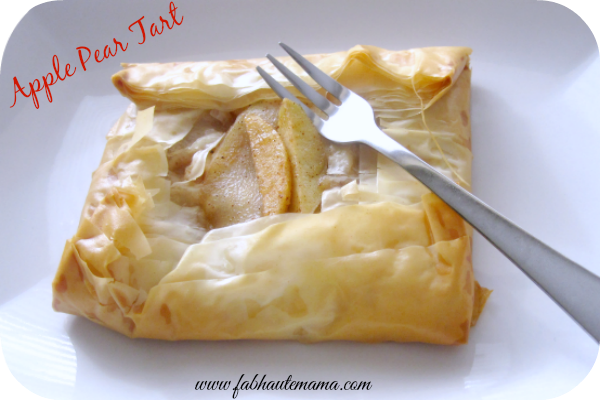 Instructions:
1. Preheat oven to 400 placing rack in top most position. Line a baking sheet with parchment paper.
2. Squeeze juice of half the lemon in a large bowl of cold water. Peel, core and thinly slice apples and pears, placing each in lemon water.
3. Strain apples and pears and place in clean dry mixing bowl.
4. Season fruit with sugar, cinnamon, nutmeg, vanilla and melted butter and juice of remaining lemon. Toss to combine.
5. Place 15 sheets of phyllo dough on plastic wrap. Cover with another sheet of plastic wrap followed by a damp cloth.
6. Remove 1 sheet of phyllo and place on a flat work surface. Spray with cooking spray. Repeat process until you have a stack of 5 sheets of phyllo. Cover remaining phyllo to prevent drying.
7. Use a pizza cutter or paring knife to slice the stack in half. Place each half on lined baking sheet.
8. Arrange apples and pears in two to three even layers. Sprinkle fruit with a little raw sugar.
9. Gently fold sides of phyllo to form a rectangle. Lightly spray edges.
10. Repeat this process until you have 6 individual tarts.
11. Bake for 15 minutes turning once.
That's it! And let me tell you that even though I cut the sugar and didn't use
pastry dough (which is my absolute favorite but oh so sinful on the thighs), this apple pear tart was really delicious!
Have you made homeade tarts before? What's your favorite tart that you've had?