There are lots of things that Disney does really well. And when it comes to movies, they pretty much just get it! So imagine my excitement when I saw this tweet across my Twitter timeline last night…
Thrilled to confirm that Oprah Winfrey, Reese Witherspoon + Mindy Kaling have joined WRINKLE along with Storm Reid! pic.twitter.com/HE5G9BzaSb

— Ava DuVernay (@AVAETC) September 14, 2016
Yes indeed! If you didn't know, The Walt Disney Studios is working on the upcoming film A Wrinkle In Time, Directed by Ava DuVernay. And when the announcement was made, she had this to say:
"After an extensive search that spanned multiple dimensions, we're overjoyed to welcome Storm Reid to A WRINKLE IN TIME as our beloved "Meg." Storm is a tremendously talented young actress who embodies the hopes, dreams and spirit of a character much loved by audiences worldwide for generations. I can't wait to work with Storm as we chronicle Meg's epic quest, alongside Oprah Winfrey, Reese Witherspoon and Mindy Kaling as Mrs. Which, Mrs. Whatsit and Mrs. Who. Tesser well!"
The film is directed by Ava DuVernay (SELMA) from a script by Jennifer Lee (FROZEN). Jim Whitaker and Catherine Hand are producing the film, which will begin production later this year.
I absolutely LOVE this Twitter exchange between Oprah Winfrey, Reese Witherspoon and Mindy Kaling that confirmed the news: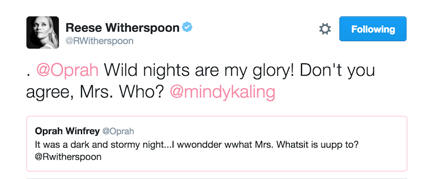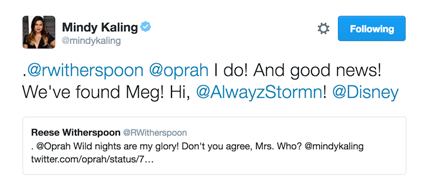 While there is no release date yet, I will definitely be sharing more about this in the near future. This cast is dynamic and I am here for all of it! And you should be too 🙂 In the meantime, I'll be following along #AWrinkleInTime to see what other announcements may be coming out soon. Production hasn't even begun and Disney has us all excited about A Wrinkle In Time!
Did you read A Wrinkle In Time as a kid? Are you excited about the production of this film?