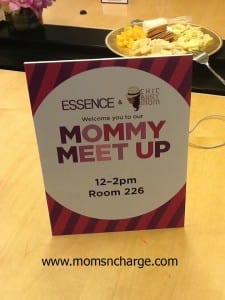 Last Thursday, I had the absolute pleasure of being invited by my friend Sheree, over at Smart & Sassy Mom to join her for an intimate gathering in NYC. You may remember that I featured this S&S mom sometime back for my Real Moms, Real Talk series. If you missed it, you can check it out here. Although we've become friends and blogging buddies since we did this interview, we had never met in real life until last week. But it really was like reuniting with a longtime friend 🙂
The fact that my phone died on me (not battery died, but inoperable died) right before I was heading out to Union Station to head up to NYC, wasn't going to stop me. By the grace of God, I was able to maneuver my way into DC, get on the right bus to NYC and get to the Essence office with time to spare before the meetup…all without a phone. I survived y'all. And anyone who knows my lack of a sense of direction, knows this was a big deal for me.
This intimate gathering was the first ever Essence Mommy Meetup, hosted by Candace (@ChicBusyMom) and Essence Magazine. It felt so great to be in a room of Power Mommies, and be able to share our different experiences and perspectives on motherhood. I learned new things and made some great connections. From the flower arrangements, to the swag bags and goodies, to the food and overall atmosphere, Candace had it all covered. Oh and the drinks were absolutely scrumptious! I could tell you more about all of the juicy fun we had, but I think the pics will do a better job 😉
 These mom-inspired drinks is what we were greeted with. My drink of choice (and most of the other mommies) was "Cuz I Said So". Absolutely DELISH!