UPDATE: Due to speaking/traveling schedules, this Live Experience has been postponed
---
It's hard to believe that we just launched Whose Shoes Are You Wearing? this past May! So much has happened in the last few months, it's almost unbelievable! From the start, we knew that this would be more than just a book. So we are beyond excited to launch the Whose Shoes Experience! And until Friday August 16th, you can snatch up two tickets for the price of one!
If you're in a place where you're not quite sure what steps to take next in your life, or are trying to make some real changes but just need some guidance on where to start: you need to register right away for this all-day, interactive workshop based on the life-changing book Whose Shoes Are You Wearing? 12 Steps to Uncovering the Woman You Really Want to Be. 
We're limiting this powerful experience to only 40 participants to make sure it's as meaningful as possible so don't miss your chance to "discover and walk in the shoes God made just for you!"
Here's what we will cover:
INTRODUCTION
Learning to keep it real with yourself is the first step in becoming the woman you really want to be. We'll start with this as our first exercise in your personal transformation.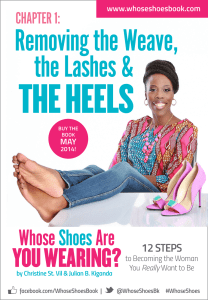 SESSION 1: Where Did Self-Love Go Wrong?
This session is all about learning the importance of self-love, and how it relates to your successes or lack thereof. And once you find it, how do you get back to learning how to FLY (

First Love Yourself

)? You can't create 

transformation

 without learning who you are and whose you are.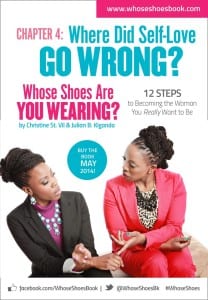 SESSION 2: Getting Rid of Excess Baggage



Getting rid of excess baggage is the ultimate weight-loss solution. Don't let unnecessary baggage weigh you down. Learn how to analyze your relationships and determine how to create boundaries with those who may not be working for your highest good.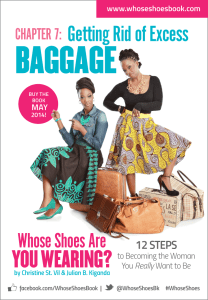 SESSION 3: Finding and Living Your Passion



You can't be fulfilled unless you are following your heart's calling. But how do you do that exactly? How do you figure out what your passion is and how to pursue your life's calling? We'll give you some key insights and steps into doing just that in this session.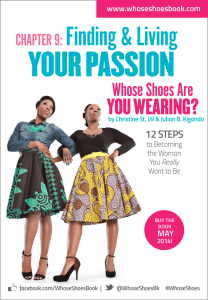 SESSION 4: Do It Afraid



Have you ever done something you never imagined yourself doing before? Or, on the flip side, have you held back from doing something you wanted to do simply because fear kept rearing its ugly head? Well now is your chance. Just Do It.