I'm back from a simply fantastic time at Beaches Resorts in Turks and Caicos for the 4th Annual Social Media On The Sand (SMOTS). We got to go in 2015 (read all about it here) and there was no way we could turn down another opportunity to return to this amazing resort and event.
In 2016, we were in the process of moving and unfortunately had to turn down the invitation to Beaches Negril in Jamaica. Then we were all set, excited and ready to go last year when hurricane Irma decided to make landfall on the beautiful island. Thankfully, no one was hurt, but that meant that the event had to be canceled.
Fast forward to last week, and we are just getting back to an incredible event! I'll be sharing quite a few posts in the coming weeks. But I wanted to try to narrow down some of my favorite highlights from SMOTS 2018.
Top 6 Favorite Moments at Beaches Social Media on The Sand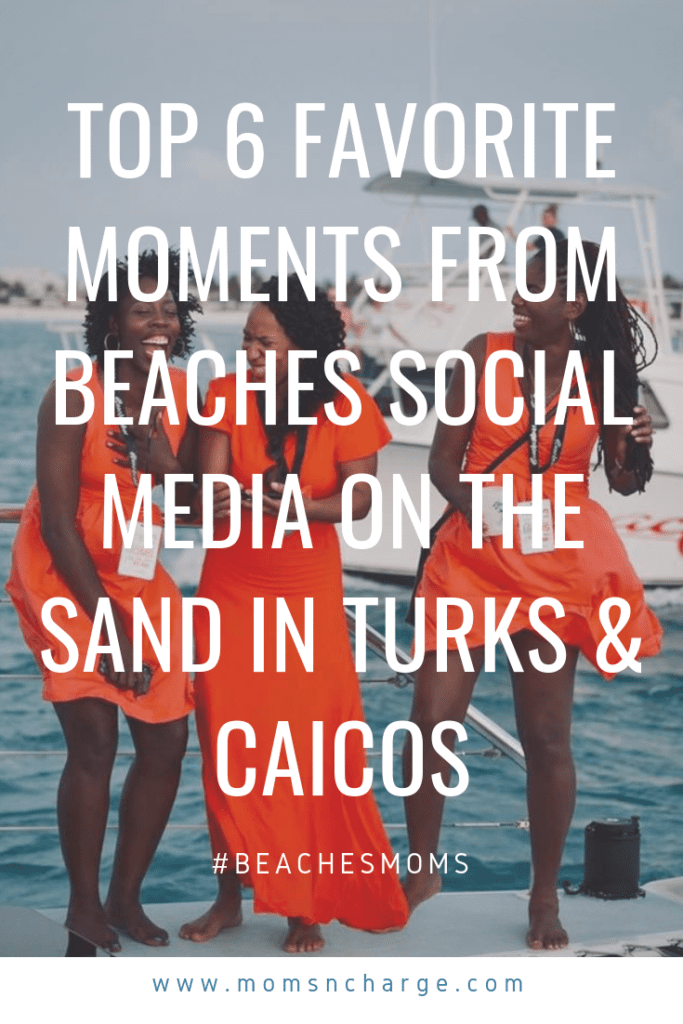 Obviously, there were like a million favorite moments, but I can't fit them all into one post. So I tried really hard to narrow it down a bit. And of course, I'll be going more into detail about some of these in future posts.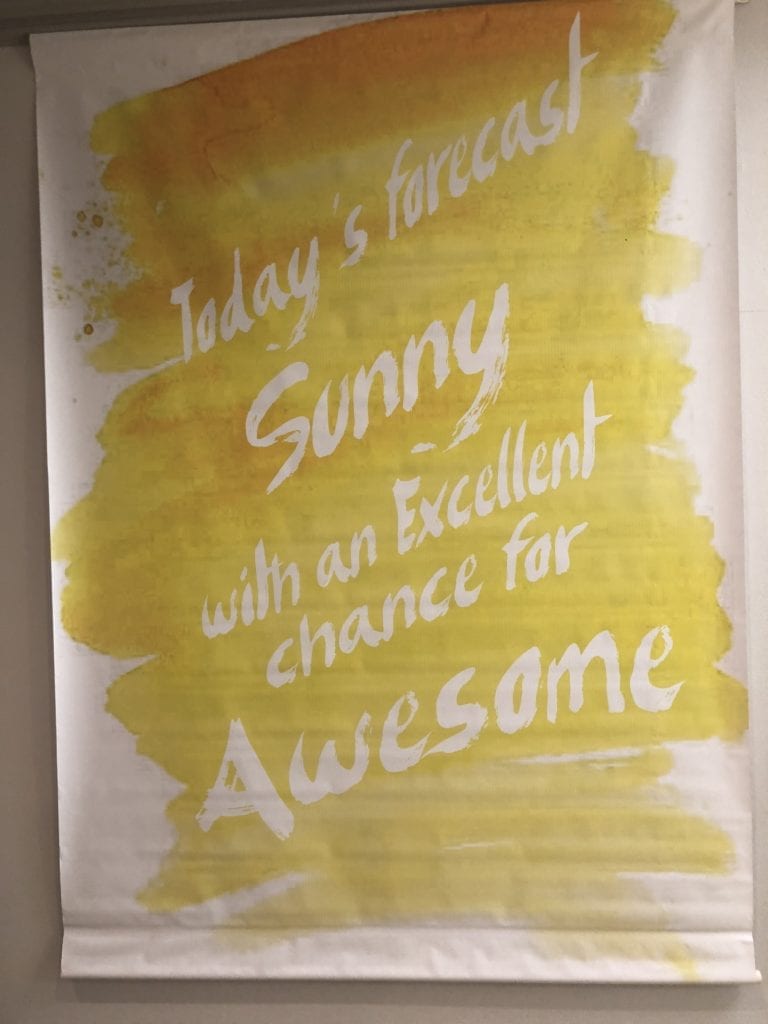 1. "Rock the Dock" Waterfront welcome party
They had me at catamaran…definitely a bucket list item that got checked off last week. There's nothing like meeting new friends and reconnecting with old. One of the best things about a conference like SMOTS is the fact that you get to connect with so many amazing bloggers from all over the country, that you may not know otherwise.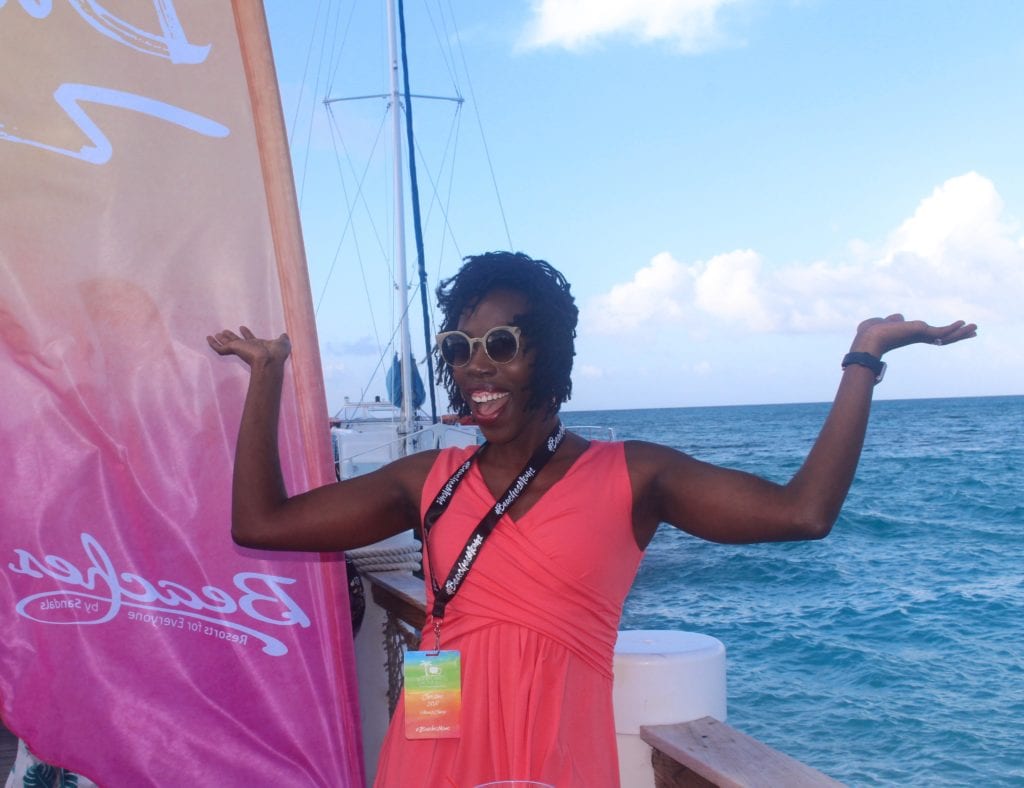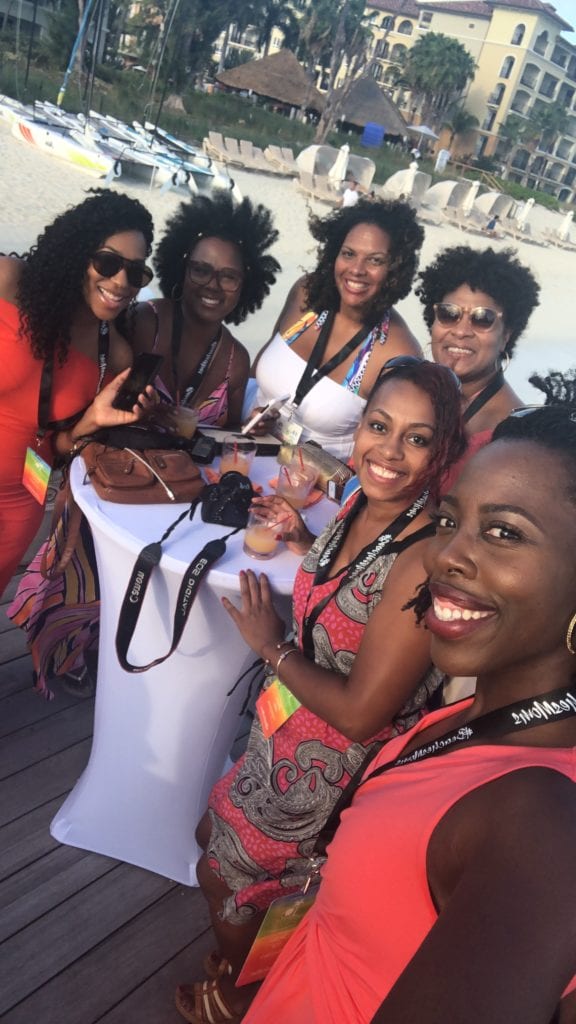 But even better, is being able to reconnect with friends who have become like family all because of this thing called social media and blogging. I'm so grateful for spaces like these that make it possible to connect.
One of my ultimate favorite pics taken on this trip was by fellow #BeachesMom Ciaran Blumenfeld. She snapped this photo of Keitha, Bernetta and I as we were trying to pose for a pic for our Mastermind family.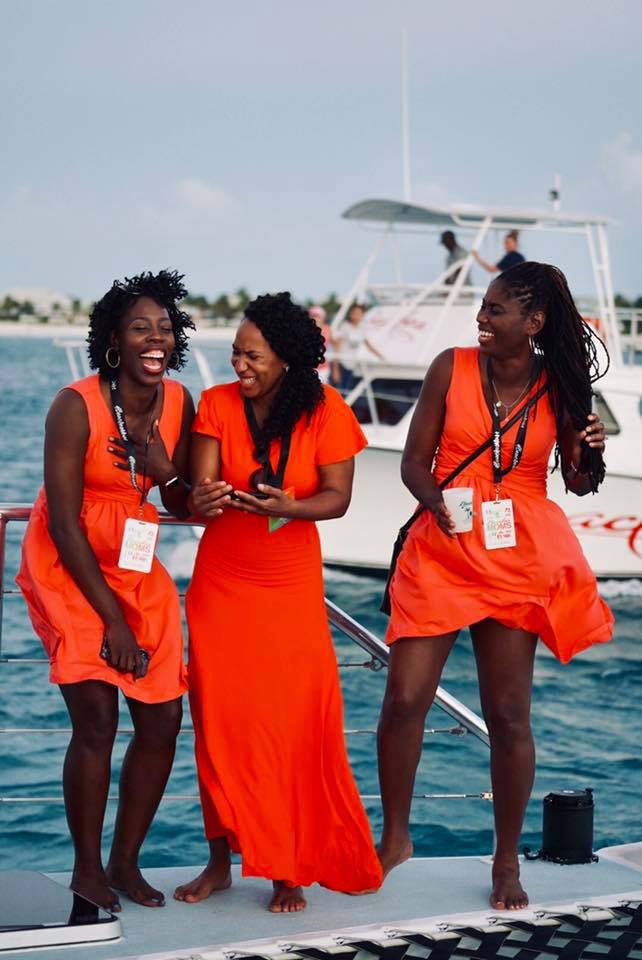 2. Beaches Bungalow + Interactive Experiences
Ok these are two activities but I'm counting them as one. I'll go more into detail about each in a separate post. But let me tell you: Beaches left no stone unturned and pulled out all of the stops when it came to surprising and delighting us. It actually started long before we got to Turks and Caicos.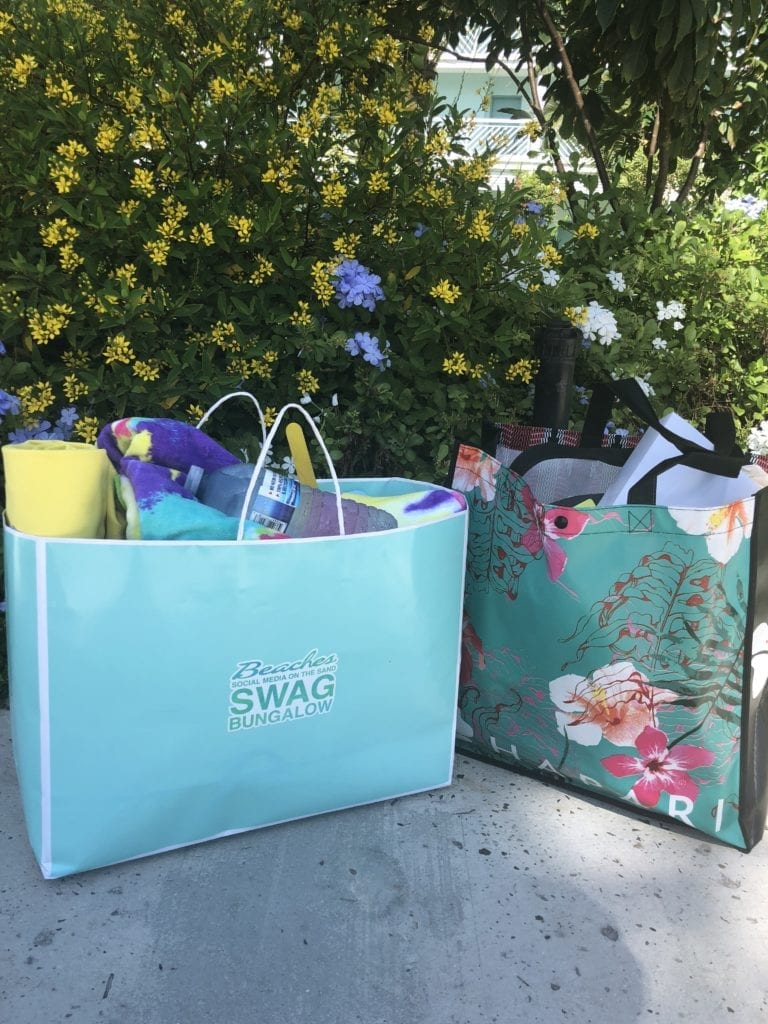 You'll have to check out my Instagram story highlights for the Swag bungalow experience – it was bananas! I've never seen anything like it. The sponsors were so great, I can't wait to share more from them.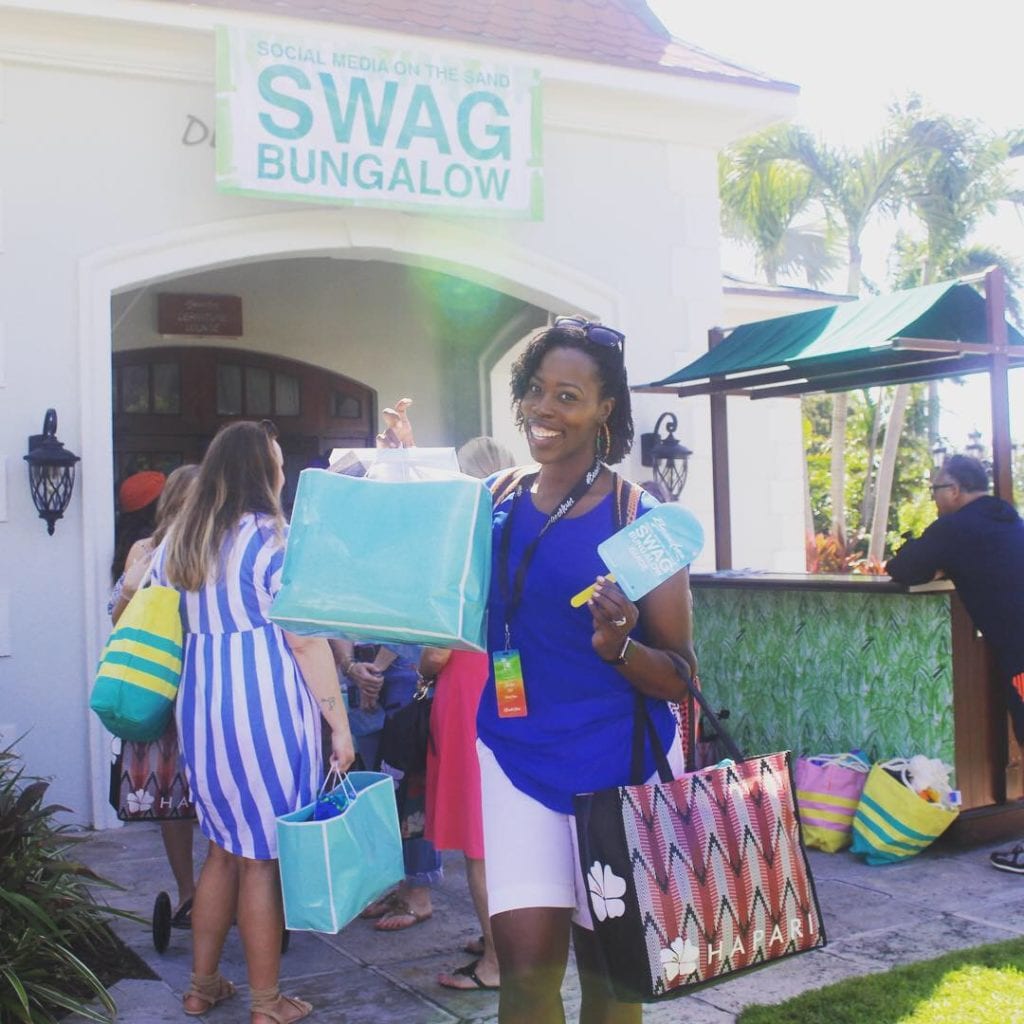 One thing I really loved and appreciated is the fact that we were given the session info to choose from ahead of time. While I didn't get the interactive experience that I chose, I was SO happy I was placed in the one that was chosen for me. My interactive experience was art with Julia, Sesame Street's 4-year-old character who has autism.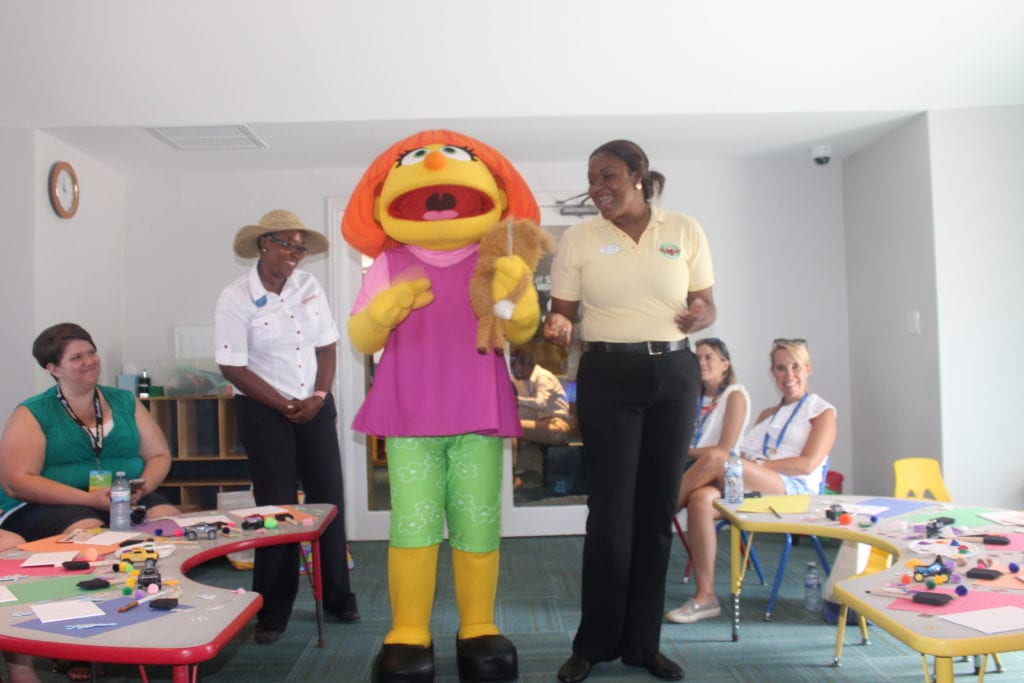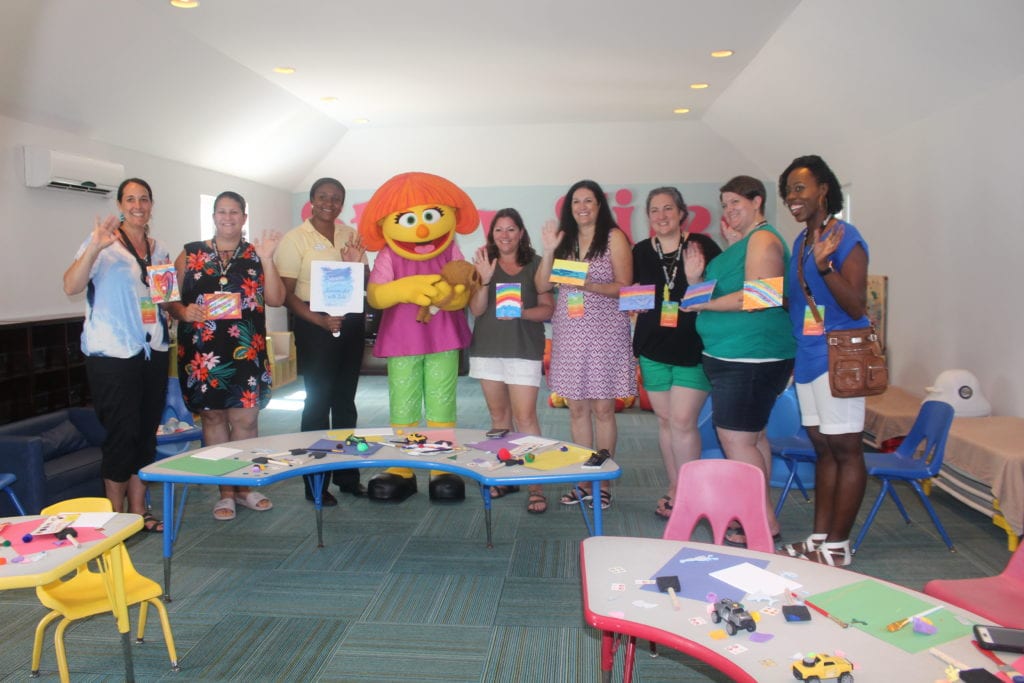 I learned so much and wish that I had been able to have my kids experience it too. I had heard of the character, but since my kids are older and no longer watch Sesame Street, I didn't get a full appreciation of it until this experience.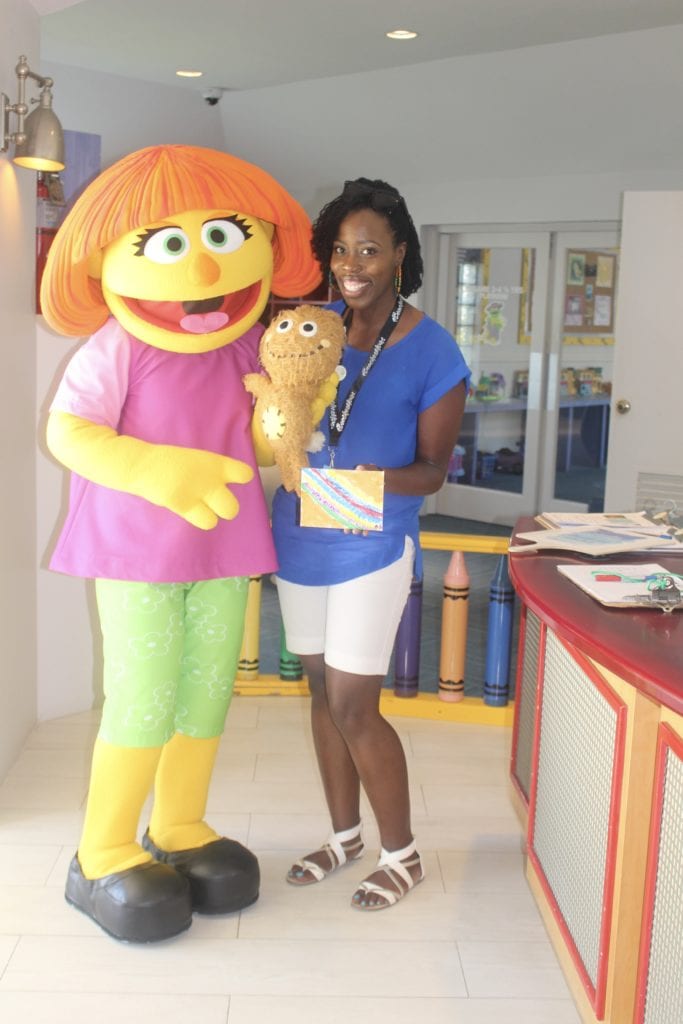 3. Conference Day – So much sunshine so little time
First of all, I love bright colors. I absolutely geeked out at the fact that the branding for this year's conference was all about the hue. We were encouraged to take in the glorious color that surrounded us and pay tribute to paradise while making our days colorful. We were each asked to wear a splash of yellow. Can't wait to see how the pics look of the whole room.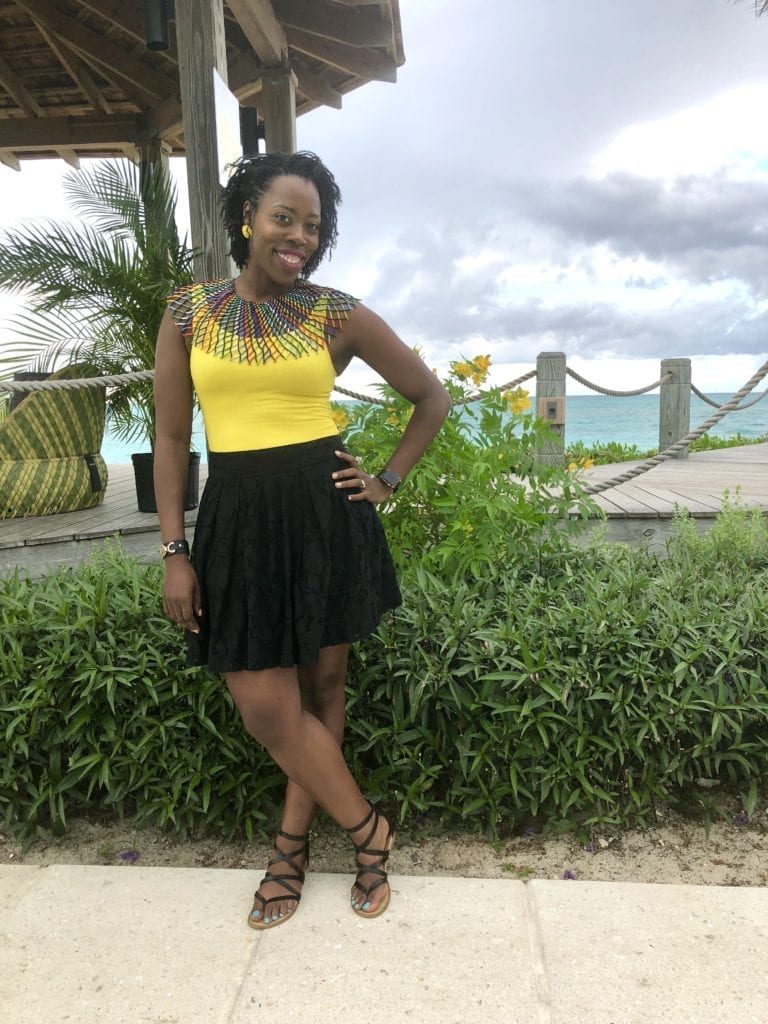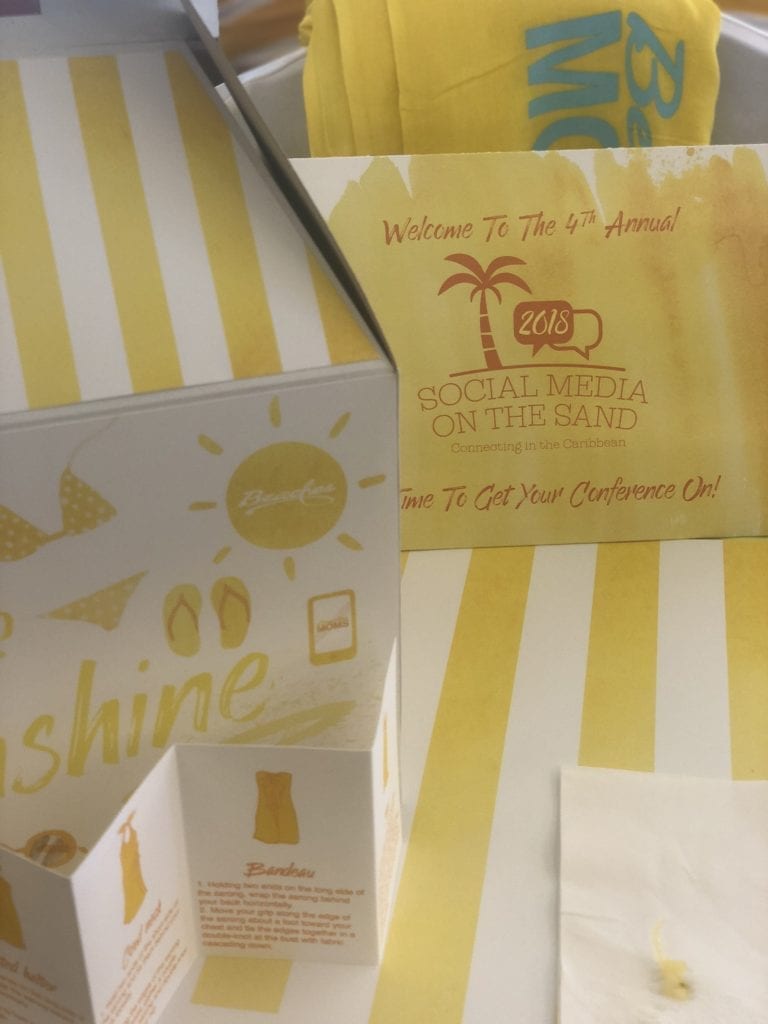 I loved how they tied in the yellow sunshine color with how we were looking forward, and while Hurricane Irma, may have delayed our plans, she didn't win in the long run. In the conference program it stated: "Just like the sunshine, the color yellow creates enthusiasm for life and awakens new ideas. Today is a great day of possibility."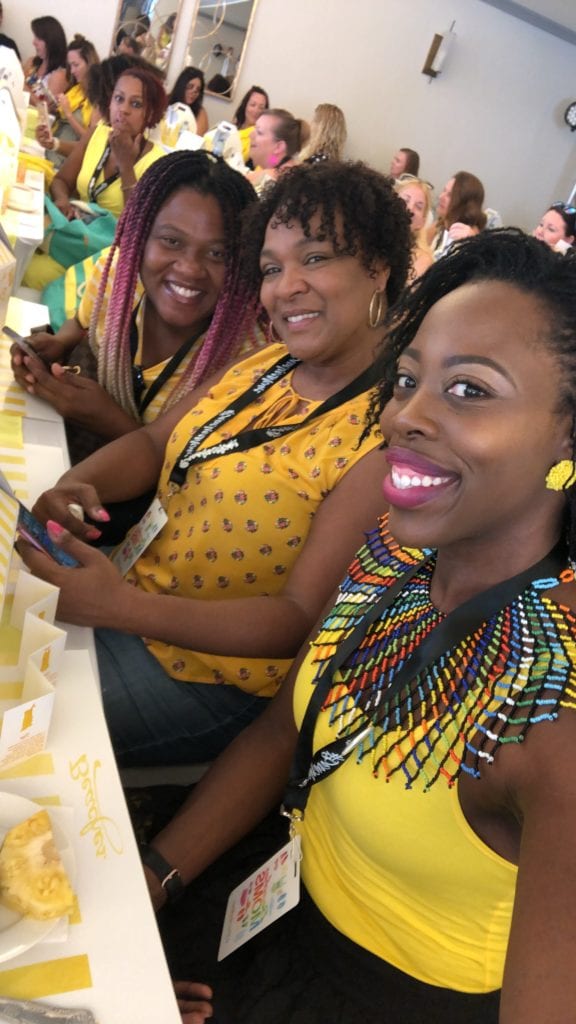 There were so many amazing little touches. We had no choice but to smile and be happy when we walked into the room. And then we each had our own little boxes of sunshine waiting for us.
4. Coloring the Caribbean with the Sandals Foundation + School Specialty
One of the things I love most about SMOTS is the fact that they always have a give back component incorporated into the agenda. Every year, they find a fun and educational way for us to do something small for those in need.
This year it was Ianthe Pratt Primary School in Turks and Caicos. Sandals Foundation teamed up with School Specialty. If you've never heard of this awesome organization, you should know about them. I'll definitely have to share more on that later.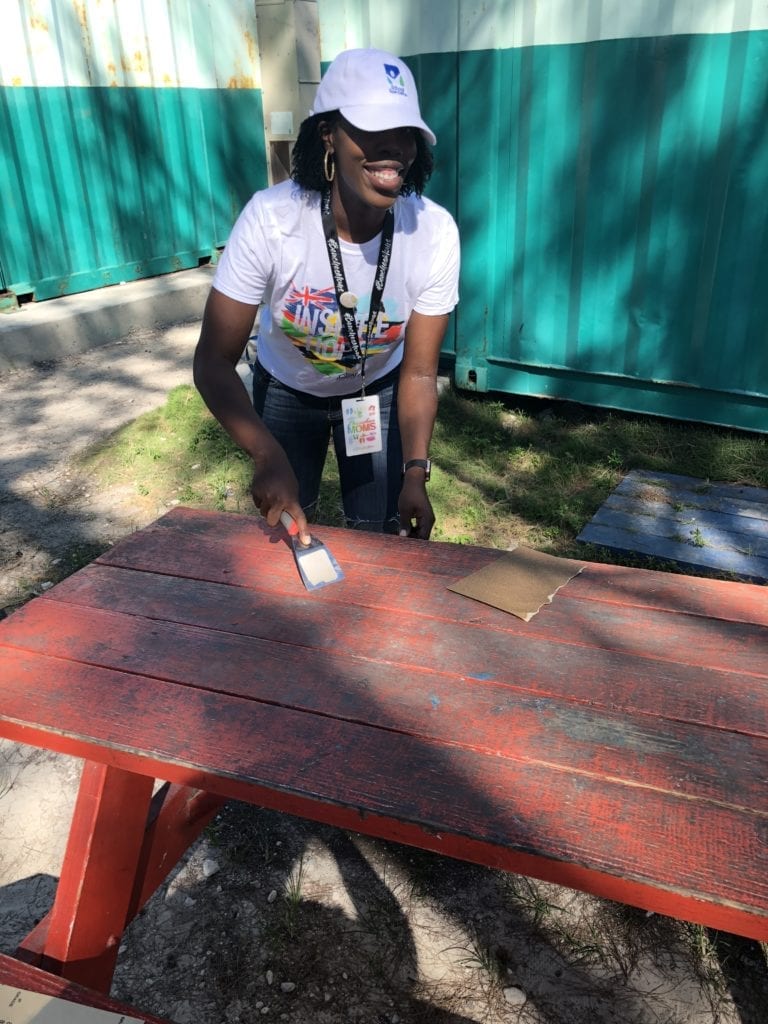 But they were so generous to give us discount codes prior to the conference so that we could purchase backpacks to take with us to the school. The amazing thing is that ANYONE can participate. So if you're planning a trip to Sandals or Beaches, please consider giving back in this way to the Sandals Foundation.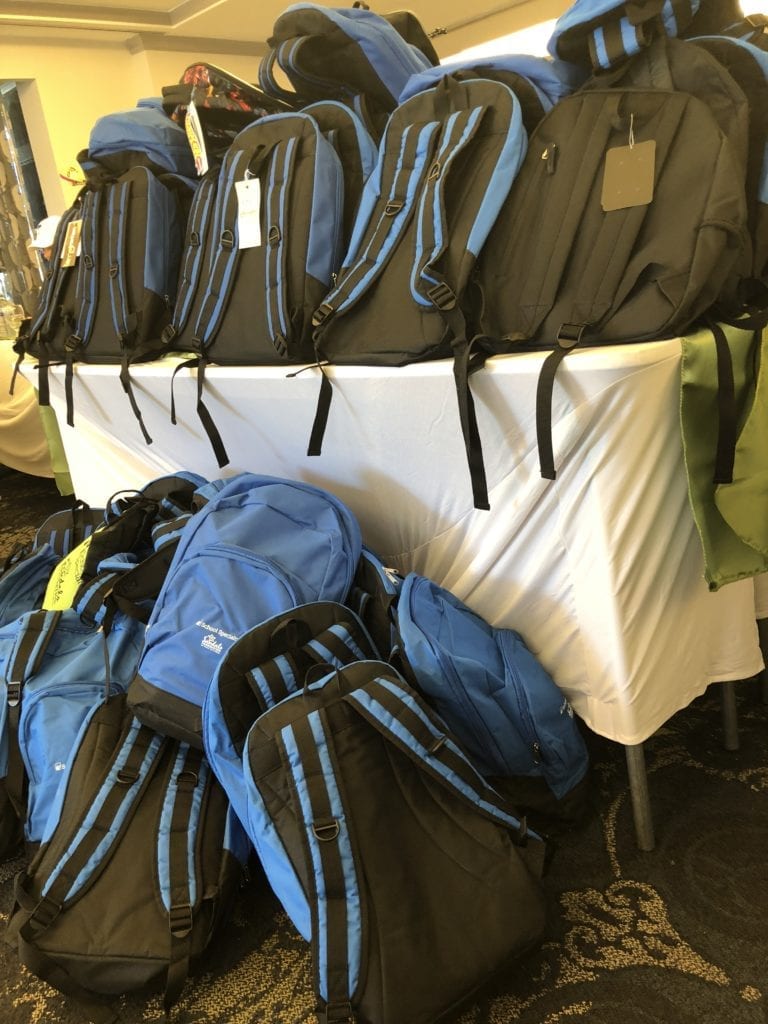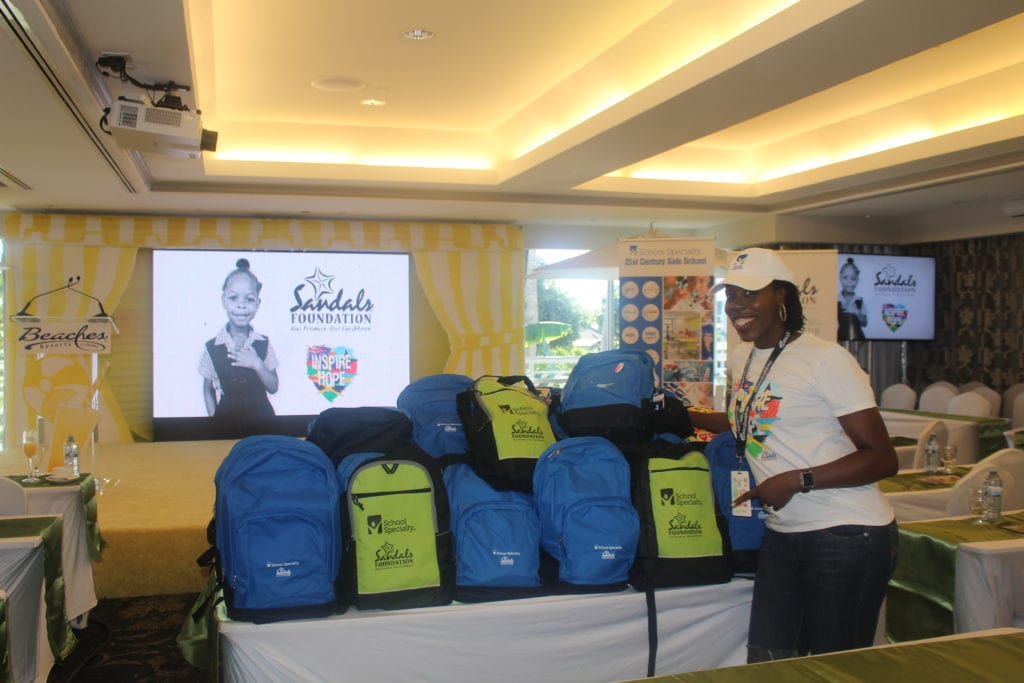 Once we got to the school, we were separated into different groups. My group was headed by Maria Bailey and we were tasked with repainting the gazebo and picnic tables, and also adding some color to the steps.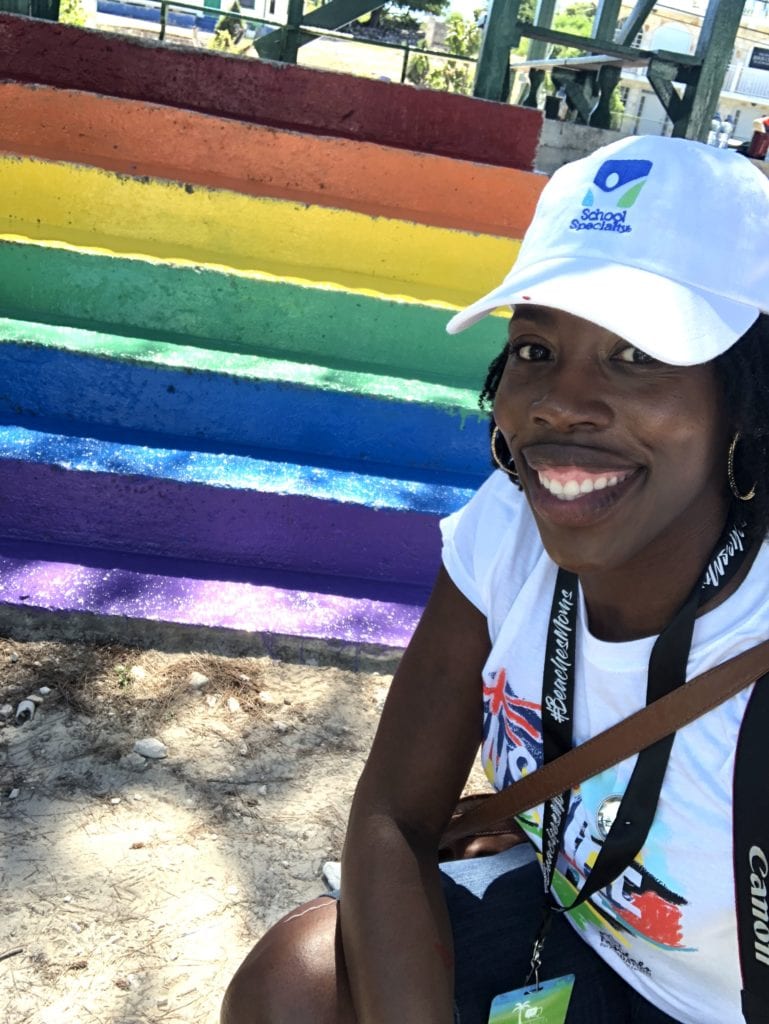 I loved seeing the results of what everyone else worked on. This was such a small ask from us and I'm glad I was able to participate. I hope they might be able to incorporate a give back initiative for our families traveling with us in the future.
5. Farewell Floatopia Party
Listen…if it's anything Beaches does really well…actually, they do everything really well. But throwing a good party is like second nature to them. The Floatopia party powered by Spin Master was just a dream. Clearly, I've never been to a real pool party until this farewell extravaganza they curated for us.
The floats from Coconut Floats were over the top fabulous. There were mermaids in the water. There were dancers. There was a dope DJ (actually every DJ encountered during our stay was really good).
6. Family fun
I love how easy SMOTS and Beaches makes it for us to travel with our families. After bringing the kids in 2015, there was no way that we couldn't bring them back this year. The kids had no clue they were going until we woke them up at 3:30am to head to the airport.
There is an unlimited amount of fun to be had at this resort. What I love is that they have something for kids of ALL ages, from baby to teens. Even better is that the kids make just as many friends as we do on these trips.
The kids camp and daily resort activities make it so easy for family fun. No one can ever get bored at Beaches.
All I can say is that SMOTS 2018 took it up several notches and blew me away with what they created for us. I sure hope I can get invited back in 2019 because I wouldn't hesitate to go.
Stay tuned as I share more details. In the meantime, be sure to follow me on social media (@momsncharge everywhere).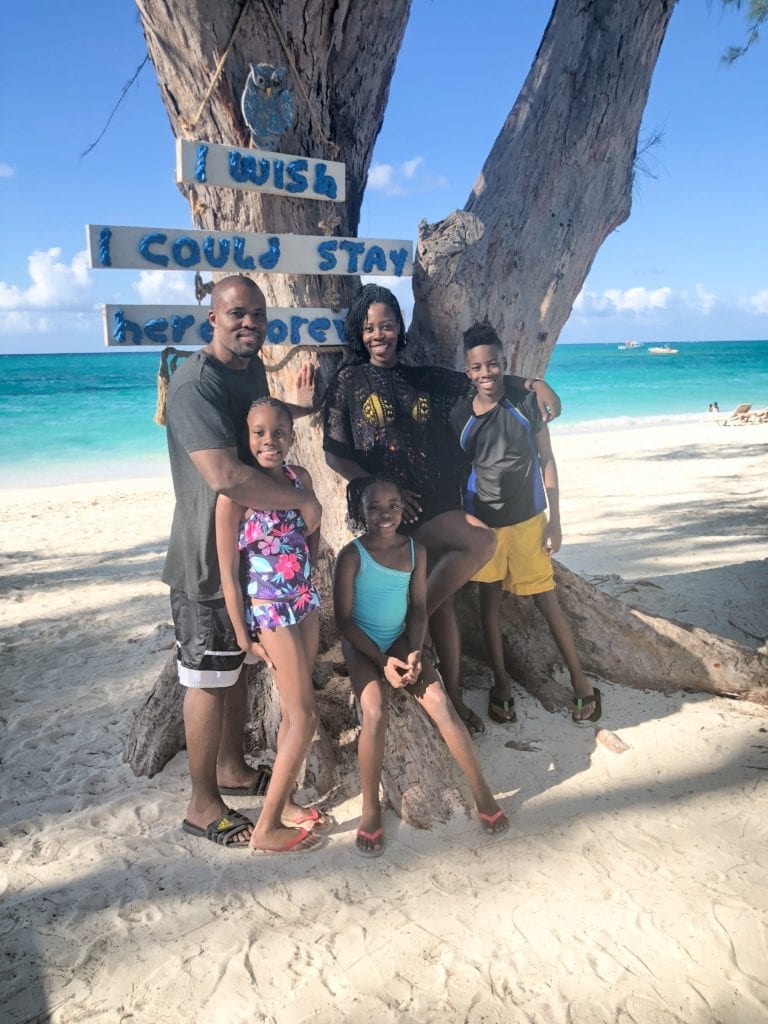 In the meantime, be sure to follow Beaches Resorts on social media and the following conference hashtag to catch up on all the fun: #BeachesMoms #SocialMediaOnTheSand #SocialMediaOnTheSand