It doesn't have to be all or nothing. I'll never forget when I was having a breakdown shortly after starting my homeschool journey, because I was overwhelmed, and these were the words my coach told me; "It doesn't have to be all or nothing. You have the power of choice". She explained that no matter what is going on, I'm always in choice and that didn't mean that I had to give one thing up completely (the projects I was working on for my business) for another (homeschooling). It just meant that I needed to shift my priorities and really get serious about how I was going to be spending my days.
Even in the midst of my breakdown, she helped me get out of victim mode and into choice mode. Homeschooling became important to me. And my children are the reason I started my business to begin with.  Just like I didn't know how my husband and I were going to make it work when I left my corporate job in 2011, but we figured out a way, I knew I had to do the same when it came to juggling my new role as a homeschool mom, with business mom.
Once I made the choice that they were both equally important, I had to figure out where the breakdown was. I needed to figure out how to get from frazzled and frustrated to satisfied and fulfilled. One of the biggest changes I made was decided what I needed to take "off my plate" and it started with choir practice (I do miss my gospel choir family). This would free my time up twice a week (sometimes more depending on the season) to focus on juggling home life.
I then sat down with my coach and we came up with ways to schedule/structure my "mommy" time versus my "mompreneur" time. I also had to put some systems in place like a sending out a link to anyone who wanted to schedule an appointment with me. I then sat down with hubby to create a schedule for homeschool time, and mommy time. This schedule is ever-changing but it's one simple thing that alleviated a lot of stress for me.
So now, anytime I'm feeling stressed out or overwhelmed, I take a few steps back and remember that I have the power of choice. It's hard to grasp that we have the power of choice when it comes to being in a difficult place (whether you're experiencing financial hardship, trying to figure out what your next step is, discouraged in your career, etc.), but once you decide where you want to be, you can figure out what baby steps you need to get there.
---

"The 3 C's of Life: Choices, Chances, Changes. You must make the choice to take a chance or your life will never change."

---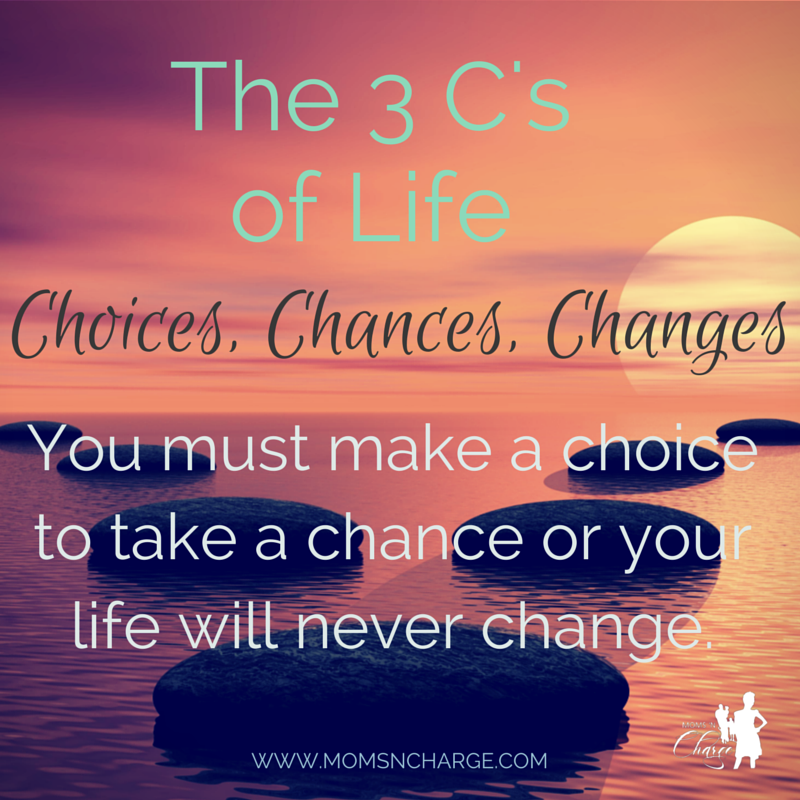 What steps do you take to move yourself out of overwhelm and stress?