When my husband told me he was going to become a vegan nearly two years ago, I literally looked at him like he had three heads. My husband, who had only recently stopped eating sirloin steak; my husband, who was king of eating icing…without the cake; my husband who enjoyed egg and cheese sandwhiches right along with me (and makes a pretty mean one, I might add). But he did it, and we now eat mostly vegan cuisine in this household, which is why I'm excited about today's recipe from MJ of Fab Haute Mama. Although my middle daughter is the only one who is not fond of bananas, even this might get her to try them again!
And while I am still not there (or have a real desire to go "all the way"), I have to say that there are some seriously tasty vegan dishes out there, including sweets! And here is one I'm looking forward to trying out.
Thanks MJ!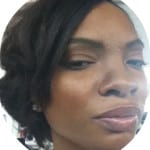 The following post was written by 
MJ Levine. MJ is the voice behind FAB Haute Mama, a lifestyle blog for moms focused on getting Fit & Beautiful, staying in style and knowing your way around the kitchen – all while running a household. Haute wife to Mr.Levine, mama to Zoe, step-mama to Zaya, human mom to Scout the boxer and Rio the parakeet, MJ is on the journey to finding balance in motherhood.
You can connect with MJ on Twitter and Facebook.
Hey Haute Mamas!
This banana pudding is delicious, vegan friendly and less than half the calories of traditional banana pudding. Go ahead and enjoy this sweet treat with your family. The kids will love it.
Ingredients:
Banana Pudding
2 cups unsweetened almond milk
¼ cup raw sugar
2 tablespoons cornstarch
2 teaspoons pure vanilla extract
2 ½ medium bananas
½ box of vegan vanilla wafers
*Cinnamon for dusting
Instructions:
Heat milk in a medium saucepan over low heat, stirring to avoid scald. Mash half of a banana mixing it with a little water and then add to milk. Whisk until mixture is well combined.
Mix cornstarch and sugar together in a small mixing bowl. Add 1 to 2 tablespoons of water and mix creating a paste. Whisk in to milk. Raise heat to medium-high. Stir until mixture thickens, approximately 5-7 minutes.
Transfer pudding to a bowl and set a layer of plastic wrap directly on top of the pudding. Refrigerate to set (2-4 hours)
For individual servings, put a thin layer of pudding in a dessert glass then layer with wafers and sliced bananas. Continue this process for 2-3 layers. For one large pudding, layer a small baking dish starting with wafers, then a layer of bananas and a layer of pudding. Repeat this process to form a second layer.
Dust with cinnamon. Enjoy!