This week's recipe of grilled shrimp and fruit guacamole by our FAB Haute Mama has me doing all types of happy dances. I never cook at home because no one eats it but me. So when I go out to eat, that's pretty much what I order. But now, MJ has me thinking I can do this right at home! I am seriously now dying to make this Tasty Thursday treat. Thanks MJ!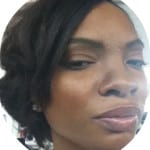 The following post was written by 
MJ Levine. MJ is the voice behind FAB Haute Mama, a lifestyle blog for moms focused on getting Fit & Beautiful, staying in style and knowing your way around the kitchen – all while running a household. Haute wife to Mr.Levine, mama to Zoe, step-mama to Zaya, human mom to Scout the boxer and Rio the parakeet, MJ is on the journey to finding balance in motherhood.
You can connect with MJ on Twitter and Facebook.
Enjoy the tastes of summer with this simple guacamole appetizer filled with fresh fruits and shrimp. Feel free to add seasonings of your choice such as jerk, curry or Cajun spices to your shrimp before grilling. Serve warm or chilled.
Ingredients
½ lb large shrimp, cleaned and deveined
1 avocado
¼ pineapple,
½ mango,
1/8 red onion, medium sliced
1 firm Roma tomato, large dice
1 chipotle pepper in adobo, seeded and diced small
Juice of ½ lime
Cilantro
Salt, pepper to taste
Olive oil or cooking spray
Instructions
Season shrimp with salt, pepper, Old bay and paprika. Remove tails before or after grilling. Set aside.
Cut avocado in half and remove seed. Slice pineapple and mango into 1 inch thick slices.
Coat indoor or outdoor grill with olive oil or cooking spray. Grill pineapple and mango for 2-3 minutes per side. Grill avocado and onions for 5-7 minutes. Remove from grill and set aside.
Coat grill with olive oil. Grill shrimp for 2 to 3 minutes, per side.
In a large bowl, combine avocado, fruits, onions, tomato, chipotle pepper, shrimp, lime juice and a little of the adobo sauce from the chipotle pepper. Lightly toss with hands. Season with salt and pepper if necessary.
Place 1 -2 spoonfuls of guacamole on each slice of fried plantain. Sprinkle with chopped cilantro.
Do you have a favorite shrimp dish or one you would like to see featured here? Let us know in the comments section!