While I gave up sweets for lent, I'm wondering if these will count since it's most fruit? No? Well maybe I'll just help the kids make these so they can taste test them for me. 😉 What I love about this recipe from Fab Haute Mama is that it's something that I can easily make with my kids and there's no oven involved – quick and simple! I'm also thinking of what else I can do with this yummy filling? Check it out, try it out and be sure to let us know how it goes.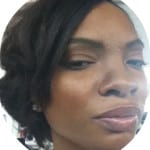 The following post was written by 
MJ Levine. MJ is the voice behind FAB Haute Mama, a lifestyle blog for moms focused on getting Fit & Beautiful, staying in style and knowing your way around the kitchen – all while running a household. Haute wife to Mr.Levine, mama to Zoe, step-mama to Zaya, human mom to Scout the boxer and Rio the parakeet, MJ is on the journey to finding balance in motherhood.
You can connect with MJ on Twitter and Facebook.
Hey Moms!
Check out this recipe for Strawberry "Cheesecake" Bites! You can get the yummy goodness of this sweet treat without all of the guilt that comes with the traditional strawberry cheesecake. They're designed for you to eat more than one 🙂
Ingredients:
1 pound fresh strawberries
3/4 (6 oz) package full fat cream cheese, room temperature
1/2 cup Greek yogurt (fat free)
1/2 teaspoon vanilla extract
1 teaspoon lemon juice
German chocolate shavings (baker's chocolate)
Drizzle of honey
Instructions:
Prepare a pastry bag with #5 pastry tip or simply cut off a tiny portion of the pastry bag end.
Cut the bottoms of each strawberry flat to get them to stand upright. You can save the pieces to use for garnish. Be sure not to cut off so much that there is a hole at the bottom.
Cut the top of the strawberry and then use a small spoon to remove most of the insides. Once the strawberries are empty, use a paper towel to pat the outside of the strawberries dry. Set aside.
In a food processor, combine cream cheese, Greek yogurt, vanilla and lemon juice. Process until smooth and well combined.
Spoon cheese filling into pastry bag. Push the filling down to the bottom of the pastry bag and twist the top of the bag to prevent mixture from spilling out.
Pipe cheese filling into strawberries.
Top with shaved chocolate and a drizzle of honey.
Enjoy!
**Notes:
Alternate toppings: graham cracker crumbs, chopped almonds or pecans.
Have you tried a similar recipe before? What's your favorite strawberry dessert?