I don't know how MJ comes up with these amazing, mouth watering recipes, but she's making me contemplate a relocation.  I'm sure she has to need some tasting assistance on hand, and I could definitely help with that! What say you MJ? 🙂  Seriously, I would've never thought to make avocado peach pops but now I'm dying to try them!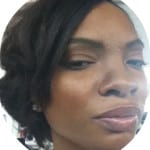 The following post was written by 
MJ Levine. MJ is the voice behind FAB Haute Mama, a lifestyle blog for moms focused on getting Fit & Beautiful (FAB) Haute Mama, staying in style and knowing your way around the kitchen – all while running a household. Haute wife to Mr. Levine, mama to Zoe, step-mama to Zaya, human mom to Scout the boxer and Rio the parakeet, MJ is on the journey to finding balance in motherhood.
You can connect with MJ on Twitter and Facebook.
Avocado Peach Pops
Frozen avocado treat? Check
Peaches mixed in? Check
A ginger syrup base? Check
A simple, healthy and refreshing treat for summer.
Ingredients
1 Hass avocado
1 Peach
½ C ginger simple syrup
2 tsp fresh lime juice
Pinch of salt.
Instructions
Peel, pit and cut up avocado and peach into medium chunks.
In a food processor, combine simple syrup, avocado, peach, limejuice and salt.
Process until smooth and creamy.
Pour into popsicle molds. Cover and insert wooden sticks.
Freeze for 4 to 6 hours.
What is your favorite summertime-cool treat?