The fab MJ is back with another delicious recipe. This Fab Haute Mama sure knows how to make this mama drool! What I love is the healthy spin MJ creates with these dishes week after week. It almost makes you not feel guilty for eating it 🙂

Thanks MJ!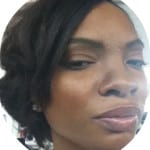 The following post was written by 
MJ Levine. MJ is the voice behind FAB Haute Mama, a lifestyle blog for moms focused on getting Fit & Beautiful, staying in style and knowing your way around the kitchen – all while running a household. Haute wife to Mr.Levine, mama to Zoe, step-mama to Zaya, human mom to Scout the boxer and Rio the parakeet, MJ is on the journey to finding balance in motherhood.
You can connect with MJ on Twitter and Facebook.
A simple 2-ingredient chocolate mousse recipe using dark chocolate and coconut milk. It delicious, almost guilt free and can be garnished with a variety of fruits, nuts and whipped toppings.
 Ingredients
2 bars 72% cocoa natural dark chocolate with mint (6 oz)
1 cup coconut milk divided (not canned)
Instructions
Break up dark chocolate bars into small pieces and melt in a double boiler or chocolate pot heat. Stir until smooth.
Once chocolate is completed melted place double insert in ice bath. Stir in coconut milk ¼ cup at a time until smooth. Use ¾ cup milk in total.
Pour chocolate into bowl of a mixer. If there is chocolate left in bowl reheat until smooth and then pour into mixer. Whisk on low for 3-4 minutes until just thickened. Add additional milk by the teaspoon if necessary.
Pour into serving bowls, cover with plastic wrap and refrigerate for 2 hours.
Garnish with blueberries, mint leaves, and chocolate or nut shavings.
Note: Chocolate can be melted in a microwave safe bowl in 15-second increments. Recipe can easily be made vegan by using vegan chocolate bars.
Are you a fan of mousse? What's your favorite garnish when it comes to dessert toppings?