Ok so as you all know, I consider myself a part-time vegan. So I'm learning to try a whole lot of new foods and recipes when it comes to vegan cooking. My friend Te over at Fab Impressions, sent me a link for this vegan sloppy joe recipe. Kristy over at Keepin' It Kind sure knows how to make vegan eating one heck of a tasty treat! The recipe she posted was for Sloppy Chicks (Chickpea Sloppy Joes) and let me just tell you…it.was.DELISH! The kids devoured it just as much as my husband and myself did. I couldn't find every ingredient that the recipe called for, so of course…I did a bit of substituting.
You can find her full recipe and awesome pictures here. The first image below is her creation, and the last one is how mine turned out. I mashed up some avocado to put on top and it went so well with it. Now, I will say…it is definitely just as messy as I remember traditional sloppy joes to be. So just make sure the kids aren't wearing any white. Heck, just have them all eat with bibs on…even the five-year-old! LOL.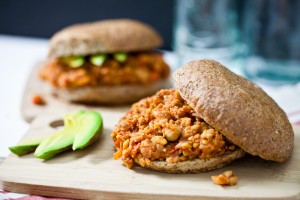 Drumroll Please…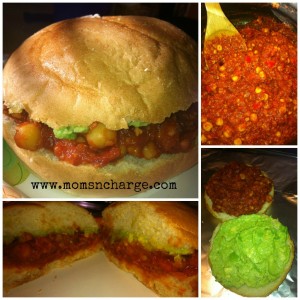 Nope, definitely not as pretty as hers. But I didn't mind so much once I tasted it 🙂 Whether you're vegan or not, these are a must-try, must-taste. So try it out and let me know what you think. And when you love it, as much as I know you will, be sure to stop by and thank Kristy too! 🙂
Don't forget to tweet #TwistedTaste or send a picture to IG and tag @MomsNCharge with the hashtag TwistedTaste.
Until next time, have fun and keep it tasty!