My family and I really love fruit, especially when we can throw it in dessert! My kids especially love strawberries, blueberries, apples and grapes. So this Blueberry Jamboree looks like it's going to be right up their (and my own) alley. This Fab Haute Mama, MJ is at it again. Just try not to drool on your keybord. You've been warned.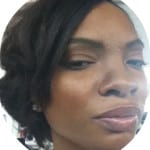 The following post was written by 
MJ Levine. MJ is the voice behind FAB Haute Mama, a lifestyle blog for moms focused on getting Fit & Beautiful (FAB) Haute Mama, staying in style and knowing your way around the kitchen – all while running a household. Haute wife to Mr. Levine, mama to Zoe, step-mama to Zaya, human mom to Scout the boxer and Rio the parakeet, MJ is on the journey to finding balance in motherhood.
You can connect with MJ on Twitter and Facebook.
This treat is worth the guilt. It's a cross between a cheesecake and a blueberry crumble. This recipe is inspired by the Blueberry Jamboree of Magnolia Bakery located in New York City. Make it ahead as the flavors come together in a guaranteed jamboree everyone can enjoy.
Ingredients
Topping:
1.5 cups blueberries
2 cups blueberries
4 teaspoons cornstarch
1/2 tsp cornstarch
3 1/2 tsps water
1/4 cup raw sugar
1/8 cup raw sugar
Pinch of nutmeg
Pinch of cinnamon
1/8 tsp vanilla
Crust:
25 vanilla wafers
5 shortbread cookies
2 tablespoons butter
1/4 cup granulated sugar
Optional:
1/4 cup chopped pecans
Filling:
2 lbs cream cheese
2 cups heavy cream
2 cups confection sugar, sifted
Instructions
Topping:
Combine sugar and 1 1/2 cup blueberries over medium heat. Cook until blueberries start to breakdown and sugar begins to melt.
Dissolve Cornstarch in water then add mixture to blueberries. Stir gently.
Remove from heat add vanilla, spices and remaining blueberries.
Let cool to room temperature.
Crust:
Preheat oven to 350.
In a food processor, process cookies to crumb consistency. Add butter and sugar and process until combined.
Spread evenly in round baking dish (8-9 inches).
Bake for 10 minutes.
Cool completely
Filling:
Whip heavy cream until thin peaks form.
In a separate mixing bowl, combine cream cheese and sifted confection sugar.
Whip until combined and smooth.
Fold whipped cream into cheese until well combined.
Blueberry Jamboree:
Spread whipped cream and cheese mixture on to cooled crust.
Top with crushed pecans if using.
Spread blueberry topping.
Chill until ready to serve 2-4 hours or overnight.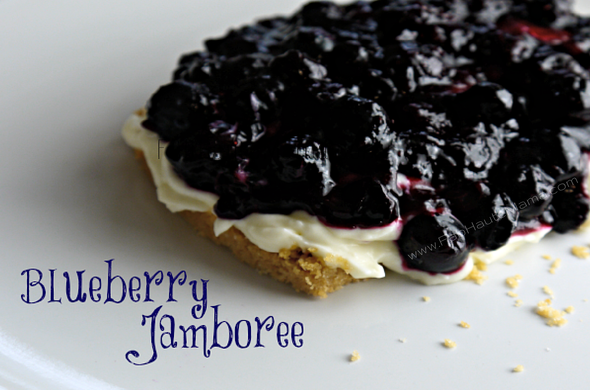 Enjoy and comment below letting us know about your favorite blueberry dessert!