As a work-at-home mother of three, I understand the hustle that goes into creating, sustaining and nurturing a business. I also understand the added pressures and sometimes obstacles of owning a business as a woman of color. This is why I created this list of African American Businesses you should know. I'm a true believer that there is strength in numbers. While we continue to raise awareness for the injustices we face, we can continue to move forward by supporting each other and the businesses in our community (Find out how you can support more African American businesses by visiting Blackout).
These are all products and businesses I've grown to love, or that have been highly recommended to me by others who love them. I know this doesn't even scratch the surface for all of the amazing talent in the African American community, but hopefully, it's a good start.
*Disclaimer* These are by no means listed in any particular order. And I was not compensated for featuring any of the businesses mentioned although there are a couple of affiliate links within this post.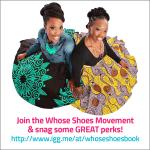 And how could I write this post without sharing Whose Shoes Are You Wearing? – What started off as a book is now a full-blown movement created to empower, transform and heal women. We are in the process of creating motivational products and services to continue spreading the message of walking boldly, confidently & fearlessly in the shoes God designed just for you. Click here to find out more about these products and our Indigogo campaign.
Founded by Lamar & Ronnie Tyler, this is the go-to site for all things marriage and relationship in the African American community. From e-books, to DVDs, to books and (coming soon) a relationship academy, as well as annual marriage getaways, this is your one-stop shop for nurturing a successful marriage and relationship.
Created by Pamela Jenkins, Koils by Nature is a high quality, all natural hair and skin care product line at an affordable price. Koils by Nature recognizes the value of natural ingredients resulting in proven fabulous benefits for all who use their products. Pamela is passionate about bringing the best of nature to the marketplace. (SIDE NOTE: The deep conditioner is awesome, and so is the leave-in)
Created by Stacey Taylor, Sistah Buttah is an all natural, handmade Shea Butter blend that is light, smells wonderful and contains ingredients to give your hair, skin & scalp what it needs to stay healthy, shiny and hydrated!  Each ingredient promotes healing, growth and provides moisture no matter which way you use it! (SIDE NOTE: This stuff is the truth and we use is often in this household – for both hair and body)
Younique's cosmetics development processes utilize scientific research to ensure that their products contain high quality ingredients without unnecessary fillers. Younique begins by looking to Mother Nature for the inspiration behind their cosmetics. Their in-house scientific team then formulates a product that honors that inspiration while delivering cutting-edge cosmetics. Younique's goal is to use science to help nature provide healthy, clean, and pure cosmetics, without fillers or junk. (SIDE NOTE: I'm excited to finally find makeup that is safe for my skin! I'll be sure to do a full review in the near future)
Veggie Cakes is a NYC based cupcakery which offers vegan-friendly confections in various flavors. All are made with vegan frosting as well, unless otherwise requested.  The majority of our cakes contain—yep, you guessed it—VEGETABLES! We pack a nutrient-rich dose of veggies from beets to zucchini into every delicious bite of our vegetable-based cakes. (SIDE NOTE: these are indeed the BEST cupcakes you will probably ever taste #thatisall)
Comment below: Are you a black business owner with a product you'd like to share? Or do you know a great product to add to this list?