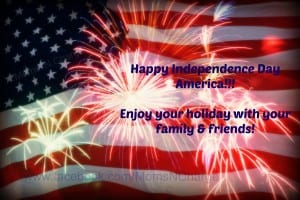 Happy 4th of July!!! I contemplated on whether or not to continue with my countdown since most people are prepping for barbeque's, swimming pools and fireworks. But I think the idea of Independence Day goes hand-in-hand with the importance of mothers learning how to take care of themselves independent of what others might think of them.
Once again, in these next several days leading up to the workshop, I'll be covering the most common subjects that seem to come up most when discussed amongst my mommy friends and groups. Have you ever felt like you've lost yourself in motherhood? I definitely have. But it feels great to be on the other side of that fence. These tips I share will give you some insight into my Dare to FLY workshop, which will be on Saturday July 13th. Do you know a mom that needs to take the Dare to FLY? What is this FLY business? It's all about learning how to First Love Yourself. Let's continue, shall we?
So Tip #6 in my Top 10 countdown is for all those moms out there who have been Other Mothered. Before I share the video below that will explain clearly what this means for those who don't already know, I wanted to assure you that you are not alone. Chances are you've been other mothered and didn't even known it. Or, you knew it, and didn't know there was terminology for it (Thanks NickJr!)

TIP #6: Avoid Being Other Mothered.
Ok so while there is pure comedy in this video, you have to admit that you have probably seen or met a mother like this. You know, the one that likes to throw out all of the over-achieving activities that her kids are participating in. She's the mom that will only share how great her kids are and never share the not-so-great things. She's the one that will make YOU feel guilty for not enrolling your kids in spanish classes at the age of 3 months, or Tae Kwan Doe at the age of 18 months. News flash: Get over the "other mother" and just do you. You know what's best for your kids, so don't allow someone else's opinions of what you do/don't do have an impact on your overall rating of yourself as a mother. Sites like Pinterest and Facebook make it hard to stop comparing yourself to the "other mother". But just stop doing it. Do you. Be you. Love you. While motherhood is a community, we are all individual and independent of one another. So own your independence and celebrate it…regardless of what the "other mother" is telling you, you should be doing.
Have you been other mothered? How do you deal with awkward situations like the one in the video?
If this tip is speaking to you, be sure to register and then share this post with your circle of moms who may need to learn how to FLY.
Be sure to come out and join me at my next workshop on July 13th. At Dare to FLY, you will be connected to other powerful moms who are ready to take that first step with you. Be sure to mark your calendar, and register TODAY by clicking on the image below.
**UPDATE: Follow these links to see the rest of the tips in my countdown**
Tip #10: Communicate
Tip #9: Set boundaries
Tip #8: Set boundaries (yup, this one is really important)
Tip #7: Put YOU (back) on your calendar
Tip #6: Avoid being "other mothered"
Tip #5: Get frumpy out of your vocabulary and your wardrobe
Tip #4: Stop serving yourself leftovers.
BONUS: The deadline to register by June 29th and bring a mommy friend with you for FREE has ended. However, if you refer TWO friends who register by July 10th, then your registration will be FREE. I have 10 seats remaining for this first-come, first-serve offer!