Becoming a parent is full of having to make all sorts of new and scary decisions that we've never had to make before. Among those decisions include how to save for retirement, how do you know how much to save, how can you start saving when you're in debt, etc. I sat down with Jerry Golden, who is president of Golden Retirement Advisors and developer of Savings2Income, a website that offers info and tools to create a plan for worry-free retirement. In this interview, he shares questions that I had, as well as questions I've heard friends and family members ask in the past.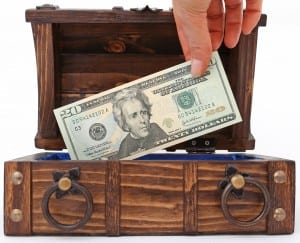 I'm a stay-at-home mom: How do I save for retirement now? Should I contribute to my 401(k) from a past job or open a new account? 
Jerry: You cannot continue contributing to a 401(k) from a former employer. The type of account you could set up depends on the level of your self-employment income, and other considerations.  My wife, for example, has switched from a SEP (IRA) to a Uni(k) program, both designed for self-employed individuals.
I have multiple 401K accounts from previous jobs. Should I roll them all over into an IRA or keep them where they are? 
Jerry: I suggest you consolidate into a single Rollover IRA account thereby making it easier to keep track of, and manage your investment allocations.
How do I determine what kind of IRA account to open?  
Jerry: You should open an account having a wide choice of low cost mutual funds and ETF's. Support from the account sponsor in building investment models best suited to your needs and level of risk tolerance would be desirable.
I just had another baby. What changes do I need to make to my retirement planning? 
Jerry: You should review your current retirement plan, taking into consideration that your new child increases the education requirements and extends the period of dependency you face. There are still three major areas of long term savings for parents (new or adding to a growing family):
Down payment on a house (or need for a larger house)

Kids' education

Retirement.
It's critical to have a plan for each, adjusted as necessary, and reflecting whether it be all personal savings, help from parents, loans, etc.
What's the biggest mistake people make when planning for retirement? 
Jerry: When it comes to saving and investing, too many people think that small contributions won't make a difference, but they will, and the magic of compound interest, can make them a huge difference. For anyone who may be afraid of investing, low cost, diversified investments is what they need. The same is true for almost everyone as they get closer to that planned retirement date. In the last analysis, it all boils down to a lack of a retirement income plan.
How much money does the average person need to save for retirement? Is there a way to calculate it?
Jerry: While many would-be "experts" promote a magic "number" someone would have to have saved by retirement, instead, individuals should focus on
(a) the income needed to support a lifestyle, and

(b) the sources of that income, Social Security and any pension or part-time work, and the income gap that must be filled from saving/investments to sustain a retirement lifestyle that lasts a lifetime.
This "picture" comes more into focus the closer you get to that magic date. The key to success will be to maximize the after tax income from those savings, and more efficient strategies that incorporate low cost investing/saving and tax-deferral can be twice or more as effective – the earlier the start, the greater that effectiveness.
Thank you Jerry for sharing such great info! If you have any more questions, or looking to get more clarity, feel free to reach Jerry at Golden Retirement Advisors or  Savings2Income. You can also find Jerry on Twitter.
What are some of your worries or insights when it comes to saving for retirement and your kids' future college tuition?